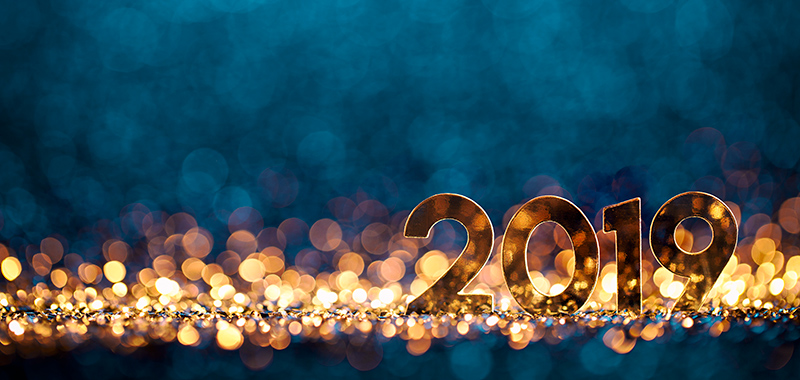 The end of the 2010s is almost here, and to many of us, it's as if the decade was just getting started. Maybe it's because the pace of change these past 10 years has been so rapid. In the technological realm, especially, it seems like we never had the chance to settle in.
Through all the changes of the last decade, however, there has remained a need for high-quality custom labels. Brands need labels for all kinds of reasons: to tell their stories, to stand out on crowded shelves, to keep their customers safe and informed, to protect their reputations from counterfeiting and unauthorized sales.
Whatever else changes over the next decade, we don't expect to see the critical role custom labels play in the lives of consumers and brands to diminish in any way. And at the Label Printers, we're proud to be a part of it all.
So, as we step boldly into a new decade, let's take one last look back at the year that was.
Design Innovations Abound
In 2019, custom labels continued to showcase some of the most creative, funniest, and most striking design in the commercial world. Labels offered countless stunning examples of the year's hottest design trends, including minimalism, the vintage look, sustainability, and personalization.
Certain product types took custom label design to new heights, which we documented with a series of roundup articles. (Watch this blog for more design inspiration in 2020.)
Follow these links for examples of the year's best looking:
Modern label designers have access to an ever-expanding range of colors to bring their visions to life.
When we wrote about the science of color back in August, we explained how well-equipped printers can help their customers replicate nearly a million different colors. It will be interesting to see how many colors get added to the label printing spectrum in the coming years.
History Is a Popular Topic
We try to cover a wide swath of territory on our blog. One of the topics we took on this year was the history of printing. We thought our readers would appreciate a dive into the fascinating and surprisingly deep heritage that shaped how label printing became what it is today.
We were gratified to see our four-part Brief History of Printing Presses become one of our most-read series this year. Apparently, you loved learning about the personalities and technology that drove the evolution of printing as much as we did.
In case you missed the series (or want a refresher course), here it is:
Speaking of advances in label printing technology, digital printing has come a long way since its origins in the early 1990s. In 2019, digital printing stood alongside flexography as one of the two most commonly used technologies for custom label printing.
Digital printing gives brands the flexibility to print relatively short runs of labels at an affordable price. Is digital printing right for your label? To help you decide, we've put together an e-book that covers everything you need to know about digital label printing.
The Label Printers Leads the Way (Again)
In 2019, the Label Printers celebrated its 52nd year of helping our customers look great and protect their brands. For the tenth year in a row, we received the Eugene Singer Award for Management Excellence in the medium company category. The award recognizes the leadership of our management team as we reach our goals for growth and profitability.
We're also honored that our president, Lori Campbell, was named TLMI Converter of the Year. Lori started with us 37 years ago, and through her dedication, passion, and business expertise, she worked her way up from receptionist, to chief of operations, to president.
The Converter of the Year award recognizes Lori's contributions to our industry. In announcing her award, TLMI noted that Lori "has conducted business on five different continents and has developed a unique expertise in the area of intellectual property given her company's decades-long experience in the security printing space."
Finally, 2019 was the year we achieved certification to the ISO 27001 standard for information security management. We're particularly proud of this certification because it demonstrates our commitment to keeping the private information of our clients safe.
Our clients trust us with some of their most sensitive assets, including artwork and logos. We want you to know we accept the responsibility with the utmost integrity. Our ISO 27001 certification shows we have the systems, procedures, and people in place to prevent your valuable intellectual property from falling into the wrong hands.
Looking Forward
What's next in the world of custom label printing? As you would expect from a technology-oriented field, there's always something new around the corner. Stay up to date on the latest by subscribing to our blog.
Happy New Year from the Label Printers!