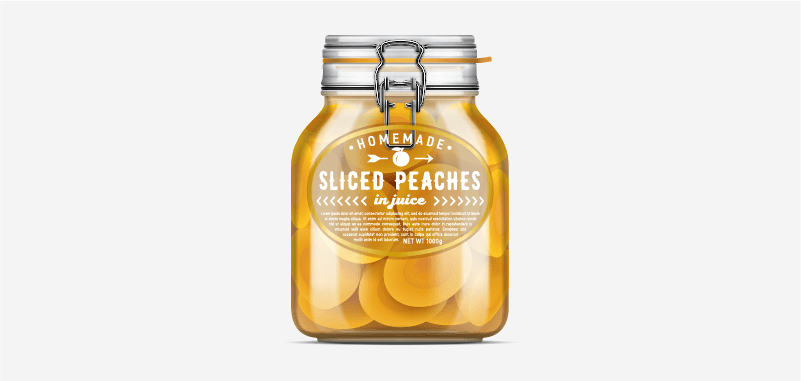 Clear labels seem to offer the ultimate in simplicity. In fact, a clear label can give the appearance of no label at all.
But achieving that simple — and often stunning — look may require navigating a bit of complexity. Purchasing the best transparent label for your brand is not as straightforward as buying a package of clear label sheets and putting them in your printer tray.
There are many important decisions to be made and questions to be answered, ranging from legibility issues to brand alignment.
In this article, you'll learn about the things you need to think about when choosing a custom clear label. Additionally, we'll offer some clear label use cases inspired by our favorite see-through labels from the beauty, health, cleaning product, and food and beverage industries.
But first, let's define what we mean by a clear label and why you might choose one to showcase your product.
What Are Clear Labels?
Clear custom labels are product labels printed on transparent plastic film. The finish can be matte or gloss to complement the surface of your product. The effect can often be as if there is no label at all; logos, text, and images appear to be printed directly onto the product packaging.
You'll find clear labels most often on glass and plastic containers. The product itself is usually visible through the container.
Why Use Clear Labels?
The rich deep amber of fine aged whiskey. The hazy gold of craft-brewed ale. The silky, shimmering whiteness of luxury skin cream. The crystal-clear purity of artesian spring water.
Some products do their own visual marketing, with gorgeous colors imbued by nature and time; colors that would be a crime to conceal.
So... why try?
Clear labels send an implicit message to your customers and potential customers: "We have nothing to hide." The message speaks to a generation of consumers that craves authenticity, values transparency, and is suspicious of unfamiliar ingredients.
This transparency – both literal and figurative – makes custom clear labels a natural fit for natural products, where simplicity is the name of the game. Here's an example: Jamie's Hive to Table raw honey. It's pure, it's raw and it's honey. "What else do you need to know?" the label asks.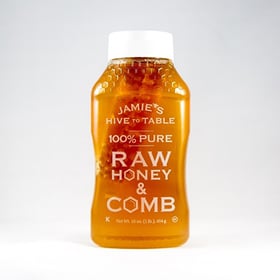 Clear labels can also add a measure of reassurance to products that are traditionally associated with harsh chemicals and unpronounceable components. For example, Bausch and Lomb Biotrue contact lens solution may contain hyaluronan and sulfobetaine, but the transparent packaging, which evokes natural tears, emphasizes the slogan, "Works Like Your Eyes."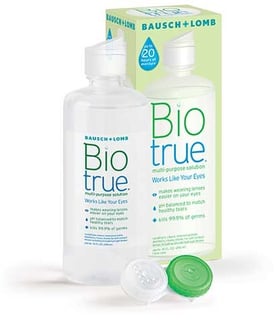 (image source)
Method, a popular line of non-toxic cleaners, takes a similar approach. Here, the clear label does double duty, drawing attention to the purity of the product and underscoring the cleanliness it can help buyers achieve.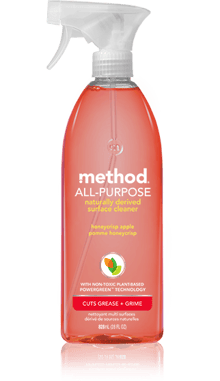 The beauty industry is a natural home for clear labels, where manufacturers want to show off the purity and color of their products. Nivea uses this to great effect with its eye makeup remover, showing off the two-toned liquid that needs to be mixed before use.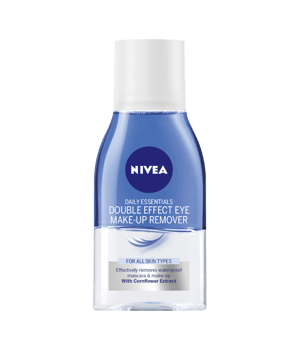 (image source)
Johnson's gets in on the act as well with certain versions of their baby oil gel product, a clear label with just a hint of translucent color lets the clear product denote a sense of purity – an important consideration with products designed for babies.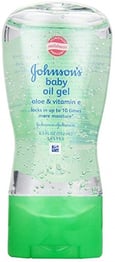 Considerations for Using Clear Custom Labels
A clear label can help your brand grab the attention of consumers with a clean, minimalist look that highlights the quality of your product.
But as we noted at the beginning of this article, don't assume clear labels are any less complex than their opaque counterparts. Clear product labels have unique properties that must be taken into account to arrive at the most attractive, highest-performing label for your application and budget.
Here are some critical considerations to make when choosing clear labels:
How Clear Is 'Clear' to You?
Are you looking for a crystal-clear, glass-like transparency? Or did you have a translucent color in mind?
For example, if your product is easily damaged by light, you might want a clear label tinted amber or green (like a wine or beer bottle).
Another factor to consider is how the color of your product and packaging will interact with the color of the ink used for text and imagery. The colors may combine for unexpected results – if you choose white text and a clear label for a red wine label, for instance, you may find the text looks pink once the bottle has been filled. To counteract this effect, your label printer should be able to "underprint" with white ink that acts as a light block and prevents colors from mixing inadvertently.
How Does Your Product Change Over Time?
Also, keep in mind that some products darken with age. Your creamy white beauty balm might look great when it's brand-new, but after a few weeks on the shelf, it might take on a gray or beige tint. Or, the product's color might look different in its final setting than it did in your manufacturing facility. Be sure to choose a clear product label that will look great against your product for its entire lifecycle.
Are You Planning on Self-Printing Your Clear Labels?
Unless botanists have discovered a transparent tree that we're unaware of, there is no such thing as clear paper, and therefore, no clear paper labels.
All clear labels are printed on plastic film, which reacts very differently to printer ink or toner than paper does. Unless your company has its own press, DIY clear product labels are likely to be time-consuming and frustrating.
Is Legibility Important?
Your industry's regulations may dictate that your labels communicate information clearly. When legibility is crucial, designing text and imagery for clear labels requires expertise.
If the text on a transparent product label is too small or ornate, it can become difficult to read. The text and imagery can also cast a shadow or reflection onto the opposite side of the container (an effect you may or may not want).
Your label printer may be able to recommend a designer who is accustomed to working with clear labels.
Have You Thought About Adhesives and Label Shape?
A clear label creates the illusion of not being there at all. But when the label peels around the edges or flags, attracting dust and hair, the illusion fades. What remains is an ugly mess.
Environmental factors like heat and humidity can cause a label to peel. So can the wrong choice of adhesive or label shape for the surface and label material. An experienced label printer can help you identify an adhesive and shape that will give your clear label staying power – so it looks great for years.
We hope this article has provided some clarity (ahem) on the potential of clear labels. Contact the experts at The Label Printers to discover the full spectrum of label materials and technology for bringing your brand identity to life.