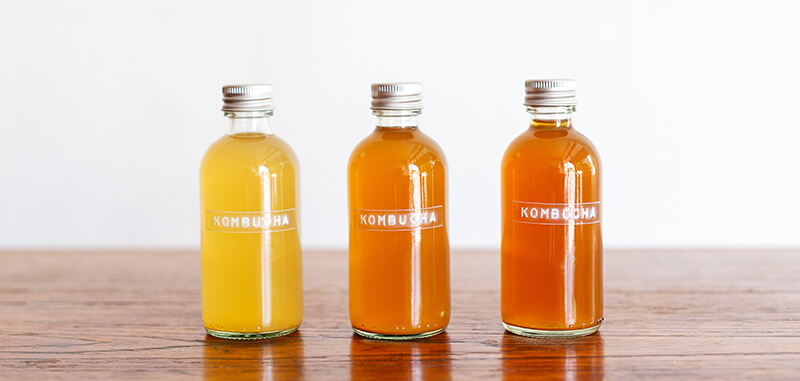 Motivated by a quest for wellness, openness to new experiences, and appreciation for natural ingredients and traditional cultures, consumers worldwide have elevated kombucha from health food stores to grocery aisles. Between 2014 and 2019, the kombucha market exploded from a mere $1 million to $1.8 billion.
If you're a kombucha maker (or thinking about adding kombucha to your brand's beverage lineup), this is all excellent news. But with popularity comes competition – and a lot of it.
The market is only set to get even hotter, as hard kombucha is shaping up to be the next big alternative alcohol category. (All kombucha has a bit of alcohol, but the hard variant has alcohol-by-volume levels similar to beer or hard seltzer.) The hard kombucha market grew from $1.7 million in 2017 to more than $12 million in 2019.
So…how will your kombucha brand stand out on increasingly crowded product shelves? The key is to follow the leads of other trendy product categories (such as craft beer, hot sauce, and energy drinks) and design product labels that surprise, delight, and – most of all – connect with potential buyers.
What Makes a Great Kombucha Label? Your Brand Identity
When we talk about kombucha label design, we're really talking about your brand identity.
Although kombucha is gaining a foothold among all generations, the typical kombucha consumer is still a younger, health-conscious person. And when marketing to the 30's-and-under crowd, brand identity is crucial: Millennials and the members of Generation Z favor strong brand experiences that are authentic, and that reflect their own values of social consciousness and environmental sustainability.
And we can't forget that millennials and Gen Z consumers also want to have a good time. They're serious about their values, but that doesn't translate into stuffiness.
As a kombucha maker, your mission is to craft a label that uses colors, typography, shape, and imagery to create a cohesive look that authentically tells your story and helps consumers feel good about choosing your product.
Looking for some inspiration to get you started? Below are some of our favorite kombucha labels from top brands, emerging contenders, and small-batch crafters.
Kombucha Label Inspiration: 5 Favorites
We're not encouraging you to copy any of these kombucha label designs outright. (Remember what we said about being authentic?) Instead, use them to spark inspiration, so you can mix and match the label elements that fit your brand best and put your own creative spin on them!
Here are the kombucha labels that have caught our attention lately:
GT's Synergy Raw Kombucha

GT's is perhaps the most ubiquitous kombucha brand in the U.S. today – and its stunning rainbow gradient label likely has something to do with that. The colorful label pops against the backdrop of GT's bright red Trilogy flavor. A peaked label design and psychedelic flower symbol honor kombucha's eastern roots, while appealing buzzwords like "rebuild," "reclaim," and "rekindle" subtly hype the drink's functional qualities.
Health-Ade Plus Belly Reset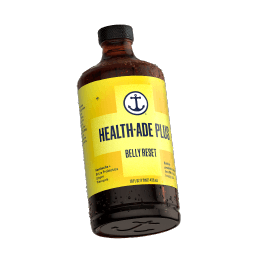 Another top-selling kombucha brand, Health-Ade's image leans into the wellness benefits of kombucha, with an emphasis on probiotics and macrobiotics. Befitting this approach, Health-Ade's labels accentuate the bottle's somewhat medicinal look. The Health-Ade plus line even features a pharmacy-style cross symbol.
Rowdy Mermaid Kombucha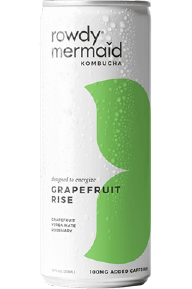 Rowdy Mermaid switched from bottles to cans because, as the company explains, "We believe functional health extends to the environment in which we live, and we wanted our packaging to reflect that." Cans are easier to recycle and lighter to transport, the company says. The less-is-more approach extends to Rowdy Mermaid's clean and minimalistic label design. (Less ink is better for the environment.)
Dr. Hops Real Hard Kombucha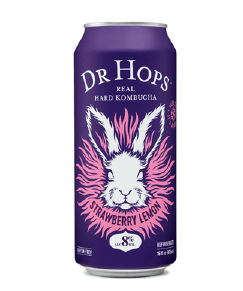 Dr. Hops proves craft beer makers don't have a monopoly on fun – not when it comes to enlivening a party and not when it comes to label design. The alcoholic (yet healthy, according to its makers) kombucha brand feature a blissed-out bunny on its labels over a burst of bold organic imagery.
Ferm Fatale Shrub-Bucha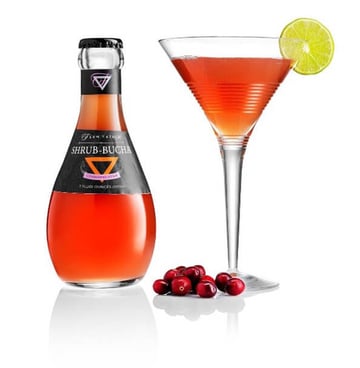 (image source)
One of the reasons kombucha has become so popular is because not only is it healthy, but its complex flavor makes for interesting drinking. Those who are cutting back on alcohol and searching for a sophisticated alternative can find it in kombucha. Ferm Fatale's Shrub-Bucha uses kombucha to replicate the cocktail experience without the buzz. The label design captures the elegance you would expect from a classy cosmopolitan with a stark black background, a touch of gold, and cursive flourishes.
Kombucha Label Requirements
As with all food and beverage products, a kombucha label's job involves more than just attracting customers. Product labels must fulfill crucial regulatory requirements.
Make sure you leave room on your label for:
Nutrition facts. The U.S. Department of Health and Human Services' labeling guide describes exactly what your nutrition facts label should look like and the information it should include.
Gluten-free, organic, or non-GMO certification. These symbols are not necessarily required by law, but you can be sure your health- and eco-conscious customers are looking for them.
Alcohol content. If your beverage's alcohol-by-volume content exceeds 0.5%, the U.S. government will regulate it as an alcoholic beverage. According to the Alcoholic Beverage Labeling Act of 1988, a government warning label (using specific language in a particular format) will be required.
If you are unsure about any label requirements that may apply to your product, seek the expert guidance of an experienced label printer.
Kombucha is one of the most exciting new frontiers for food and beverage label design. As the kombucha market grows, we expect to see many more captivating and creative design concepts over the coming years. Will yours be among them?
Brush up on the basics and start building your new kombucha label today with our free Food and Beverage Label Buying guide.