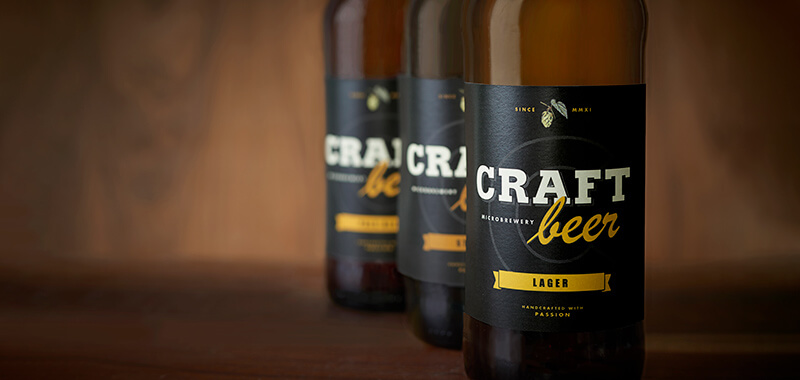 Beer label design has always been important. But in 2020, most craft beer businesses had to let their branding do their talking for them. By the end of the year, small and independent brewers were on track to see average downswings of 7% to 8%. Most of the losses came from on-premises sales, or lack thereof.
With bars, restaurants, and (especially) taprooms closed or limited for most of 2020, beer brands lost the ability to reach new customers with tasting samples or bartender recommendations. In-store sales – and to a certain extent, online sales – became more important than ever. To grab new customers, beer labels had to immediately grab – and keep – attention.
Unsurprisingly, America's craft beer label designers were up to the challenge. After all, craft brewers have been driving custom label design innovation for years. The typical beer seller's shelves have become veritable showcases of whimsical, edgy, elegant, and flat-out breathtaking visual concepts.
With this new challenge, however, we think craft beer label designers have elevated their art to new heights.
Here are some of our favorite beer label designs from the COVID era.
Want to learn why Noon Whistle Brewery calls us a great company to deal with? Read the article.
The Hazy Hero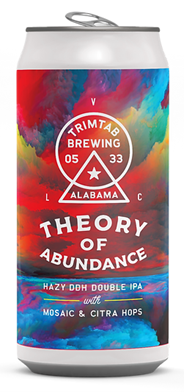 The "hazy," "juicy" IPA is one of the breakout craft beer styles of the past several years. With their unfiltered personality and fruit-forward profile, these hoppy ales have given label designers plenty to play with. Psychedelic, rainbow-hued designs abound.
Trimtab Brewing's Theory of Abundance is a particularly eye-catching example of the genre. Watercolor clouds of red, yellow, purple, and blue promise a mind-bending flavor explosion.
The Mad Menagerie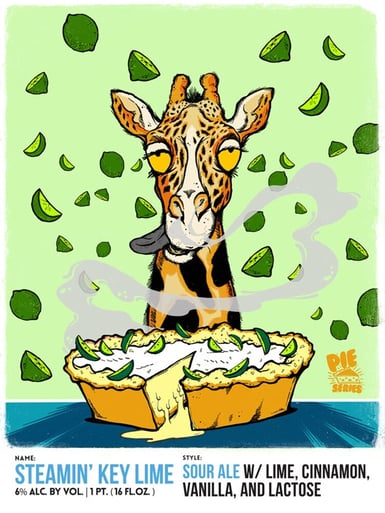 We're not saying there's necessarily a crossover between craft beer lovers and cannabis enthusiasts, but the two cultures do sometimes share a design sensibility.
Florida's Tripping Animals Brewing Co.'s label lineup features a hilarious series of cartoon animals, each of which appears to be pleasantly under the influence of…something. It's hard to pick a favorite, so we'll go with this pie-addled giraffe.
The Collab for a Cause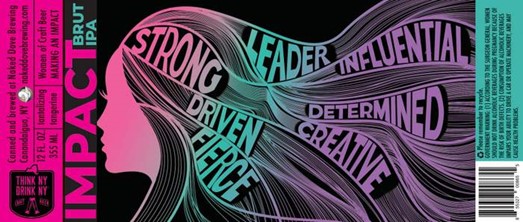 The tumult of 2020 had many of us thinking about how we could give back. A group of female members of the New York State craft beer industry decided to do their part by collaborating on a brut IPA called IMPACT. Proceeds from the sale of IMPACT went toward buying undergarments for SAFE (Sexual Assault Forensic Exam) programs at upstate New York hospitals.
Amy Colburn, an artist from the Finger Lakes region, contributed the stunning label design, a neon silhouette of a woman with bold descriptors such as "strong," "leader," "determined," and "creative" flowing through her hair.
The Birthday Blank

One of the most fascinating label concepts of 2020 was no design at all. To celebrate the 30th anniversary of its flagship brew, Dead Guy Ale, Rogue Ales and Spirits packaged six-packs with a single white, featureless can. Rogue encouraged its customers to come up with their own creative label designs and submit their ideas on social media for a chance to win $1,500 and a trip to Portland.
Rogue received over 1,000 entries. Grand-prize winner @ugonzo_art was praised for their artwork's "creativity, enthusiasm, 'Rogueness,' and expression of the Dead Guy brand."
The Low-ABV Looker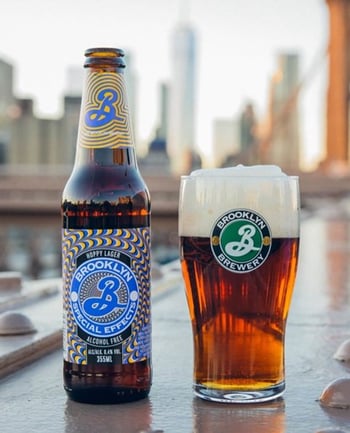 Once a beverage industry afterthought, non-alcoholic beer is experiencing a renaissance of growth and innovation. Younger generations are leading the trend, demanding a wider range of options to support their healthy lifestyles – but that doesn't mean they want boring beers. Millennials and the members of Generation Z expect strong brand experiences regardless of the alcohol content.
Non-alcoholic brewers can use their labels to promote the same sense of fun and connection drinkers get from traditional beers. We like the kaleidoscopic patterns on Brooklyn Brewery's Special Effects Hoppy Amber non-alcoholic lager label – visually, if not physically intoxicating.
The Tantalizing Team-up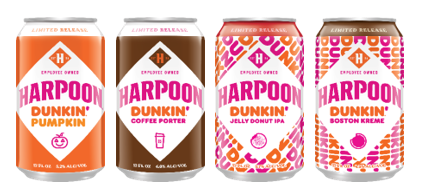 (image source)
One reviewer said Harpoon Brewery's lineup of Dunkin' donut-infused beers was "the weirdest thing I've tasted in 2020." That may be, but to fans of either iconic New England brand, it must have been hard to resist picking up a 12-pack (branded as a "Dunkin' Dozen," naturally) last fall.
Dunkin's unmistakable orange, magenta, and brown are perfect examples of how the right brand colors can evoke instantaneous good vibes among loyal fans.
The Pensive Profiler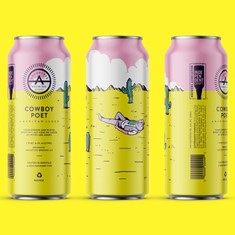 Founded in the beer mecca of Asheville, N.C., in 2016, Archetype Brewing set out to "push the boundaries of traditional brewing" with "complex, mindful, living beer." The craft brewer took its name from the theories of Swiss psychiatrist Carl Jung. All this is to explain why Archetype needed a look to align with its cerebral ethos.
Archetype found a perfect match in Orlando illustrator Sean Jones. Jones' contemporary-art-inspired label designs aim to portray the psychological profile of each beer. His illustration for Cowboy Poet lager depicts "the everyman" seeking serenity in the vast American landscape.
The Magnificent Minimalist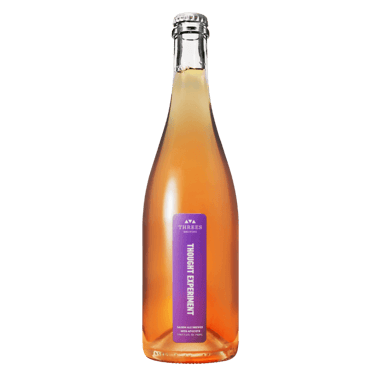 At first glance, the understated label for Threes Brewing's Thought Experiment apricot saison ale doesn't look like much. But when you discover the beer is brewed with second-use fruit to be more sustainable, you understand the reason for the tiny label. Shrinking a product label's size is one of the most effective ways to reduce its environmental impact.
Plus, we think that purple really pops against the honey-gold apricot ale.
The Punky Puncher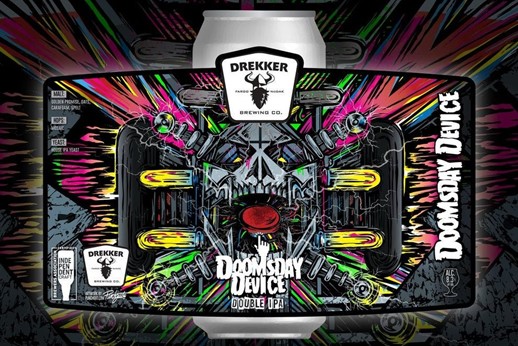 (image source)
Sometimes you want a beer that just goes for it: huge flavors, lots of hops, and an alcoholic kick. When you're in the mood for something big and bold, how do you know what to choose? Look for a label that pulls out all the stops (like something you might find on a hot sauce bottle).
Drekker Brewing Co.'s Doomsday Device mosaic-hopped double IPA can't be accused of being overly subtle, and neither can its label. The high-octane imagery was created by Matt Mastrud, a designer who got his start doing gig posters. Fittingly, Mastrud goes by the name Punchgut.
Who Can You Trust with Your Next Custom Beer Label Masterpiece?
Caña magazine called beer label art "the new record sleeve," and while that makes us sad for the demise of vinyl, we tend to agree. We can't wait to see what the world's most creative label designers come up with in 2021.
Could your custom beer label design be the next to grace lists like this one? The Label Printers will ensure your label concept looks as vibrant as you envisioned. Contact us to find out how.