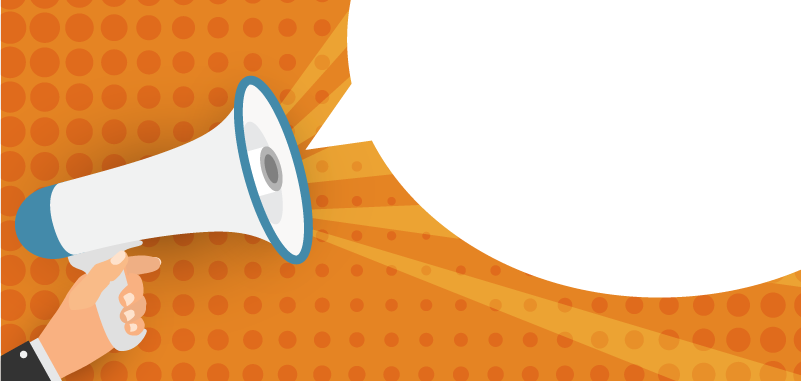 At this moment in history, it's impossible to ignore the fact that consumers choose products based on more than price, features, and flashy design. Increasingly, consumers view choosing a brand as an ethical decision. And if your ethics agree with theirs, their loyalty will increase multi-fold.
Before reaching for a product on the shelf, a socially aware buyer will ask questions like:
What contributions has this brand made to further causes such as racial justice, LGBTQ inclusion, gender equity, and ending global poverty? Has the brand historically been harmful? And if so, what has the brand done to right the situation?
Is this brand taking steps to limit or reverse its impact on the environment?
What does this brand do to support local communities from where it sources its ingredients and manufactures its products?
In short, modern consumers want brands to think beyond financial profits to their impact (or lack thereof) on the wider world.
Back in 2016, Aflac's National Survey on Corporate Social Responsibility found that 75% of consumers said they would take a negative action like participating in a boycott if they felt a company was not socially responsible. Four years later, and in the midst of a countrywide reevaluation of social priorities, that percentage is almost certainly higher.
Brands want socially aware consumers to view them positively. But more than that, many brands are motivated by the same ethical impulses that drive their customers. They want to do their part to make the world a better place. This accounts for the growing adoption of corporate social responsibility initiatives among major corporations, small businesses, and every organization in between.
Related to corporate social responsibility is the concept of ethical marketing. WordStream defines ethical marketing as "the process by which companies market their goods and services by focusing not only on how their products benefit customers, but also how they benefit socially responsible or environmental causes."
One of the most visible elements of your brand's marketing is your product label. So, your label might be the perfect place to demonstrate your commitment to social issues.
One caveat: Sincerity is everything. Many manufacturers might be tempted to leap upon certain high-profile causes, without examining their organization to see if they're living those ideals. Perfection is not mandatory, but supporters of the cause you espouse should be able to look at your label, look at how your company operates, and see a close alignment of values between the two.
Here are some noteworthy ethical marketing campaigns that involve product packaging and custom labels:
Dr. Bronner's and the 'Moral ABCs'
Quirky organic soap brand Dr. Bronner's began its existence as a giveaway for people attending Emanuel Bronner's philosophical lectures in the late 1940s on the "Moral ABCs." The traveling lecture show vibe lives on in Dr. Bronner's wordy labels, which are jam-packed with social and environmental justice messages.
Among other things, Dr. Bronner's uses its labels to advocate for the labeling of genetically engineered food ingredients and to promote "constructive capitalism," an approach to doing business that harkens back to Emanuel Bronner's call to "Share the profits with the workers and the earth from which you made it!"
The image below shows a Dr. Bronner's label voicing support for a higher minimum wage.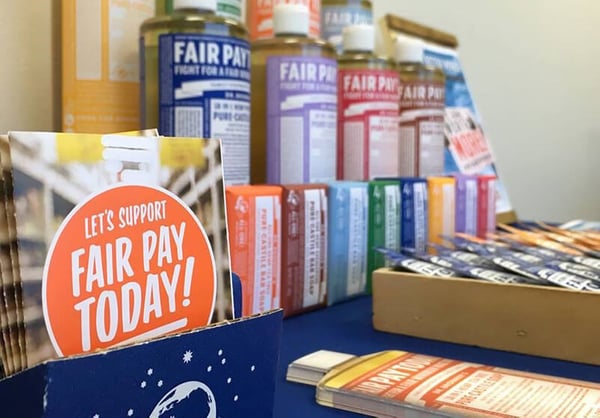 Doritos Designs with Pride
The Doritos brand is known for its bold flavors, but in 2015, the iconic chipmaker took a bold stand. That year, Doritos released Doritos Rainbows, a limited-edition multi-color chip celebrating the lesbian, gay, bisexual, and transgender community. To package the rainbow-themed chips, Doritos took advantage of the flexibility of digital printing to quickly produce a striking new bag design.
Consumers who donated at least $10 to the It Gets Better Project, which supports LGBT youth, were sent a bag of Doritos Rainbows, which quickly became a highly-sought-after product and a social media sensation.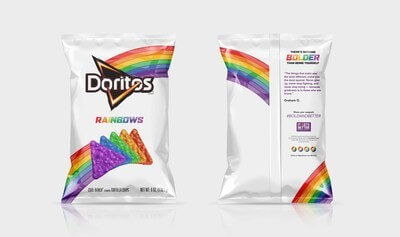 Beermaker Helps Rescue Dogs Find Homes
Smaller brands can have a big impact when it comes to community awareness of important issues, especially local ones.
For example, a volunteer dog rescue organization in Fargo, North Dakota, was having trouble finding homes for some of its "one-der" dogs (dogs that have difficulty living with other pets).
Luckily, one of the group's volunteers also happens to work for a label printer. He suggested partnering with a local brewery, Fargo Brewing Company, to create a limited-edition run of beer labels featuring six of the needy pups: Nyx, Bizzy, Jensen, Hobie, Moby, and Virginia .
The rescue organization held a special event at the brewery, where beer fans and dog lovers alike could purchase the special six-pack of Fargo Original Lager and meet one of the dogs up for adoption. The brewery said it was happy to use its labels to shine a spotlight on this sometimes-overlooked group of animals.
By the end of the event, Fargo Brewing Company had sold 25 cases of beer featuring the special labels, with part of the proceeds going to the rescue organization. (P.S. If you're in the market for a pooch, Nyx and Virginia are still available.)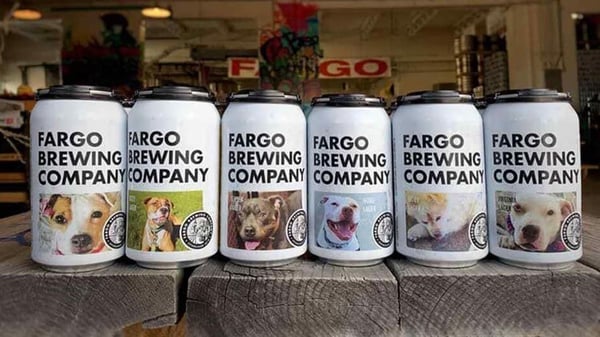 What social cause is near and dear to your heart? Bring it onto your custom label and out into the world. We would be happy to help.