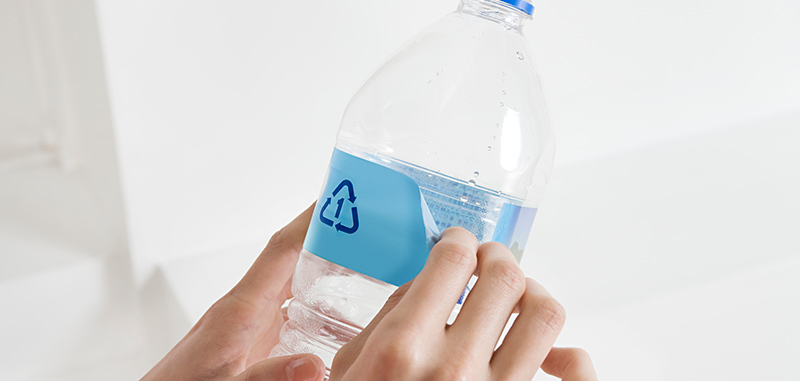 When we think about sustainability in custom label or package design, we often think about the physical components of the label or packaging. Is the label made from recycled paper? Can the packaging be reused?
These are important questions to ask. But there's a growing sense that a designed object's appearance has a considerable effect on how sustainable it can be. In effect, your brand aesthetic may make it easier—or harder—to end up with an eco-friendly label or packaging. This is why sustainable graphic design is so important.
What Is Sustainable Graphic Design?
Some product designers, architects, urban planners, and interior designers (among others) have been incorporating sustainable principles into their work for many years. Their goal? To reduce, eliminate, or reverse a designed object's environmental impact.
Sustainable design generally focuses on the use of renewable resources, energy efficiency, and an object or building's connection to the natural environment. Sustainable design takes into account an object or building's entire lifecycle, from conception and construction through disposal.
Sustainable designers may also use design techniques to influence people to make environmentally responsible choices (for example, making recycling receptacles easier to locate and use in a fast-food dining room).
Sustainable graphic design applies the same ideas to the design of images and text. It encourages graphic designers to think about how their creative decisions contribute (or subtract from) the overall sustainability of an item.
In his book "Green Graphic Design," Brian Dougherty of Celery Design Collaborative writes about "designing backwards," suggesting designers take "a mental journey, starting from a design project's ultimate destination and working backwards until we arrive back at the design studio."
So, let's take a backward journey through the life of your custom label to find opportunities for sustainability.
The End-User
In addition to product information and instructions, product labels can be a major ally in a brand's efforts to be more sustainable. How? By helping people make sustainable choices. For example, the design of your label might feature reuse or recycling information prominently, so your customers know how to keep your packaging out of landfills.
Another way your label design can help consumers make sustainable choices is by promoting the environmentally friendly decisions your brand makes. A large portion of modern shoppers – younger generations, especially – say they are willing to pay more for brands that make a conscious effort to reduce their impact on the environment.
If your brand chooses renewable materials, if your product includes natural, non-toxic ingredients, or if your company makes a point to give back to local communities, feature those facts front and center on your product label. If there's not enough room on your label to tell your whole sustainability story or if you want to conserve space for environmental reasons, use a QR code or NFC tag to direct consumers to more information online.
Label Production
Raw material manufacturers continue to make great strides in developing label and packaging materials to meet the reduce-reuse-recycle guidelines of sustainability.
But these more sustainable materials, like all materials, will affect both the performance and the look of the label, so it's vital to keep that in mind during the design phase. (Working with recommendations and samples from a reliable label provider can end up saving you hours of rework!).
For example, recycled paper or tree-free label stock (made from bamboo, sugarcane, or cotton) may look different than the bleached-white paper you're used to. You'll also want to make sure the colors you choose are available in non-volatile inks, which are based on water or vegetable oils, not petroleum-based solvents.
Other design decisions can reduce the waste generated during label manufacturing. One simple change may be to shrink the size of your label, if possible. After all, minimalism is in.
Consider your design and its use of colors. In the environment, less is always more! And that can go a long way in translating your brand's message to the buying public.
Inks also play a role in creating a more sustainable label. The ingredients, chemistries and manufacturing process can make some inks more environmentally friendly than others. But, just like materials, inks have performance characteristics that must also be considered. Work with your label supplier to identify the inks that balance the performance needs of your product with the environmental impact.
Bottom line, make sure your label printer understands your expectations for environmental performance and can explain their rationale for the attributes they're quoting for your label or package.
Finally, look for a label printer that takes environmental responsibility as seriously as your business. Do they have any third-party environmental certifications? If not, how do they demonstrate their environmental stewardship? Will they share their stated policies and metrics?
The Label Design Process
Everything we do in business uses energy and resources, including the design of a product label. Even the work of graphic design itself can have an impact on the environment.
It's commonplace to share proofs and design ideas on printed paper. But if you shift to digital proofs, you can save a few trees. When you do have to print out your label concepts, print only as many copies as you need. Plan to have multiple people share each copy. (And make sure you recycle the paper when you're finished with it.)
Designers can also reduce their impact by using energy-efficient lightbulbs in their workspaces and switching off their equipment when they're done for the day. Every little bit counts!
Work with a Label Printer That's Committed to Environmental Stewardship
The Label Printers has won state and industry awards for our go-green initiatives, and we're proud to be a leader on sustainability issues in the label and packaging industry. Click here to talk to us today about improving the sustainability of your custom label.