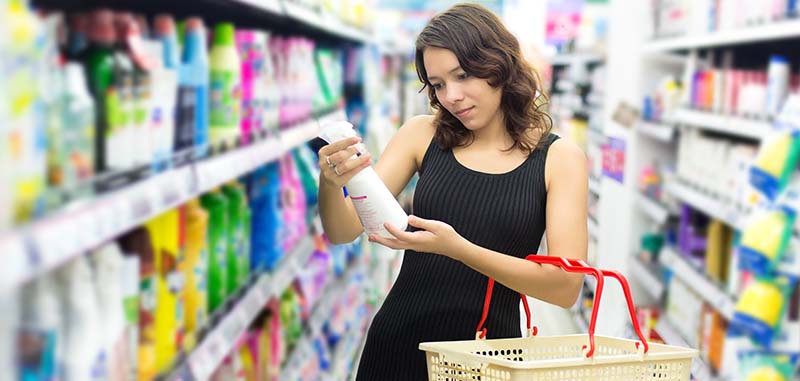 At the beginning of the COVID-19 pandemic in 2020, household cleanliness was one of the few factors we could control. So, people around the world spent heavily on cleaning products such as aerosol sprays, surface wipes and multipurpose cleaners.
Demand for cleaning products remains high, but so does the competition for consumers' attention.
To stand out on grocery store shelves (and increasingly, in online marketplaces), brands must ensure their cleaning product labels are attractive, informative, and reflect the values modern consumers care about.
How Do Cleaning Product Labels Convey Brand Identity?
Brand loyalty is strong among cleaning product consumers. When people find cleaning products they believe in, they tend to stick with them – potentially for decades.
This means you're going to have to design a label that catches their eye, even while they're reaching for your competitor.
Today's savvy consumers aren't just going to buy your cleaning product because it looks nice, however. Plenty of them are going to read your label, looking for critical information about your product.
For example, while 64% of Americans are willing to pay more for sustainable products, 74% say they don't know how to identify sustainable products. Your product label is an opportunity to make their lives easier by showcasing your product's environmental friendliness. (You might do this by prominently featuring voluntary certifications such as the Green Seal or the Environmental Protection Agency's Safer Choice program.)
No matter what your brand, think carefully about what makes your product different – and then make sure customers see that on your label.
Cleaning Product Label Design Inspiration
Whether your brand's image is eco-conscious, scientific, irreverent, classic, luxurious or no-frills, your label design toolkit contains the same items: color, typography, imagery, shape, texture and messaging.
Here are some cleaning product labels we think make excellent use of these tools to create cohesive and compelling brand identities:
Branch Basics Concentrate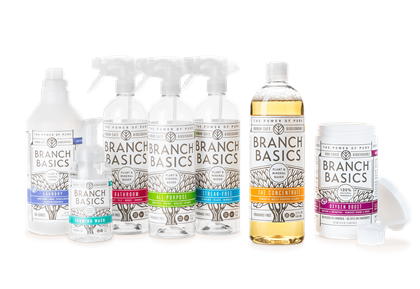 (image source)
Branch Basics has earned rave reviews and loyal followers for its non-toxic, biodegradable multipurpose cleaner. The company claims its powerful formula can be used for everything from cleaning windows to doing laundry.
Naturally, Branch Basics chooses to emphasize its environmental-friendliness and purity with a simple, botanical-inspired label design, making ample use of white space and unfussy fonts. A color-coded label scheme helps customers keep their reusable spray bottles apart.
Seventh Generation Free & Clear All-Purpose Cleaner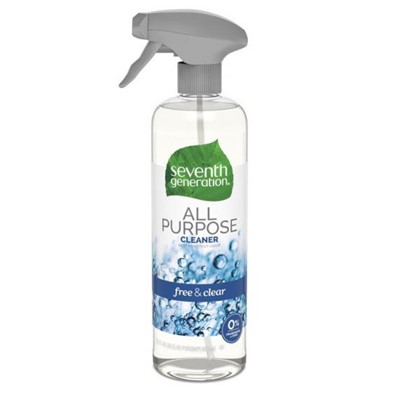 (image source)
Countless cleaning product brands emphasize their products' purity with the color green. Seventh Generation opts for another "color" for its Free & Clear all-purpose cleaner label. Just like the name says, it's clear.
Clear product labels let the product itself make the impact – in this case, a completely transparent liquid. The message: "This product is no more harmful than water."
Poo-Pourri Before-You-Go Toilet Spray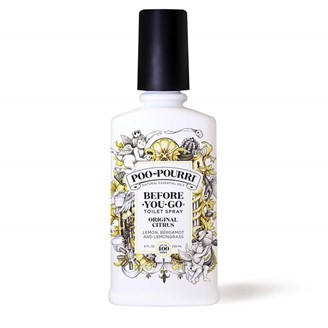 (image source)
Who says cleaning products can't be fun? Poo-Pourri's toilet spray label displays the kind of zany wit and creativity you might find on a craft beer or hot sauce bottle.
From a distance, you might see an ornate design that wouldn't look out of place on a gin bottle. But zoom in, and you'll find cherubic angels cavorting with rolls of toilet paper and plungers. This look is sure to appeal to younger generations and anyone else who appreciates a bit of bathroom humor.
Method Squirt + Mop Wood Floor Cleaner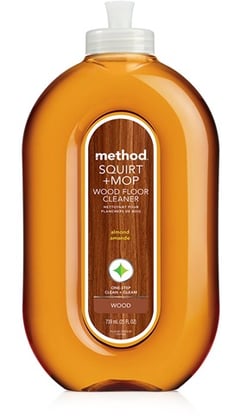 (image source)
We wouldn't recommend imbibing Method Squirt + Mop Wood Floor Cleaner, but the elegantly rounded bottle and its amber contents sure look fit for the top shelf. So does the classy oval label, satisfyingly slotted within an impression on the bottle's surface. A dark woodgrain background heightens the product's premium aura.
Swash Laundry Detergent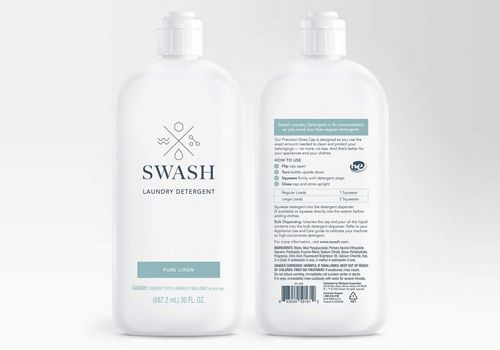 (image source)
The Swash brand identity is all about doing more with less. The Whirlpool Corporation (which owns Swash) designed the bottle to dispense all the laundry detergent necessary for a single load in just one squeeze.
The label design is suitably minimalistic: a brand name, lots of white space, and some scientifically inspired symbolism. We also like the back label, which presents step-by-step usage instructions in clear, readable text. If you expect your customers to change their habits, such as using less laundry detergent, you ought to make it easy for them.
Dawn Ultra Dishwashing Liquid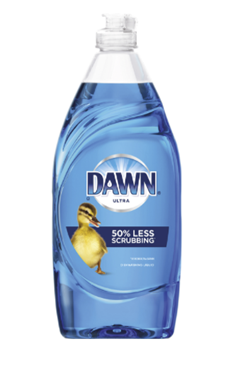 (image source)
We had to include at least one classic on this list, and few cleaning product labels are more recognizable than Dawn's. The key element here is the cute baby duck, a nod to the fact the Dawn is the oil remover of choice for wildlife conservationists. If Dawn is both effective and gentle enough to wash crude petroleum from ducklings, the label implies, you can trust it on your most delicate dishes.
Cleaning Product Label Requirements
While consumers are increasingly interested in natural cleaning products with simple, sustainable ingredients, the fact remains that many cleaning products (including natural ones) get their power from substances that would be harmful if ingested or exposed to skin. As such, cleaning product labels perform a dual role, not just attracting buyers, but keeping them safe by warning them about dangers.
The Federal Hazardous Substances Act (FHSA) requires precautionary labeling on all potentially hazardous household products, including cleaning supplies. According to the law, a warning label should tell consumers how to use and store the product safely and how to take action if an accident occurs.
Furthermore, the safety information must be conspicuous, legible, and contrast with the other printed information on the label.
We recommend reviewing FHSA guidelines before completing your cleaning product label design. If you have questions about properly formatting warning information, consult a knowledgeable and experienced label printer.
Get Inspired!
We hope this rundown of cleaning product label design trends has got your creative juices flowing. If you're looking for more ideas, you can always look outside the world of cleaning supplies.
Inspiration can come from anywhere! Check out our favorite beauty product, energy drink, and wine bottle label designs.