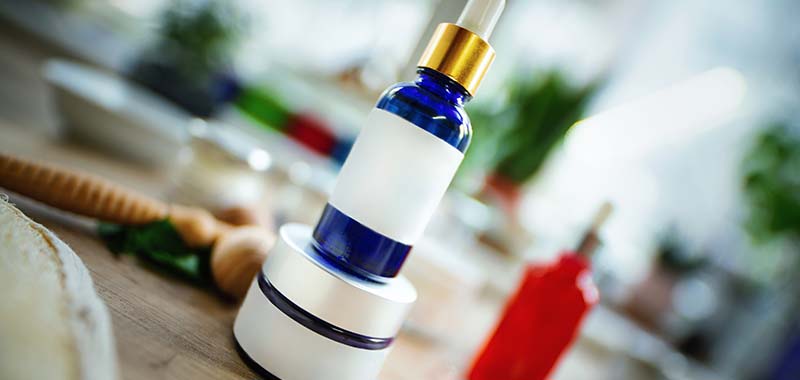 Bad news, readers: None of us are getting any younger.
But while the quest for eternal youth may ultimately be fruitless, there is an upside – for skincare brands, anyway.
Market analysts expect the global skincare market to pass $200 billion by 2026, growing by an average of more than 5% each year. Skincare is among the fastest-growing segments of the beauty industry. In 2018, according to one report, skincare sales grew 13%, while makeup sales increased by just 1%.
Driving this rapid growth are several consumer trends that have uniquely converged around the skincare industry in recent years:
Skincare routines, tips, and recommendations have become a favorite genre for social media influencers and their followers. One reason for this may be the visual appeal of skincare products – including their labels and packaging.
Consumers are becoming interested in protecting their skin at younger and younger ages. One study found that the members of Generation Z purchase skincare products more than any other generation.
The market for natural and organic products of all types is skyrocketing. Consumers are becoming more conscious of the ingredients they put on or in their bodies and seek "clean" and responsibly sourced alternatives to chemically laden formulations.
What these factors have in common is that they speak to the connections between consumers, their skin, their skincare products and their identities.
How Skincare Label Design Creates a Brand Identity
We often think of our outward appearance (rightly or wrongly) as a manifestation of our inner individuality.
The same can be said of product packaging, including product labels: For a consumer unfamiliar with your brand, your label may be the only chance to make a strong impression. Skincare label designers have several tools, (like color, typography, imagery and even texture) that help them convey your brand identity.
But it goes beyond the visuals. Just as with skincare itself, it's important for skincare brands to look beyond the surface of their product labels and consider performance as well.
Most skincare products are kept in the bathroom, where moisture and heat can weaken adhesives, erode certain materials and cause ink to run. Consumers may associate easily damaged labels with a lack of care or quality, which can be devastating to a brand's image. Think, for example, of a luxurious shampoo with a gorgeously designed label that peels and shreds into complete illegibility after two showers.
Skincare Label Design Inspiration: 6 Favorites
Just because skincare label design is an expression of a unique brand identity, it doesn't mean you can't take inspiration from other brands as a jumping-off point.
Browsing the skincare section of your favorite beauty product retailer can be like experiencing a veritable showcase of the design world's most elegant, iconic and artistic labels.
Here are a few skincare labels that have caught our eyes recently:
Cocokind Resurfacing Sleep Mask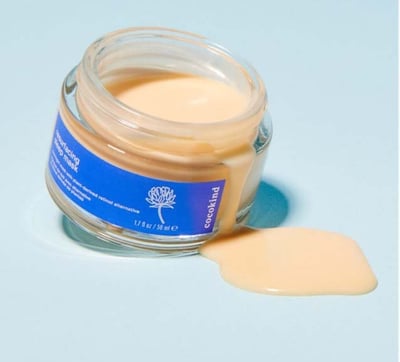 (image source)
Cocokind strives for sustainability and transparency with its products and product packaging. All of the brand's product packaging include (or will soon include) a formulation facts panel and sustainability stats, which break down the carbon footprint for each product's entire lifecycle.
One thing we appreciate about Cocokind's labels (such as this sleep mask jar label) is how removable they are, allowing for easy recycling and gunk-free reuse.
Raw Elements Certified Natural Sunscreen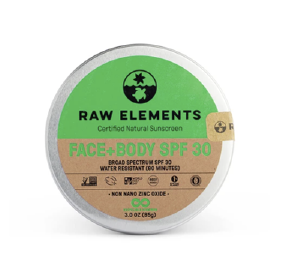 Raw Elements makes sunscreen and other body care products designed to be as harmless for reefs and ocean environments as they are for human health. To emphasize their products' natural and organic ingredients, the brand has chosen to use "raw" unbleached paper for their labels. The aluminum tins are 100% recyclable and reusable, as well.
The Ordinary Peeling Solution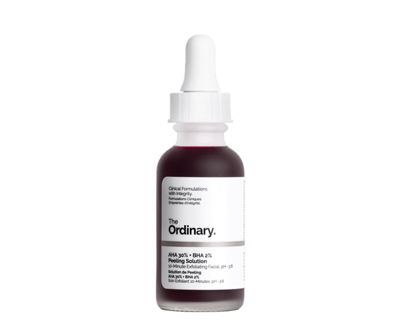 Minimalism is a perennial label design trend, especially in the personal care industry, where consumers often crave clarity and simplicity.
Minimalist label design can also convey a medicinal vibe, which can reassure buyers that a brand's claims are science-backed. The Ordinary is a leading proponent of this design approach. The Ordinary's labels are printed in stark black and white (save for an elegant silver band), featuring chemical formulations and percentages front and center, so consumers know exactly what they're getting.
Brickell Men's Products Face Moisturizer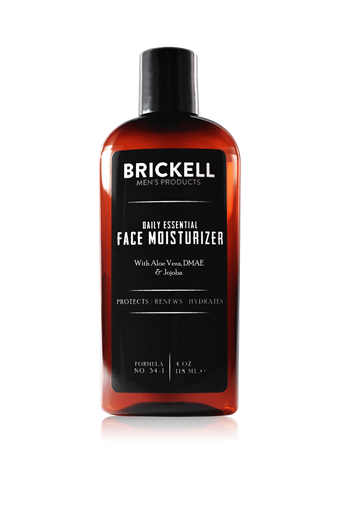 (image source)
Skincare is no longer marketed solely toward women, and it's about time. The exciting new frontier for personal care brands is men, especially members of younger generations who've moved beyond the ridiculous "skincare is girly" attitudes of the past. The men's personal care industry is growing rapidly and is expected to reach $166 billion by 2022.
Men's skincare brands typically favor a bold and overtly masculine design approach inspired by classic spirits labels and an old-time barbershop aesthetic. The label on this Brickell daily moisturizer is bold but classic, and complemented nicely by the no-nonsense amber bottle.
No B.S. Purifying Facial Toner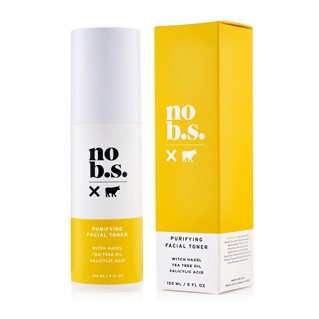 Skincare is a serious obsession, but brands and their customers can still have a sense of humor about it. This No B.S. toner label gets attention with the same kind of whimsical imagery and slightly edgy attitude you would find on some of the most creative craft beer or hot sauce labels. And the clean design aesthetic helps keep the brand name's promise (it wouldn't be nearly as effective to see "no b.s." on a cluttered, ornate label, would it?)
Wild Source Apothecary Night Nectar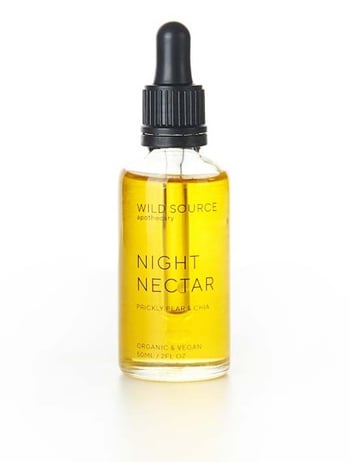 (image source)
Skincare product designers understand that their products must look like something you would want to put on your skin. Whether your product is silky, shimmery, creamy or colorful, you've put a lot of thought into its appearance. So, why not let it shine?
That's the decision brands like Wild Source make when they choose clear labels. Here, all the golden goodness comes from the liquid itself, while the label shares the brand name and key ingredients in refined black lettering. If your product can be put into clear containers and is an attractive color and texture, a clear label lets it take center stage.
Skincare Label Requirements and Optional Symbols
Consumers aren't the only ones who care about the ingredients in your skincare product.
Government regulators and industry certification organizations want to make sure your product is safe and that potentially problematic ingredients are clearly identified, as well.
Skincare products classified as over-the-counter pharmaceuticals by the U.S. Food and Drug Administration (FDA) must include a Drug Facts label somewhere on their packaging. Drug Facts labels must follow a specific format to list active ingredients, uses for the product, warnings, dosage instruction, inactive ingredients and other federally-mandated information.
(The FDA also imposes specific labeling rules for sunscreen products, which, among other things, must list an SPF value.)
Wondering how you're going to fit all this information on a small vial, bottle or jar? Don't worry – many skincare brands use
extended content labels
that fold out, allowing them to include everything the consumer (and the regulatory bodies) needs to see.
With increased concerns about our environment, brands are eager to share their efforts to be more sustainable with their consumers. But state and federal governments are watching these claims closely, with regulations being proposed to crack down on "greenwashing" – or the practice of making claims that give a false impression of a product's sustainability. For example, California's legislature recently introduced two bills (SB 343 and AB 1201) which would prohibit companies from making certain sustainability claims unless they meet specified criteria. A good label printer will help you understand how this legislation might impact your product labels.
Voluntary certification programs ⁠— which are rewarded by third-party organizations ⁠— can help demonstrate your brand's commitments to causes such as sustainability and animal welfare. Earning one of these certifications often gives you the right to advertise your status with an icon on your product packaging.
Some common beauty product certification symbols include:
Our recent article explains in detail what each of these symbols means and how to qualify.
Your Complete Guide to Skincare Label Design and Printing
We hope you'll come away from today's article with some great ideas for your skincare label design.
For even more design inspiration, as well as technical guidance on topics such as matching the label to the shape of your container, brand protection and choosing a color spectrum, visit our comprehensive buying guide to Custom Labels for Health and Personal Care Products.