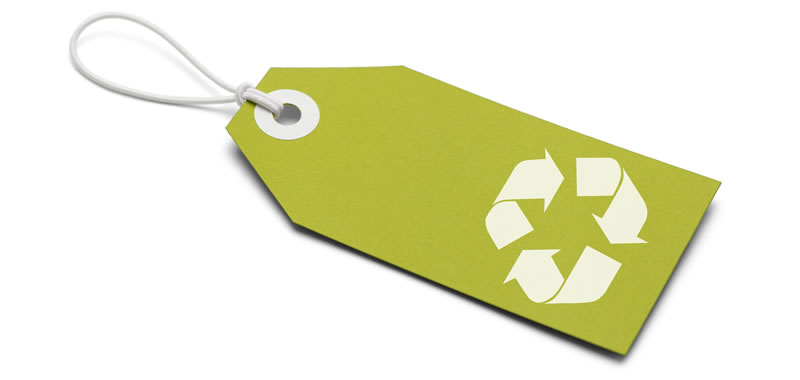 Nearly three out of four millennials say they would pay more for sustainable products. Over half of baby boomers feel the same way.
Among those consumers willing to pay more for sustainability, 53 percent look for products with environmentally-friendly packaging. Driven by consumer demand, the global sustainable packaging market will exceed $400 billion in less than a decade, growing by 7.7 percent each year.
This provides a perfect opportunity for brands: Choosing sustainable labels (and an eco-friendly label supplier) can make a big difference to the environment and your bottom line.
What Makes a Product Label Eco-Friendly?
Eco-friendly labels are typically manufactured using earth-friendly materials and have been designed to reduce the carbon footprint of the company that makes them.
Sustainable Materials for Eco-Friendly Labels
Sustainable choices for product labels include materials that are recycled, recyclable, or renewable. This can apply to the entire label or individual elements, such as the printing surface, the ink, or the adhesive.
It's worth noting that, while the plastic, glass, or metal containers that hold your product may be recyclable, their labels (and label adhesive) may not be. Labels and adhesives are usually burned away during the recycling process. Regular paper labels may be recyclable if the consumer removes them, but the adhesive may gum up the works at the recycling plant.
Here are a few options for recycled and renewable materials for your product label:
PLA labels. PLA stands for polylactic acid, a biodegradable polyester derived from renewable sources such as corn starch. PLA looks and behaves like petroleum-based plastics but won't linger for centuries in landfills. Although PLA can't be recycled, it biodegrades in just 60 days.


Tree-free labels. The demand for paper continues to play a significant role in the demise of the world's forests and rainforests. But paper-like products can be manufactured without trees. Tree-free label stock can be made from bamboo, sugarcane, and cotton. "Stone paper," made mostly from calcium carbonate, doesn't come from plants at all — although it does include a little bit of plastic.


FSC-certified paper. The non-profit Forest Stewardship Council (FSC) certifies that "products come from responsibly managed forests that provide environmental, social and economic benefits."


Alternative inks. Petroleum- and solvent-based inks can release toxic chemicals known as volatile organic compounds into the environment. But alternatives based on water and vegetable oils have been gaining widespread use. Be sure you understand how an ink will hold up to exposure before you choose it for your product label.


Thinner materials. The less material your label is made from, the fewer resources it will consume and the easier it will be to recycle.
These are just some of your options for eco-friendly labels. The most important thing is to tell your label supplier you want to be as environmentally sustainable as possible. They will work with you to achieve your goal.
Eco-Friendly Practices of Label Printing Companies
As with any industrial process, label printing can generate waste, which must be accounted for when you determine the overall environmental impact of a label.
The Tag and Label Manufacturers Institute (TLMI) awards L.I.F.E. (Label Initiative for the Environment) certification to member companies that have demonstrated good environmental stewardship with:
The recycle-compatibility of their adhesives.
The source and destination of their liner materials.
The use of lighter-weight construction.
Company-wide efforts to reduce overall carbon footprint.
L.I.F.E. certification is one of the best third-party indicators that you're working with an eco-conscious label printer.
At The Label Printers, we're proud of our L.I.F.E. certification and our continuing efforts to reduce our impact, and the impact of our products, on the environment. Our initiatives include:
Diverting around 71 percent of our solid waste from landfills. This includes a waste-to-energy program in which renewable material such as paper fiber and wood are sent to replace coal in power plants.
Holding "Take Stock for Education" events in which we invite teachers to peruse and take — for no charge — our surplus office and printing supplies.
Assembling a sustainability team that has conducted waste audits and researched ways to reduce our use of energy, water, and raw materials.
Your Eco-Friendly Label Printer
Whether your team's blood runs green or you're simply trying to target eco-conscious consumers, the Label Printers are on board. Contact us today to talk about how we can help your brand reduce its environmental impact with sustainable product labels and printing practices.
Want to know more about your label printing options? Download our FREE Custom Label Buying Guide.