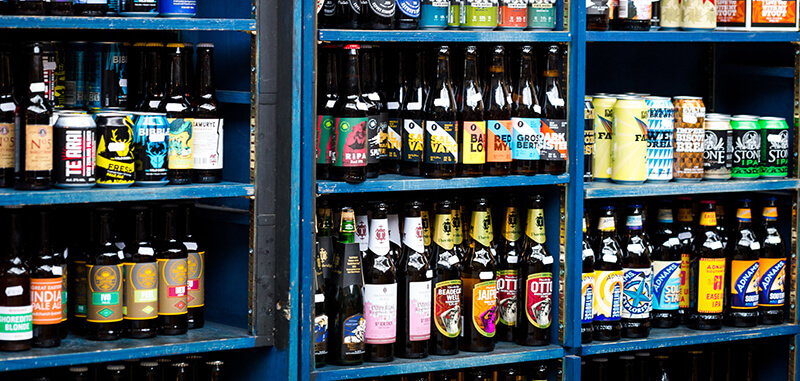 Looks aren't everything. But when you're a craft beer brand looking to stand out on the shelf, win over new customers, and inspire lifelong loyalty? Appearance matters—a lot.
The craft beer business continues to be an American success story of the 21st century. According to the Independent Craft Brewers Association, the craft beer market accounts for nearly $30 billion of the overall $116 billion U.S. beer market. In 2019, there were 8,275 craft breweries serving the U.S. market, an increase of about 9% over the year before.
For you as a craft beer maker, that means plenty of opportunity … and tons of competition.
Whether you think it's fair or not, you can't count on customers judging your beer entirely on taste (and "mouthfeel" and "nose" and all the other ways to describe the experience of drinking a brew).
Nielsen reports that two-thirds of American consumers say they are either "very" or "extremely" likely to choose a craft beer based on its packaging or label. According to the same study, 71% of craft beer buyers prefer trying new brands with eye-catching packaging.
The takeaway: Visual branding is crucial to successfully marketing a craft beer. And therefore, so is your custom label.
What Is Visual Branding?
71%

of craft beer buyers prefer trying new brands with eye-catching packaging.

Your visual brand comprises every way customers and potential customers experience your company and your products through the sense of sight.

Elements of your visual brand can include everything from print advertising to the sign on your headquarters. But for a craft brewer, the most important aspect of your brand's visual identity is your product label.

Scan the shelves of any well-stocked craft beer retailer, and you'll find labels representing their brands in every conceivable style and mood. You'll see classy labels, minimalistic labels, funny labels, irreverent labels, artistic labels, old-timey labels, futuristic labels, and every other design approach you can imagine.

The reason for all this variety is that each beverage brand wants to communicate a certain personality to potential buyers. The goal of visual branding is to portray an image that buyers can personally identify with and associate positively with the brand.

For example, if your target market is free-spirited twenty-somethings, you'll want a look that emphasizes fun and adventure. If you're after a more mature crowd, you might want something that evokes tradition and craft.

Regardless of your brand image, it's critical to avoid incongruency between your label design and other branding elements. You don't want to confuse or even repel buyers who expect something different from you.
Aspects of Visual Branding
A beer label designer's visual toolkit includes:
Color
The right combination of colors (or a well-chosen single color) can define a brand's visual identity. Colors are traditionally or psychologically associated with particular emotions or values, and thus, can act as a kind of shorthand for your brand's personality.
Red, for instance, signifies love, passion, and excitement. Purple implies creativity, wealth, and luxury. Yellow is all about sunshine, fun, and laughter.
When choosing colors for your custom beer label, don't overlook how the colors contrast and complement your beer or bottle's hue.
Warm colors like orange, gold, and red really pop against a brown glass background. You can see this effect on the label for Eighth State Brewing Company's Piece of Future imperial stout, which features gold foil for sparkle and texture.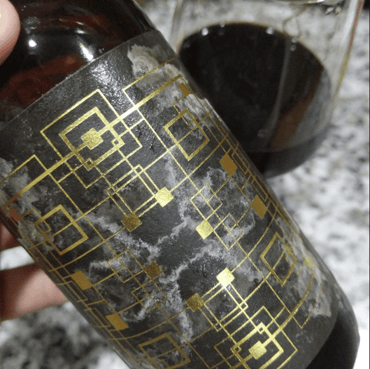 (image source)
Also, keep in mind, some colors are more complex and potentially costly to print. Ask your label printer about the color spectrum achievable by their printing technology.
Typeface
Sure, a picture is worth a thousand words, but words are nevertheless essential to branding. Your beer label can take on a whole different feel depending on your choice of a playful or a classic font, elegant script or retro-modern pixel art (like New Holland Brewing's Hoptronix, below).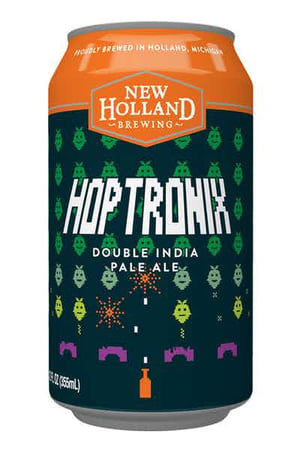 (image source)
Just be sure when choosing a typeface to consider legibility. You don't want your brand name and messaging to get lost in a swirl of calligraphic flourishes.
Imagery
Imagery is where you can have fun with your beer label design (within the boundaries of your brand identity, of course). Everything is on the table these days, from cartoons, to fine art, to personalized digital imagery.
Hop Culture's roundup of the best in beer label design from 2019 showcases some amusing and astounding imagery. Our favorites include 40 Thieves, from Zero Gravity Craft Brewery, which invites drinkers to identify the black and white drawings of 40 notorious thieves from fiction. (There's an answer key at the bottom if you get stumped.)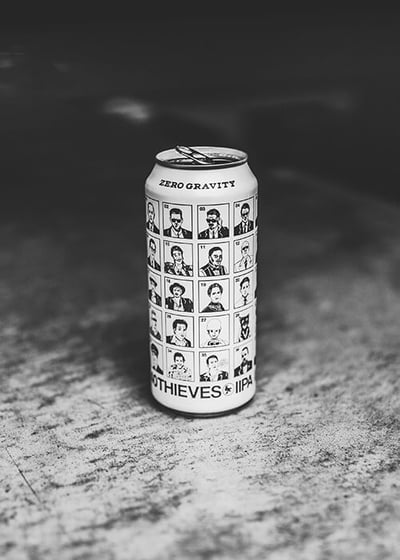 (image source)
Shape, Size, and Material
The construction of your craft beer label itself can make a visual statement. Different materials – paper, synthetics, foil – capture and reflect the light differently, drawing the eye and the attention of consumers.
Custom shapes (created through a process called die-cutting) can stand out in a sea of rectangles and circles.
For example, this Skye Red ale (from the Isle of Skye Brewing Co.) goes big and bold with a diamond-shaped label. The ring around the bottleneck underlines the jagged ruggedness of the brewing company's island home.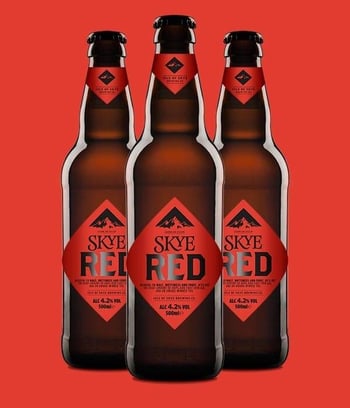 (image source)
Remember, though, when considering label face stock of any shape, a typical bottle or can of beer endures multiple environmental hardships throughout its lifetime: temperature changes from near freezing to summer heat, scorching sunlight, rough handling, and moisture.
Work with your label printer to select material, ink, and adhesive that will hold up and continue representing your brand no matter what the world throws at it.
We Know Custom Beer Labels
Top brewers choose to work with the Label Printers because we understand the beverage industry's particular requirements. We will collaborate with your designers on labels that look amazing and perform flawlessly. We know a brewer's production schedule can be unpredictable, and we'll go out of our way to ensure you get the labels you need, when you need them.
If you're a craft beer maker considering a visual branding refresh, click here to discuss your ideas with the experts at the Label Printers.