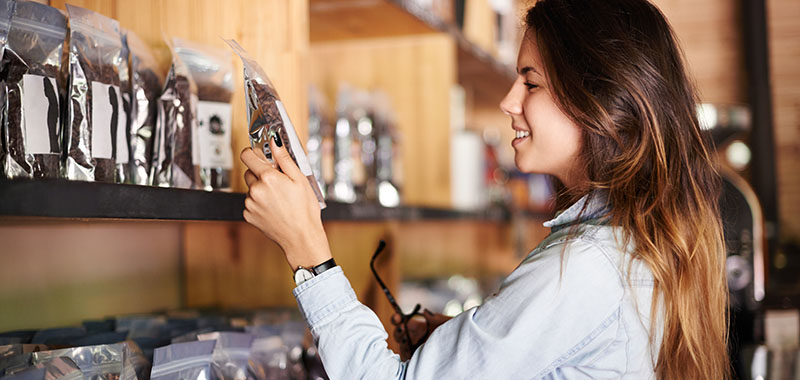 Coffee was once viewed as a simple commodity in the American market.
But over the past several years, American coffee drinkers have become more particular about their beans, making room for smaller, artisanal roasters, funky niche brands and coffee subscription services.
There's room for businesses of all kinds and sizes in the coffee market, but opportunity breeds competition. An eye-catching coffee label and product packaging that speaks to your brand's and your buyers' values are essential.
So, whether you're looking for labels for your cold brew, whole beans, gift boxes or even promotional materials, here's what you need to know.
Your Coffee Label and Your Brand Identity
A great coffee label uses colors, typography, imagery, texture, and messaging to tell a story, evoke emotions and inform. Coffee drinkers look to labels to discover what sets a brand apart and decide whether a coffee product is worth buying.
But not all coffee customers are looking for the same thing. Some want high-octane caffeine from a brash, bold group of local roasters. Others want a smooth, rich cup that feels like a morning luxury. Whatever label you choose, it needs to reinforce the brand identity you've created on your website, on your marketing materials and in your storefront.
This goes double if your brand is all about doing the right thing for the environment and local communities. Consumers are increasingly knowledgeable these days and wary of false claims, especially when those claims involve sustainability. (Eco-conscious consumers do not look kindly on "greenwashing.") Smart drinkers scrutinize coffee labels looking for third-party certifications that establish a brand's sustainable bona fides:
The Rainforest Alliance seal recognizes products that support the "three pillars of sustainability: social, economic and environmental."
The Fair Trade Certified seal is awarded to brands that meet high standards for safe working conditions, environmental protection, sustainable livelihoods and community development funds.
To qualify for USDA Organic certification, products "must be produced using agricultural production practices that foster resource cycling, promote ecological balance, maintain and improve soil and water quality, minimize the use of synthetic materials, and conserve biodiversity."
The Smithsonian Bird Friendly coffee program encourages growers to protect rapidly dwindling songbird habitats.
Coffee Label Design Inspiration: Our 5 Favorite Looks
Whether you're launching a new artisanal coffee brand, bagging your coffee shop's legendary beans, introducing a new bottled coffee beverage, or refreshing your legacy brand's packaging, this next section should provide a launching pad for your label design ideas.
Here are five of our favorite coffee label designs:
Kahawa 1893 Rum Barrel-Aged Coffee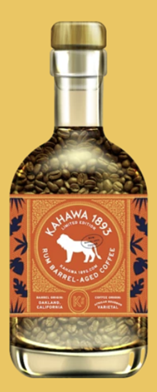 (image source)
As if barrel-aged coffee beans weren't innovative enough, San Francisco-based small-batch coffee roasters Kahawa 1893 packages its Ethiopian-sourced coffee in 750 ml glass bottles, complete with a spirits-inspired label design. The vibrant imagery pays tribute to coffee's East African origins, as well as the founder's childhood on her grandfather's coffee farm.
PT's Coffee Flatlander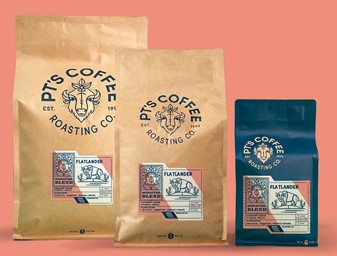 Each of PT's Coffee's signature blends features a line drawing that showcases the brand's Kansas pride (and establishing that there's great coffee to be found even in "flyover country"). We like the prairie imagery on the Flatlander blend – including a buffalo, naturally. The typewritten text adds to the vibe of simple goodness.
Tip: Buying customized labels is a smart way for small roasters to save on money and materials. Instead of having to keep multiple types of printed bags in inventory (some of which may only get used seasonally), roasters can buy plenty of plain bags and benefit from that bulk pricing. Then, they can use customized labels – which are much easier to ship and store – on the bags to convey specific product information.
Ritual Decaf Los Gigantes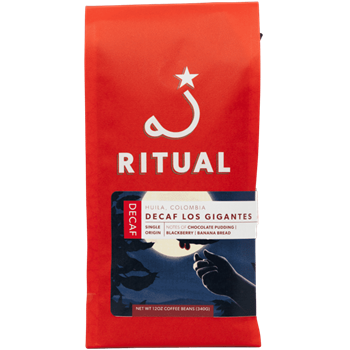 Decaf doesn't have to mean boring. Ritual (another mainstay of the lively San Francisco coffee scene) makes its single-origin decaffeinated offering seem downright mysterious, with the image of a hand reaching toward a moonlit sky. This coffee label really pops against the bright red bag.
Swift Cup Instant Coffee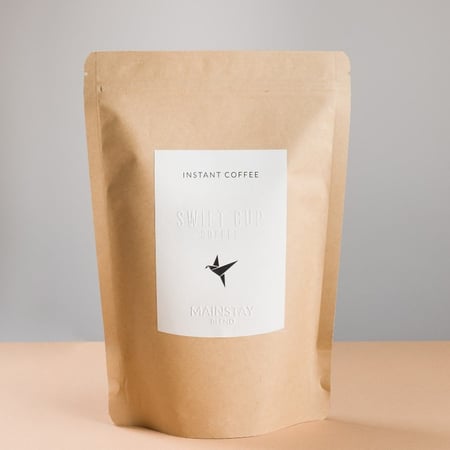 (image source)
Despite commanding more than a third of the global coffee market, instant coffee has not enjoyed a stellar reputation among American coffee aficionados. However, that's changing as more and more high-end specialty coffee brands enter the instant coffee market, touting convenience and drinkability.
Nevertheless, to overcome the stigma, instant coffee label design must prepare consumers to expect a quality cup. Swift Cup's instant coffee label does that and then some, with a minimalist aesthetic and embossed font that screams sophistication.
Lucky Jack Triple Jack Cold Brew Coffee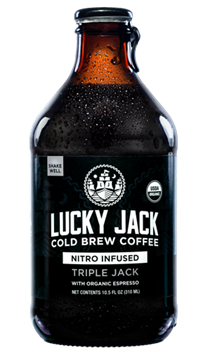 In recent years, ready-to-drink cold brew coffees have flooded grocery store shelves and gas station beverage coolers, offering a smooth, healthier alternative to sugary sodas and energy drinks.
Competition is fierce in this market segment, but we think Lucky Jack's bold, nautical-themed label design jumps out. The stark black and white lettering promises a bracing jolt of clean energy.
Coffee Labeling Requirements
As with nearly any consumable product, coffee packaging is subject to government regulations concerning how the contents are described.
Whole and ground coffee beans, instant coffee and other "pure" coffee products are exempt from the U.S. Food and Drug Administration's nutritional labeling requirements. However, any coffee product that provides "significant nutrition" (sweetened and milk-based drinks, for example) must include an FDA-compliant nutrition label.
Regardless of nutritional value, all coffee products must be labeled with their product identity, net quantity, ingredients, allergens and company information (name and address).
If you have any questions about food labeling requirements and your coffee label, a knowledgeable label printer with experience in the beverage market can serve as an invaluable information source.
Find Design Inspiration Anywhere
We hope you've come away from this article with a few thoughts as to how to approach your coffee brand's next label. But if nothing has clicked yet, don't give up. Modern coffee label design isn't all that different from the looks that grace other premium food and beverage categories, such as craft beer, wine, hot sauce, and kombucha. Follow those links for more label inspiration!