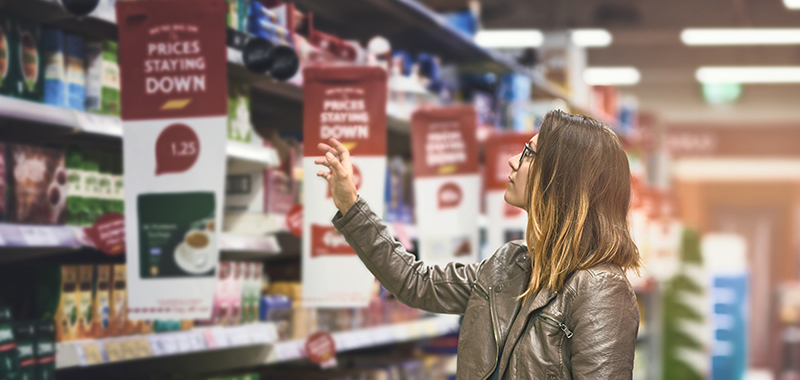 We love custom labels. Who doesn't? When it comes to your product, a well-designed, beautifully performing custom label can completely elevate your brand – and your sales.
But we'd be remiss if we didn't let you know about some other amazing options when it comes to your product packaging. As it turns out, there's a whole world of possibilities beyond the standard label.
Whether your goal is to grab the attention of retail shoppers in the split second it takes for them to form an opinion or to provide a premium experience to your e-commerce customers, here are a few custom packaging options to consider.
Booklets
What are they? Booklets are little books usually made with folded sheets of paper or synthetic material. The sheets can bound with staples or glue or structured with an accordion fold. Depending on the material and bindings you choose, booklets can have anywhere from a few to hundreds of pages.
Booklets can be inserted loose into your product packaging or attached to products using an adhesive. The latter option is a form of extended content label, a pressure-sensitive custom label that folds back over itself.
Why use them? Booklets offer a user-friendly way to provide more information to your customers than you can comfortably fit on a product label. This has become particularly important as international regulations have increased, requiring vital information like instructions, ingredients, and caution statements to be provided in multiple languages.
Booklets may be less bulky than folded leaflets and many versions have a resealable edge (such as with extended content labels) making them suitable for reuse.
Examples of booklet use cases include:
Instruction manuals.
Warranty information.
"Bonus" content such as recipes.
Inserts to accompany physical media (such as DVDs or CDs).
Promotional giveaways.
Shelf Markings (End Caps)
What are they? Shelf markings are pressure-sensitive labels that can be affixed to the shelves on which products are sold. Typically, shelf markings are removable, so they can be swapped out quickly and cleanly. Shelf markings can be used on standard retail shelves, or they can decorate end caps, those desirable sections of retail space at the ends of aisles.
Why use them? Shelf marking labels give your brand another way to communicate with consumers as they are shopping. Shelf markings stand out, elevating your brand above your competitors on crowded shelves.
You might use shelf markings to:
Advertise discounts.
Promote the benefits of your product.
Offer coupons.
Clamshell Inserts
What are they? Clamshell packaging sandwiches products between two layers of clear rigid plastic that are sealed shut and connected with a hinge. Clamshell inserts are pieces of card stock cut to fit into the cavity or back of clamshell packaging. Clamshell inserts may block the visibility of products, go behind products, or have special cut-outs to strategically display the product.
Why use them? Clamshell inserts give color, shape, and design to clamshell packaging. Most importantly, they convey information. (You can't print directly onto clamshell packaging.) Clamshell inserts can perform most of the same roles as adhesive product labels, except they go on the inside of a package, not the outside.
Clamshell inserts are a good choice when you want to:
Enhance the look of your product within otherwise unremarkable clamshell packaging.
List product details on the back or front of your packaging.
Protect your label from being defaced or destroyed. (Clamshell packaging is resistant to tampering.)
Header Cards
What are they? Header cards (also known as bag toppers) are folded pieces of cardboard used to close off the top of plastic merchandise bags. They are usually stapled at the bottom to seal the bag. Header cards can be printed on one or both sides, and they may have a hole in them so the bags can be hung on retail racks.
Why use them? Header cards are a cost-effective way to package and promote items that fit in plastic bags. Header cards can save you from the trouble and expense of printing directly onto the plastic.
Header cards are good choices to package:
Hardware, such as nails and screws.
Small electronic components.
Small candies or snacks.
Craft supplies, such as beads and buttons.
Shelf Danglers
What are they? Shelf danglers, as their name implies, hang from retail shelves in front of products. Shelf danglers (also known as shelf wobblers) take many different forms. Some use adhesive, some are designed to snap into price rails, and others are simply folded pieces of material (usually, paper, cardboard, or synthetic material).
Why use them? Similar to shelf markings, shelf danglers are another way to attract shoppers in retail environments. Because they hover between consumers and products, shelf danglers are hard to miss.
You can use shelf danglers to:
Promote discounts.
Introduce new products.
Make comparisons with competing products.
List product features.
Hangtags
What are they? Hangtags are pieces of cardboard or paper that attach to items with a loop of string or a plastic fastener, or even specially die-cut with a hole to fit over the neck of a bottle. Like adhesive labels, hangtags can take almost any shape and can be printed on using nearly any combination of colors.
Why use them? Hangtags are ubiquitous in the fashion industry, adorning almost every piece of clothing you can buy. But hangtags have many non-garment applications, as well:
A hangtag can add a handmade aesthetic to a bottle of wine or jar of locally sourced honey.
Hangtags are easy to remove, and they don't leave behind any residue. This can help encourage your customers to reuse or recycle your containers.
You can use hangtags for advertising seasonal promotions or discounts without having to reprint your product labels.
What Else Can We Do for You?
These are just six of the products we offer here at the Label Printers. Click here for a complete list of the ways we can help you draw attention to your product.