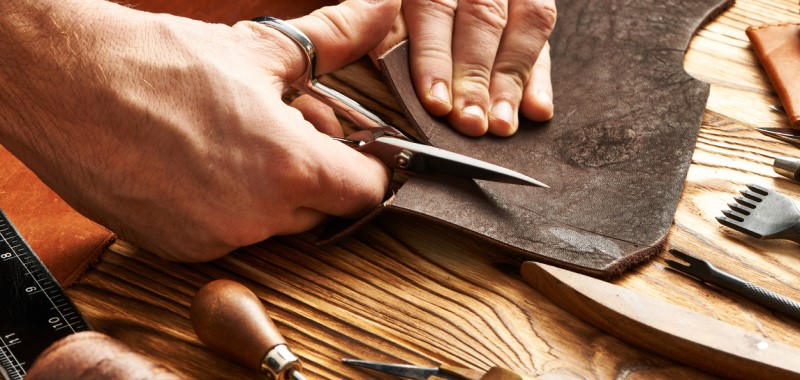 If nearly $2 billion in sales on Etsy (and growing) is any indication, the market for handcrafted goods is only gaining momentum. In the age of rising automation and mass production, many consumers crave the distinctive authenticity and uniqueness of handcrafted items.
To stand out in a growing sea of competition, handcrafters are looking to make an impression not just with the quality of their products, but with the whole buyer's experience, including the product label — often a consumer's first introduction to a product.
In general, consumers choose handmade products because they are unique and created with skill and care. A high-quality handmade item is an investment, not a disposable impulse buy.
A custom product label, then, is an opportunity to communicate the qualities of care, expertise, and longevity people expect from handmade goods.
Here are a few options to consider when you're purchasing custom labels for handmade items:
Use Natural Label Materials
Natural-looking materials such as kraft paper or cardstock can emphasize your commitment to sustainability and focus on traditional construction techniques. A good custom label printer will have access to natural label materials available in different weights and colors (natural brown through bright white, for example), to help you achieve the look you want.
Add Touches of Quality
Your label printer may also be able to use foils and metallic inks to embed metallic details in your labels, enhancing their heirloom-quality feel. Embossing is another way to add a hint of finely-wrought luxury to your label.
Choose a Typeface That Fits
A highly-stylized or mechanical typeface might feel out of place on a handmade item. Simple, elegant fonts may appear more authentic to buyers. In fact, some research indicates that labels that look handwritten can be attractive in the right context. You might even want to go all out and actually write your label by hand (as on this bottle from Slo Down Wines).
Build Your Label to Be Tough
A label that withstands heat, cold, moisture, sun, and rough handling speaks to the durability of a handmade product. As you select label materials, adhesives, and inks, think about the environment your product will typically be exposed to.
For example, a small-batch beauty lotion will likely find a home in the bathroom, where it will experience frequent steam. This can cause issues for some label adhesives. The dampness may make paper labels soggy and fragile.
Your label printer should be prepared to help you choose label materials that will last as long as your product.
Think Beyond the Label
Hangtags present an appealing alternative, or supplement, to labels for some items. For example, if you have a line of candles in glass jars, you might have a label that goes on all the jars as well as a hangtag identifying the scent that gets tied around the neck. It's not just your product label; all these elements contribute to a customer's experience of your brand. Cohesion is essential to establishing a bold, memorable brand identity. For maximum cohesion, work with an experienced label printer who can help you tell your story across many different brand elements.
Become a Label-Buying Expert
The skill to create beautiful handmade items comes from many years of learning and painstaking practice. But there's always something new you can learn. Learn how a label printer thinks about their craft in our free ebook, "The Custom Label Buying Guide: An Inside View of What Makes a Great Label."