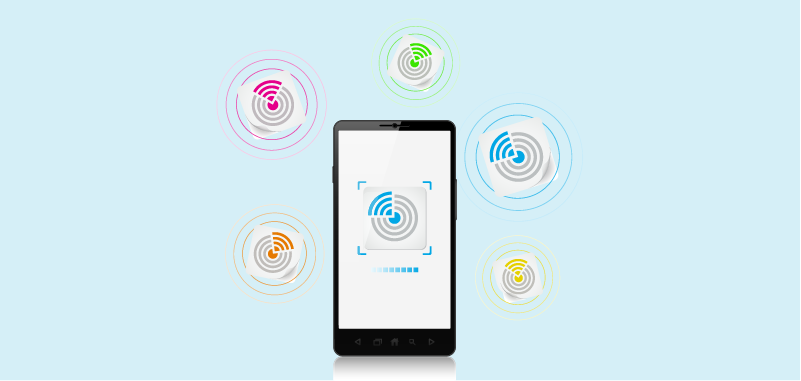 What do almost all your customers have in common? They probably have a smartphone within arm's reach. The Pew Research Center says 81% of Americans carry a smartphone. And when you look at the generations of people under 50, smartphone users make up over 90% of the population.
Now, what do all those smartphones have in common? Most of them are enabled for near-field communication, or NFC. According to Statista, there are nearly 2 billion NFC-capable devices worldwide.
Smart brands can take advantage of this technology, engaging customers via NFC labels.
What Are NFC Labels?
Near-field communication is a technology that allows devices to exchange data using radio waves over very short distances – typically, about four inches. NFC is a subset of radio-frequency identification (RFID), which allows communication over much larger distances.
Most smartphones are equipped to both receive and broadcast data over NFC. This, plus its short-range nature, makes NFC a common standard for contactless payment systems. If you have ever paid for something at a store by holding your phone near a payment terminal, you have used NFC.
But NFC can do so much more than enable contactless payments. Product labels, tags, and marketing materials can be embedded with NFC chips, giving consumers an easy way to extend their brand experiences into the digital realm. (Unlike Bluetooth, NFC connections do not require manual pairing; the only requirement is proximity.)
How to Use NFC Labels in Your Product Marketing
You can use NFC labels to direct consumers to websites where they can get more information about your product or your brand than can fit on a printed label. With the tap of an NFC-capable phone, customers can discover:
Extended product descriptions and exclusive content.
Information about ingredients and their sources.
Recipes, instructions, and tips for use.
The history of your brand.
Many consumers like to view products in stores but then make purchases online. You can use NFC labels to send your customers to online shopping portals where they can see alternate colors and sizes, read reviews, and buy online for home delivery.
The same principle can apply to advertising and signage. Imagine if someone could research and buy one of your products simply by holding their phone near an ad on the subway. Not only would the customer get a convenient shopping experience, but you would gain priceless data about the performance of your print advertising.
For brands, that data is one of the most valuable aspects of NFC marketing. NFC interaction data is a treasure trove of information about consumers and their response to your products. When someone interacts with one of your NFC labels, you can learn:
Where they did so.
What triggered the interaction.
What information they sought out.
Whether they shared the experience with others.
Whether the interaction led to a cross-sell, upsell, or re-order.
You can use this data to adjust your messaging and optimize your sales strategy.
Every NFC label is unique to the specific product to which it is attached. Adobe says to think of NFC marketing as "item-level intelligence." Your customers don't get just another interchangeable product, but a specific object with a history all its own.
For example, in 2015, Johnnie Walker imprinted some of its bottle labels with NFC sensors that could detect whether the bottles had been opened or not. The NFC labels helped buyers determine if their expensive Scotch had been tampered with, while also allowing Johnnie Walker to transmit recipes, promotional offers, and other personalized information to their loyal followers. All-in-all, the NFC labels magnified the exclusive, premium experience of purchasing a high-end product.
Explore Your Options
Product labels embedded with smart technology like NFC are just one of many ways label printers can help your brand speak to your customers on the shelf and online. Look for a label printer with the knowledge to explain all your options and the experience to help you choose an approach that elevates your brand and achieves your marketing goals.
Want to explore your options? Talk to us today.