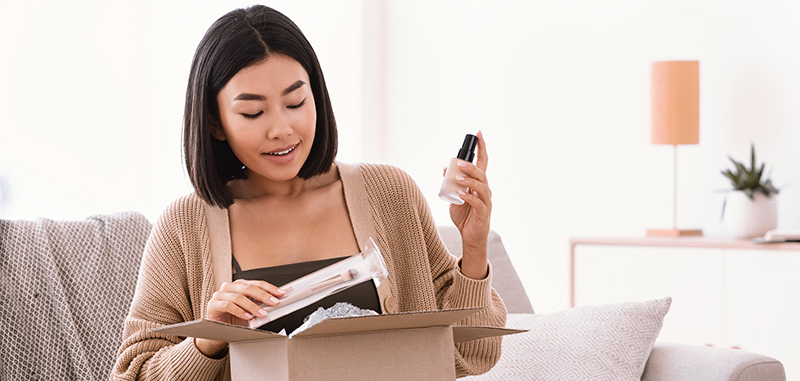 The beauty and personal care industry is growing rapidly. Beauty buyers' values and shopping habits are changing just as quickly.
Your beauty company has an unprecedented opportunity to gain lifelong fans and grow your business, but you can't count on your old branding to win over new converts. Remaining competitive as a beauty manufacturer in 2022 may require a brand refresh, and that starts with your brand's most visible element: your beauty product label.
What Beauty Buyers Want and How They Shop in 2022
The beauty industry surpassed half a trillion dollars in global value last year and is on track to exceed $700 billion by 2025 (according to data compiled by Common Thread Collective). The Asia Pacific region commands the greatest share of the beauty market (46%), with North America following (24%).
Beauty product sales are climbing around the world—except perhaps in stores.
E-commerce sales are growing
An eMarketer analysis predicts e-commerce sales in the U.S. health, personal care, and beauty markets will grow from $53.96 billion in 2019 to $115.81 billion by 2023. At that point, online sales will represent nearly 20% of all retail sales in the category. At the same time, offline sales have been dropping at a rate of about 1.2% per year.
The takeaway: The most promising opportunities for beauty brands right now are online.
This is especially the case for independent beauty brands. Nielsen observed in a 2019 report that the top 20 manufacturers accounted for 96% of traditional retail cosmetics sales, but the same group of companies held just a 14% share online.
Word-of-mouth + digital = influencers
The internet has altered the beauty buying experience in another significant way. Younger consumers—millennials and Generation Z—are taking their cues from online influencers.
The beauty and skincare stars of TikTok, Instagram and YouTube, such as Hyram Yarbo and a collection of dermatologists, can make a brand go viral overnight. Consumers trust these beauty influencers to recommend products with safe and effective ingredients while steering them away from potentially harmful contents. For example, The Ordinary, a line of affordable skincare products featuring straightforward formulations, saw sales of a peeling solution jump 426% after the solution was reviewed favorably by a group of acne-positive TikTok users.
Sustainability is in style
Along with understandable, high-quality ingredients, many of today's beauty buyers prefer natural, organic and sustainable products—both in the formula and the packaging—and will pay a premium for them. As we reported last year, the majority of American Generation Z consumers say they would pay 10% or more for sustainable products.
Beauty brands have responded. The global market value for natural organic cosmetics and personal care is expected to grow from 34.5 billion in 2018 to $54.5 billion in 2027. Meanwhile, beauty manufacturers large and small are teaming up to develop a brand-agnostic scoring system to help consumers choose sustainable products.
To summarize, the beauty buyer of 2022:

Is likely to shop online, particularly when considering independent brands.

Trusts influencers more than marketing.

Is knowledgeable about ingredients.

Seeks sustainable products, ingredients and packaging.
How can you adapt your beauty product labels to attract this kind of consumer and grow your brand? Here are a few tips:
Keep It Simple
The same design techniques that get attention in drug stores and cosmetics counters may not work as well online.
Keep in mind: Nearly 80% of consumers do not look at products in stores before buying online. Many people will experience your brand first and exclusively through small photos or videos on their mobile devices. It's important to design your beauty product labels to look good and be legible in a tiny digital format.
Busy imagery and too many colors can come across as "muddy" on smaller screens. Consider opting for minimalism instead. Minimalism is a tried-and-true design approach used by some of the most iconic beauty brands.
Make an Impression
To prevent buyers from scrolling away, your beauty product labels must be clear, concise and eye-catching.
Minimalist shouldn't mean boring, however. The average online shopper reads only about 20% of product descriptions, so effective visual communication is essential. To prevent buyers from scrolling away, your beauty product labels must be clear, concise and eye-catching.
If you're looking for some design inspiration, check out our rundown of six skincare product labels we love. You'll notice how each brand plays with label texture, shape, color, and font to convey an unmistakable brand identity with very few words.
For example, you might incorporate a few tasteful metallic elements to establish a sense of luxury. Or you might go for a vintage vibe with unbleached paper and throwback lettering. Your label printer can suggest other possibilities or recommend an experienced beauty label designer.
Be Consistent
Brand recognition is critical if you sell your beauty or personal care products on big-name shopping sites like Amazon.
Make sure there is some level of strong brand consistency with your labels, whether it's with color, typeface, style of graphics, or some other major visual element. If none of your product labels look like "yours," new fans may inadvertently pass over your other products online.
Don't Hide Your Ingredients
First and foremost, beauty buyers want to know what's in your products. Modern beauty consumers distrust brands they perceive as trying to downplay their ingredients. So, place your ingredients front and center, not hidden on the back of your packaging in a six-point font.
The Ordinary's science-inspired design is an excellent example to follow here. Or take inspiration from Davines hair care products, which not only list the main ingredient on the front label but the ingredient's source.
Ask Your Label Printer About Eco-Friendly Labels
Product packaging is a major source of waste worldwide, and it is a significant contributor to your product's overall environmental footprint. Eco-conscious beauty buyers (of which there are many) know this and expect your brand to make sustainable packaging choices.
There are many ways to make your product label more sustainable, such as:
Everything You Need to Learn About Beauty Product Labels
In this article, we've mainly focused on the look and appeal of beauty product labels. But there are other important considerations to make when creating a beauty product label, such as regulatory requirements, label durability, and security features to thwart counterfeiting and tampering.
Don't worry; we've got the information you need. Get up to speed by reading our comprehensive guide, "Custom Labels for Health and Personal Care Products."