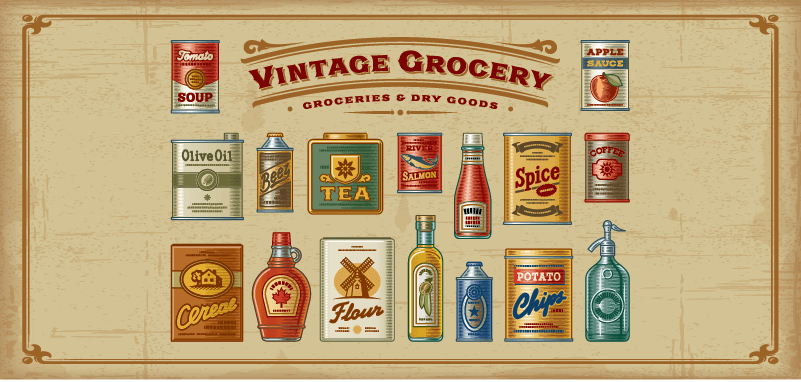 Vintage, retro, throwback, old-timey – call it what you want, but people have been looking to the past for as long as there has been a past to look back to. Vintage design elements evoke qualities like durability and tradition. They may bring us back to our childhoods, when life was simpler (or so we think), and products were made from easy-to-understand, high-quality components.
Backward-looking branding can be powerful. A recent study found that consumers are willing to pay more when thinking about the past than when thinking about the future.
Whether your brand has been in business for a century or is new to the market, you can use your custom product label to elicit warm feelings of nostalgia in your customers. Here are a few tips on how to design a vintage custom label:
Don't Change a Thing
Sometimes the best way to appeal to your customers' sense of history is to stick with what works. Brands like Levi's and Campbell's have built up decades of goodwill, and they aren't about to mess with it by toying with their iconic design.
On the flip side, corporate history is littered with cautionary tales of rebranding gone wrong. Remember when Tropicana tried to get rid of its orange? Sales dropped 20 percent.
Get Inspiration from the Past
The vintage look can be hard to capture in words, but you know it when you see it.
Kick off your label design process with a trip to a used bookstore or second-hand shop. Or browse your public library's collection of old newspapers and magazines. Chances are, you'll stumble across an advertisement from the 1890s, a Depression-era catalog, or a post-war travel brochure that gets your creative juices flowing.
The internet is full of retro inspiration, too. Few topics spark online conversations better than "remember when?" For example, check out our recent rundown of iconic beauty product labels.
Choose Your Era
Vintage can mean different things to different people. What bygone era will resonate most with your buyers? It depends on factors like their age, their geographic region, and the type of product you're selling. A handmade soap brand, for example, may not want to align itself with the slick commercialism of the 1980s.
The table below outlines some of the design features commonly associated with specific periods.


| | |
| --- | --- |
| The Era | The Look |
| The 1980s | Patterns, neon and pastel colors, geometric shapes and lines. |
| Mid-century (the 1930s through 1960s) | Minimalist, clean, "flat." Reducing complex concepts into simple forms. |
| Art deco (the 1920s) | Symmetry, layering, fluid curves, metallic colors. An "ambitious optimism for the modern world and its future." |
| Victorian (1837 to 1901) | Lots of text, line drawings, ornate borders, and ribbons. |
Select Typefaces with Character
In the first few hundred years of printing, type was set by hand using blocks of wood or metal. These materials are marked by imperfections, which can leave an impression on the printing surface. Wood can crack or chip. Metal is malleable; it can nick or have flat spots. Handset type, in general, is subject to misalignment.
For the vintage effect, you may choose to go "full retro," using a letterpress for your custom labels, but the process can be laborious, expensive, and inflexible. It may be more practical to emulate the old-fashioned look of moveable type with modern fonts that have been designed to appear much older than they are.
Be sure to supply your label printer with all the fonts you use in your label design. Follow our checklist to create a print-ready file for your label printer.
Use Natural Materials Like Paper and Cardboard
Back in the day, paper reigned as the go-to choice for custom labels. Synthetics such as polypropylene didn't come along until midway through the 20th century. So, paper labels — along with other natural materials, such as cardboard or cloth — tend to have a vintage vibe.
The less "polished" the paper, the better. Choose coarser, thicker, unbleached types of paper for a throwback feel. Effects like crinkling will make your label appear handcrafted, a characteristic many people associate with heritage and quality.
Keep in mind, however, that paper is less durable than plastic film, particularly in wet conditions. Ask your label printer about label materials that last. Also, if you really want that retro look of paper but your application conditions indicate a film is the better choice, your label printer might be able to apply some printer's tricks that will yield just what you need.
Vintage or Modern, Learn How to Do Custom Labels Right
A custom product label can say, "The quality of this product is backed by years of tradition and authentic craftsmanship." Or it can say, "This is the product of the future." Either way, your product label tells a story — and it's the first encounter many customers will have with your brand.
An experienced, expert label printer can help your brand communicate your message through your custom product label. Learn how in our free guide, "The Custom Label Buying Guide: An Inside View of What Makes a Great Label."