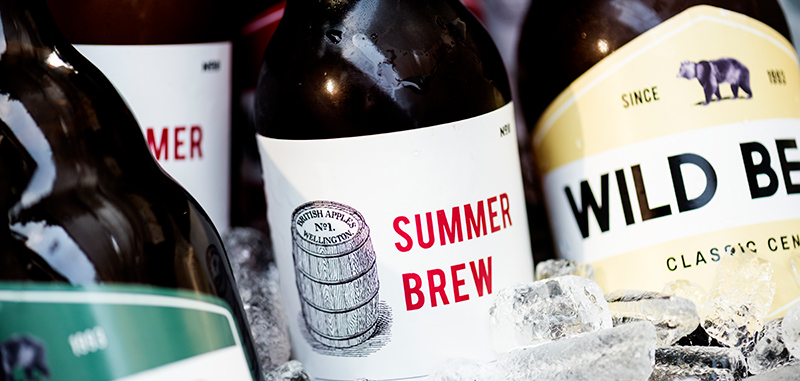 In the craft brewing business, the operative word is "craft." A craft beer reflects the expertise, passion, and artistry of its maker, with enthusiasts prizing each brewer's individuality.
The "craft" aspect of a craft beer doesn't end with taste and mouthfeel, though. There's a visual component to a memorable beer, from rich, dark stouts to hazy IPAs, to golden lagers. Complementing the look of the beer, we have the label: The craft brewer's attempt to capture and communicate the spirit of their product with images, colors, and text.
Craft beer labels can be humorous, irreverent, classy, minimalist, or retro. It all depends on how you want to present your beer's unique nature to drinkers. A skilled beer label designer will work with you to translate your brand's values and personality into an appealing look that will grab the attention of customers.
Where can you find a skilled beer label designer? A good place to start is 99designs, a popular platform for connecting the world's most exciting freelance designers with the brands that need their help.
Let's take a look at some of the top freelance beer label designers featured on 99designs.
MANTSA®
MANTSA® (the "®" is part of his handle) is the nom de plume of Philippines-based designer Kenneth Olympia. In a 99designs Q&A, MANTSA® explained how he started out as a logo designer but found his true creative calling designing beer labels.
"It's like a light bulb that suddenly lit up, and from then on I appreciated the beautiful combination of well-crafted, tasty and aromatic beer, and artwork that likewise was painstakingly made by an artist," he said.
MANTSA® says he draws much of the inspiration for his timeless style from books.
"I find that the ideas I get from published material never expires, whereas trends on the web come and go," he told 99designs.
MANTSA® has worked with countless craft brewers. But when asked about his favorite project, he recalled his design for Talisman Brewing Company's Bel's Fury (below).

(image source)
"As soon as I read the design brief, the basic idea was there," MANTSA® said. "I did some research, then started drawing on paper and rendered it on the computer, hoping my design would stand out. Clearly it did, since the client picked my design."


Wooden Horse
Wooden Horse is an enigma that lets her work speak for itself. We don't know much about Wooden Horse, other than that her real name is Alesia, but we do know she's one of the top beer label designers on 99designs, with 116 contest wins under her belt.
In addition to beer labels, Wooden Horse also specializes in labels for spirits and other craft products, such as barbecue sauce and jam. Wooden Horse's work (such as this label for Webster Brewing Co.) often features an old-timey apothecary look with line drawings and vintage fonts.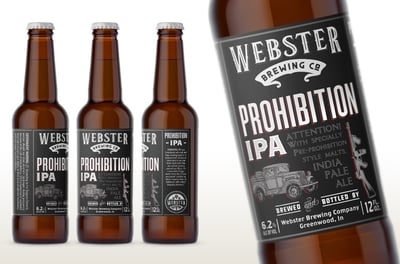 (image source)

Kirill D.
Kirill D. says he's just as comfortable working in a "rough vintage tattoo" style as a "gentle watercolor" manner. Kirill D.'s experience, he says, best fits packaging for alcoholic beverages, coffee, and tea.
You can get a sense of Kirill D.'s versatility in his contrasting designs for G-Fresh IPA (a punky, cartoon look)…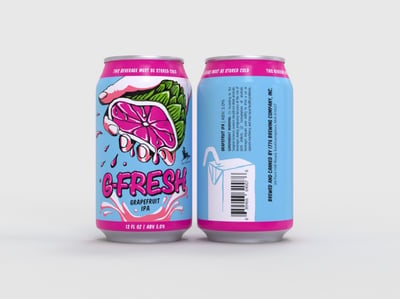 (image source)
…and Caffebier (classic European).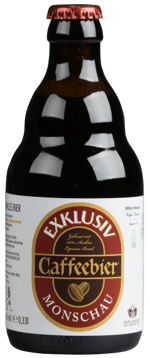 Lasko
Lasko says on his 99designs profile, "There are three responses to a piece of design – yes, no, and wow!"
That Lasko aims for "wow" in his work is demonstrated by the raves from his previous clients. They say Lasko is "the best there is," creates "beautiful designs," and "has a focus on customer satisfaction."
Lasko shows off several beer label designs in his portfolio. In his contest-winning work for Philtsch Craftbeer (below), Lasko went with a clean look, using bold colors to differentiate three different styles of brew.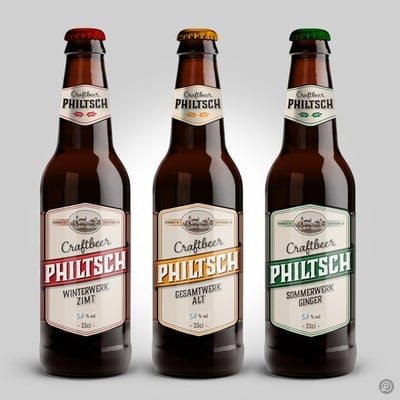 Cynemes
Cynemes is a self-taught graphic designer from Bosnia and Herzegovina who has a master's degree in marketing with a major in consumer behavior. His tagline is "thinking out loud."
Cynemes lack of formal training doesn't seem to hold him back when it comes to beer label design. His minimalist design for Fitzke's Sport Bier (below) puts the product's nutritional content front and center, emphasizing its market position as a beer for the health-conscious.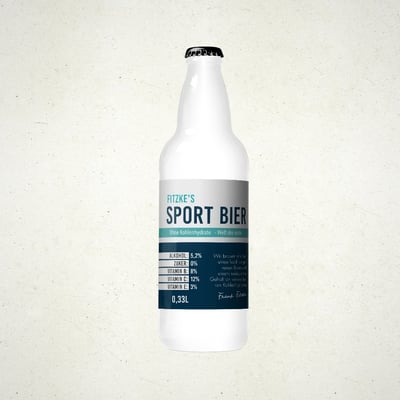 We hope you've found some inspiration in our rundown of hot beer label designers. For more insights from the world of craft brew label design, check out our "3 Takeaways from Beer Advocate's Spotlight on Label Designers."
Ready to get a great label for your own beverage product, but not sure where to start? Visit our helpful Guide to Custom Food and Beverage Labels and learn everything you need to know to get an amazing and gorgeously designed label that will help you stand out from the pack.