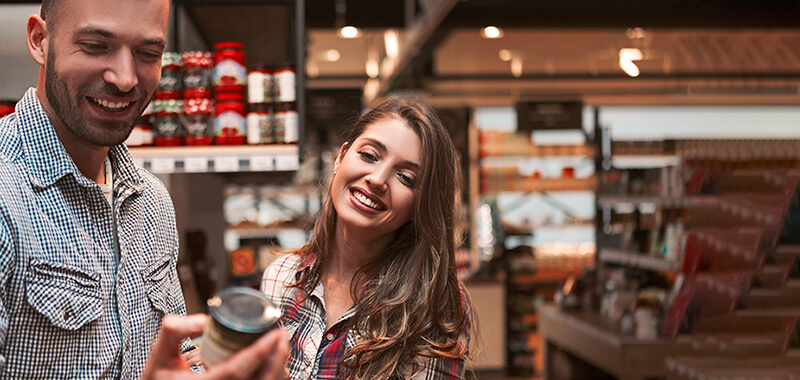 Never have brands had so many options for creating attention-grabbing custom labels. And the stakes have never been higher. Consumer attention spans are shrinking, and competition in categories such as wine, craft beer, and food is skyrocketing.
If you want your product to stand out on the shelves (or on online shopping sites), you need a label that pops.
To help you make a splash with your next custom label, we've compiled a list of suggestions drawn from the latest label design innovations and advanced label printing options.
(Keep in mind that what "pops" with one group of consumers may fall flat with another. Knowing your audience is the key to crafting a brand image that resonates.)
1. Use Metallic Foil for a Touch of Class
Metallic foil draws the eye, shimmering and shining in the light. Available in gold, silver, copper, brass, and every other hue of the metallic rainbow, foil can add a touch of luxury, quality, and durability.
The latest printing equipment allows for the application of multiple foils, which can be further embellished with optical effects, such as holography, or given depth and texture with embossing. A good example of this is a quietly elegant label we created for a standout beer, crafted by our friends at Noon Whistle Brewing.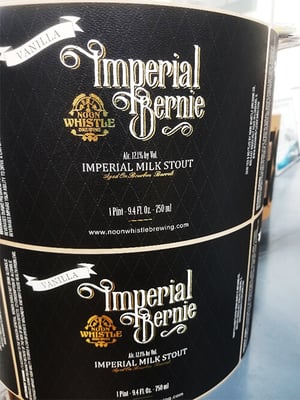 2. Play with Texture
Visual flair is essential, but don't overlook the tactile appeal of a great custom label. When a customer picks up your bottle, jar, or box, will they want to put it down again?
Try experimenting with different materials to give your label a unique texture. Kraft paper and cardstock, for example, lend a natural feel to handmade items.
You might also try combining textures – satiny in one area, rough in another – to create an unmistakable tactile signature. Raised surfaces (such as embossing, which we mentioned above) can give your labels a pleasing dimensionality.
Ask your label printer to provide samples of the various label materials they have in their stock.
3. Find Your New Colors
Some of the world's most iconic brands are recognizable by just a few colors – or a single color. As you revisit your label design, consider reevaluating your brand colors and choosing a combination your customers can spot from halfway across a grocery store.
A high-quality label printer will have the equipment to create nearly a million individual shades.
(Just remember, the colors you see on your computer screen may look quite different when printed. For an explanation, read our article on the science of color and label printing.)
4. Choose an Uncommon Shape
There's nothing wrong with rectangles. But when every label on the shelf features the same old straight edges, a different shape like a star, a teardrop, or even a circle can break through the monotony. The rounded shape of this Windmill Ginger Brew label complements the shape of their bottle while providing plenty of room for their mouthwatering images.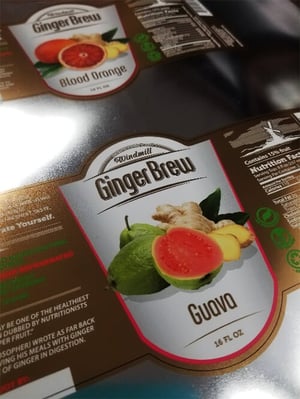 Ask your label printer if they provide custom die cutting. This technology will allow your label printer to stamp almost any shape you want out of a label material. They can even use different die-cutting techniques to cut "windows" into your label.
Alternately, you can give your custom label the appearance of a distinctive shape by printing the shape onto transparent material.
5. Go Bold
We're currently in the middle of a label design renaissance. Brands are opening themselves to all kinds of new approaches to representing their values and connecting with their customers.
Some are choosing quirky, irreverent, or even dark humor. Just scroll through our rundown of eye-catching hot sauce labels for some examples. You'll find everything from heavy-metal inspired designs to a label modeled after a toxic warning label.
Other brands are charting an artistic path, partnering with world-class artists, or featuring elegant photography. You'll see this approach most often on wine bottles and other upscale products.
If award-worthy imagery is what you're after, you may need to secure the services of an experienced and creative graphic designer. Start with our list of five freelance beer label designers to watch.
Get Advice from the Label Experts
At the Label Printers, we've helped thousands of brands redefine their image with stunning new labels. We know how to make a custom label pop. Contact us today to discuss your custom label project.