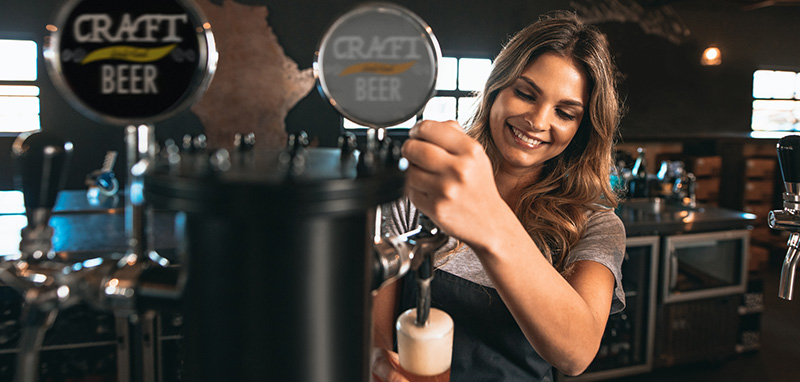 A memorable craft beer isn't just about taste. With so many craft beers lining store shelves, it takes a certain visual flair to stand out. Some of the world's most celebrated craft brewers are also among the most creative label designers, with looks that are funny, artistic, vintage, and sometimes downright psychedelic.
But while the custom beer label on the bottle, can, or growler gets most of the glory, multiple labels must actually work together to establish a coherent brand identity for a craft beer.
Let's take a look at the many custom labels that go into brewing, packaging, and selling a craft beer.
The Beer Bottle Label
The star of the show, the label on a bottle of craft beer does a lot of the hard work when it comes to attracting buyers in a store.
Lately, craft brewers have been locked in a sort of arms race, attempting to one-up each other with unique label designs. You can see some of the most striking custom beer label artwork in industry roundups posted online.
But the optical appeal of a beer bottle label isn't the only thing to think about. As Noon Whistle Brewing founder and brewmaster Paul Kreiner pointed out in a recent article, the modern beer enthusiast treats a prized bottle as a premium item, suitable for aging in beer cellars and showing off to envious friends. Craft beer labels need to resist unsightly peeling, tearing, and discoloration.
The Neck Label
The neck of a beer bottle offers additional real estate for eye-catching imagery. Some brewers choose to go only with a neck label for a high-end, minimalist look (such as Goose Island's Bourbon County line, for example).
When printing on small areas, keep in mind that text can get cramped and hard to read. Consider using clean fonts and contrasting colors.
The Beer Can Label
"Why do you keep talking about bottles?" you might be asking. "Beer cans are back."
You're right. Craft brewers have discovered that the once-lowbrow aluminum can preserves beer longer and is more recyclable and portable than glass.
Brewers that deal in high volumes often print directly onto their cans. But this method isn't cost-effective for smaller batches. Craft brewers prefer wraparound labels and shrink sleeves. An experienced label printer can help you select label material, inks, and adhesives that will look good and last long on aluminum cans.
Keg Wraps and Toppers
The labels that adorn kegs of beer serve valuable functions. They represent your brand, of course, but they also provide essential usage instructions and regulatory information.
Keg wraps typically encircle the entire keg, and toppers must fit snuggly around the tap opening. Like beer bottles and cans, kegs can be subject to rough handling and temperature extremes. Label materials, inks, and adhesives must hold up through it all.
Beer kegs may double as display pieces in gastropubs and tasting rooms, so it's important that the design of keg wraps and toppers matches the look of your other brand elements, such as bottle labels and packaging.
Tap Labels
Consumers are bringing home craft beer in record amounts, but sometimes you just want to go where everybody knows your name. Tap labels are a subtle but effective way to get your branding into bars, where people are more likely to drink out of glasses than cans or bottles.
If you run a brewpub, you might be familiar with the hassle of changing the entire tap handle every time you install a new keg. A possible solution is to use removable labels, which allow you to quickly and neatly change the name and logo on each tap.
It's probably apparent by now that the craft beer business involves quite a bit of labeling, and that's not even counting items like safety labels, promotional stickers, decals, and flight cards. The good news is, you don't have to partner with a separate custom label printer for each type of label. An experienced full-service custom label supplier should be able to handle it all, from your bottle labels to whatever other type of label you need to boost your brewery's success.
Contact us today to talk about your custom label needs.