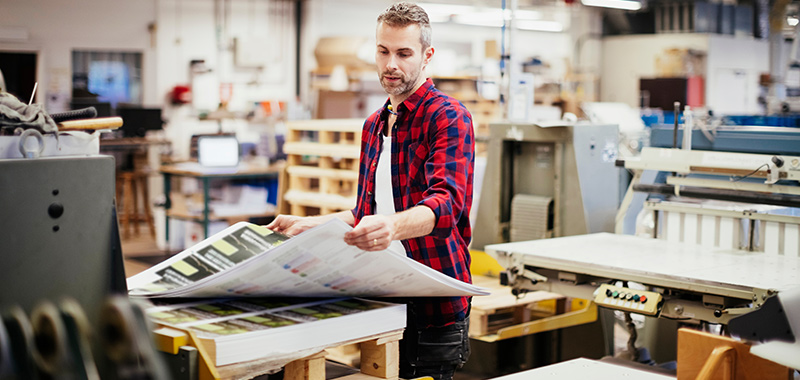 Everyone loves end-of-year lists. There's something both captivating and somewhat revealing about looking back and revisiting those things that held our collective and individual attention over the year, whether it's songs, TV shows, or notable cultural moments (there may have been a few of these in 2020).
But this year at The Label Printers, what we found most interesting was running the numbers to discover which of our articles found the largest audiences in 2020.
As you know, we post regularly – about three times a month – about every conceivable aspect of label printing, custom label manufacturing, and label and packaging design. We aim to be the web's premier resource for all label-related questions. We believe that a business that understands the nuances of label printing is a business that gets the best ROI on their labels and packaging.
So, at this time every year, we scrutinize our blog statistics for insights on the label conundrums that consumed our readers over the previous 12 months. This not only helps us refine our messaging to serve our readers better, but it allows us to resurface the label printing pointers our readers found most helpful.
In case you missed any of these (or just need a single-source overview to bookmark), here are our top takeaways from a year in writing about custom labels. This list provides an intriguing glimpse into how brands (like yours!) thought about custom labels in 2020.
1. It's Easier to Avoid Labeling Mistakes Than to Fix Them
Label disasters can and do happen. Fortunately, most of the problems caused by faulty or inadequate product labels can be avoided with a little planning. This article highlights the five most common errors brands make when choosing label providers and designing custom labels, and it suggests solutions to each mistake.
2. Knowing the Anatomy of a Label Can Help You Choose the Right One
The thickness of a custom label can be measured in thousandths of an inch. But that's more than enough depth to contain a surprising number of layers.
This article uses a helpful infographic to peel back the levels of a typical custom label, revealing the crucial function of each one, from the top coating to the liner.
3. When it Comes to Labels, Standing Out is Better Than Blending In
The label is often the first (and only) thing consumers experience when comparing products. Attention spans are shrinking, so designing a label that pops matters more than ever (especially in the age of COVID-19, when people try to rush in and out of stores as quickly as possible).
This article draws from the latest label design innovations and advanced label printing options to explore five ways to make your next custom label stand out visually and tactilely.
4. Labels Can Do More Than You Think
Pharmaceutical makers often view labels through the lens of regulatory compliance. Government bodies impose strict requirements for drug manufacturers concerning the appearance, function, and content of product labels. It's no surprise then that pharmaceutical companies are at the forefront of label technology; they have the most to gain—and lose—from the performance of their product labels.
This article introduces the latest evolution in pharmaceutical labeling: smart labels (transponders or codes designed to be read by specialized equipment). The article covers three ways pharmaceutical companies are innovating with smart labels, along with tips on how to integrate smart technology into your next product label.
5. Protecting Your Brand Is Part of Protecting Your Business
Your company's brand is one of your most valuable assets – if not the most valuable. In a competitive market, loss of trust and negative perceptions can translate to huge losses of revenue. Unfortunately, brands in nearly every industry these days are under assault from counterfeiters and unauthorized online resellers. But you can defend your brand's image and reputation with the latest label-based brand protection measures.
This article introduces a series where we explain covert and overt brand protection technology and help you choose the right options for your company.
6. Sustainability Goes Beyond Recyclable Packaging
Product packaging has become an incredible drain on our precious natural resources and when disposed of improperly, a blight on our environment. But it doesn't have to be that way. A wave of ecological awareness is sweeping the packaging industry. The result? Innovations that meet the demands of environmentally conscious consumers by lessening or even nullifying the environmental impact of product packaging.
This article discusses one of our favorite subjects: How product labels can contribute to building a more sustainable future for our planet.
7. Choosing the Right Label Printing Company Takes Planning
Custom labels are too important to choose a label company solely on convenience and cost. But what should you look for in a label provider?
We may be a little biased, but after a half-century in the business, we think we know a thing or two about the advantages of working with an experienced label expert. This article lists the five characteristics to look for when choosing a printer for your next custom label.
8. Modern Labels Are Anything but Plain
Just a slip of paper? Far from it. The best product labels are mini-masterpieces of design. In this article, you can learn about the cutting-edge trends that inspired the most creative label designers in 2020.
Top Label Printing Resources for 2020
In addition to the dozens of explanatory articles we published in 2020, we were proud to unveil a series of in-depth industry-specific guides to label buying. These exhaustive resources turned out to be among our most read and shared content pieces of the year. If you are in any of these industries and in the market for custom labels, one of these guides would be an excellent place to start:
And for everyone else, check out our general and comprehensive label buying guide, fully expanded and updated for 2021.
From all of us at The Label Printers to you, our loyal friends and our newest fans, thank you for reading. We hope we helped you solve your toughest label challenges in 2020. (And if you have more questions, feel free to get in touch.) See you in 2021!