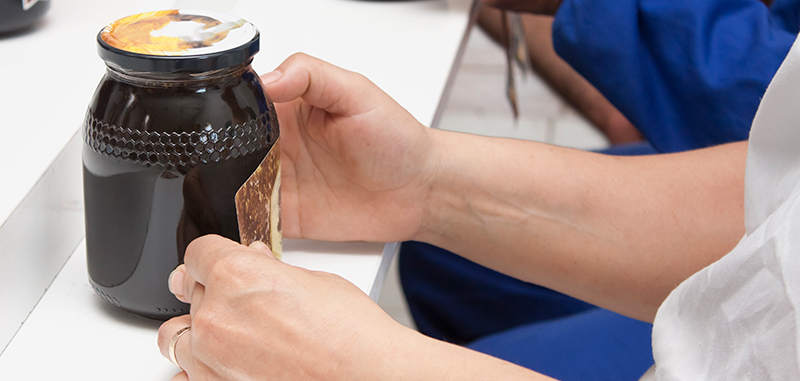 There's more to a custom label than meets the eye. While the average label is hair-thin, it's made up of a surprising number of layers. Many of these layers presents different choices to you, the customer. And the choices you make for each layer can significantly affect how your label looks and performs
Let's dissect the anatomy of a custom label, from the top down.

Top Layer: The Coating
Just like the sealant on your deck, a topcoat protects your label from the elements while also giving it an attractive choice of finishes.
Varnish is a liquid coating applied to your label to provide an aesthetic finishing touch and light protection against everyday use.
Laminate is a transparent film that covers the face of your label, offering extra-strength protection against sunlight, moisture, chemicals, or rough handling.
Ink
Ink does most of the communicating for your label. It can do it in colorful style, stark black and white, with text, drawings, photos, or a mix of everything.
Water-based inks are an affordable option with almost no odor. They are environmentally friendly and represent a vast spectrum of colors. They're less durable and more prone to fading than some of the other ink chemistries.
Solvents are a good choice when durability matters (although they are less friendly to the environment). Solvents do not require a topcoat.
UV inks are durable, resistant to fading and harsh chemicals. They do have a bit of an odor, however. UV inks cost more than water-based inks, but they can be used on paper or film and also come in a wide range of colors.
Specialty inks are a subset of the above options and are available for all kinds of applications and effects: scratch 'n sniff, metallic, fluorescent, scratch-off, thermo-chromatic, taggants, and more.
Face Stock
Face stock is the surface that holds the printed image and gives your label structure, size, and shape. Face stock can be made from a wide variety of materials.
Paper is a classic and cost-efficient option for many general applications. It comes in many options such as paper foil for an elegant or high-tech look, or paper board which is a thicker material often used for tags. Often used on bottles and jars, paper is a sensible choice if your label does not need to endure exposure to moisture or harsh elements.
Film is synthetic, flexible, and strong, making it a great choice for moist environments or long-term use. Film stock can vary from vinyl to polypropylene or polyethylene, with numerous subsets within each type. Each kind of film has different attributes, price points, durability and eco-friendliness.
Adhesive
Adhesive is what makes labels stick to surfaces. There are countless adhesive options to choose from, based on considerations such as application surface (shape and material), environmental conditions, and how long you need your label to last. It's vital to communicate your expectations for the label over the life of the product, as there are so many variables at play.
Permanent typically means the label cannot be removed without damaging the label or surface.
Removable generally allows a label to be removed intact without leaving residue behind. Nonetheless, many adhesives will form a more permanent bond over time. It's vital to tell your label printer how cleanly you want the label to be removed and when.
Repositionable involves an acrylic adhesive that can be easily removed and reapplied. Even certain permanent adhesives can be repositioned briefly after application, but a true repositionable label can be removed and reapplied multiple times over the life of the label.
Bottom Layer: The Liner
Like face stock, liners may be made from paper, film, or recycled material. Liners can come in continuous rolls or can be cut into sheets, depending on how you plan to apply and distribute your labels. A liner's job typically includes:
Providing a base for the adhesive coating.
Protecting the adhesive.
Carrying the label material throughout the manufacturing process.
Carrying a silicone coating that allows the face stock and adhesive to release together, allowing the label to come off the liner cleanly
Acting as a base for die-cutting.
When it comes to labels, this anatomy lesson is simply the tip of the iceberg. There are so many variables, making it incredibly important to have detailed conversations with your label supplier about your precise expectations. That way, you'll be able to get labels that will perform exactly the way you need. Make sure to visit our Custom Label Buying Guide to learn more about the many options and components around your custom label.