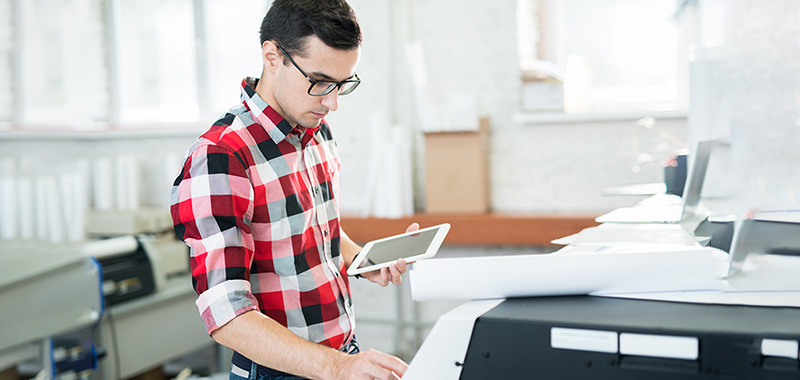 This might seem like an unexpected statement coming from a business called The Label Printers, but here goes: Sometimes it might make more sense to print your own labels than ordering them from a commercial custom label manufacturer.
We would be doing you a disservice if we didn't acknowledge that DIY label printing can sometimes be an effective solution. Small businesses with simple label needs, in small quantities, owe it to themselves to research their options.
You might find a modest investment in a good color printer combined with the right software is all you need to launch a new product or try out a new label design. On the other hand, as your business grows, you may quickly realize that the cost, time, technology, and know-how necessary to print product labels at the volume and with the performance characteristics you require may be beyond your capabilities. That's when it's time to call in the pros.
If you're in the early stages of product label planning, the following questions will help you decide whether to go the DIY route or contact a custom label printer.
How (and Where) Will You Purchase Your Blank Labels?
Before you can print product labels, you need to stock up on label materials.
Big box stores and online retailers like Amazon do sell basic label supplies, and if a basic paper label that's easy to find in stores does exactly the job you need it to do … great! You'll rarely struggle to find supplies.
The tricky part comes if your product label requirements are a little more demanding (which is often the case): You might not be able to find the right size you need or what you get may not be what you ordered or expected, so read the reviews carefully. If the supplier's stock decreases or disappears, you'll be left in the lurch.
When you enter into a partnership with a label manufacturer, the responsibility for securing the necessary stock of materials falls on the printer. If your materials aren't available — due to supply chain disruptions, for example — your printer will work with you to identify alternative materials that look and perform just as well.
How Many Labels Will You Need Over the Next Month? Six Months? Year?
Let's say your business is selling honey at farmers' markets. On a good week, you move a few dozen jars.
In this scenario, at-home label printing is probably your best bet. You can always print off a few more label sheets if demand increases at a typical pace, and the cost of materials and ink won't overwhelm your profit margin. A label manufacturer would likely charge you more than you're prepared to spend just to cover their time and labor for setting up their equipment.
Now imagine your honey becomes a viral hit on cooking TikTok, and you've decided to expand into retail sales. You need hundreds of labels every week — and if things go well, thousands. As your business needs increase, printing product labels yourself can become financially impractical.
Most label manufacturers offer volume pricing: The more labels you order, the less each label will cost. If you don't want all your labels at once (for example, if you don't have the space to store them), your label printer can work with you to determine a regular printing schedule that aligns with your growth projections.
How Much Are You Prepared to Invest in Printing Supplies?
The truth is, there is no "free" way to print product labels. Even if you opt for printing your own labels, you'll still have to purchase:
A printer
Ink/toner
Label stock (or other printing material)
Computer software
For basic labels, these expenses may not be excessive. But more complex labels call for more expensive equipment and materials. Your initial investment in label printing can quickly balloon beyond your budget. (It's also worth mentioning that specialized label printing equipment and materials can take up valuable space in your facility, as can storing the printed labels.)
For example, metallic ink is excellent for giving your product label an eye-catching touch of class. But you cannot use metallic ink in a standard desktop printer. To embellish your wine bottle label with gold sparkle, you have to either buy a costly specialized printer or work with a custom label supplier.
The same is true for waterproof label materials, such as vinyl. When label durability against the elements matters (and it often does), speak with an expert label manufacturer.
In fact, some combinations of label material, ink, and adhesive are nearly impossible to purchase outside of the industry. By partnering with a custom label manufacturer, you can create attractive and functional label designs that will set your brand above the competition.
How Much Time Do You Have Available to Print Product Labels?
Time is money, as the old saying goes, and you already have your hands full creating, marketing, and selling your product. Do you have any time left for label printing?
Printing from home should not be too time-consuming if you're printing only a few sheets of labels every couple of weeks (such as our fictional honey maker described above).
However, large-scale label printing can eat up hour upon hour, especially on equipment not built for that volume … or not operated by expert printers. Do you (or someone on your team) know how to transfer a label template to Word and print it correctly from your desktop printer? Do you know how to troubleshoot the software or materials if the printing goes wrong? If you don't, you'll need to invest valuable time into learning. Or, your time might be better spent on tasks that generate revenue and profit for your business.
The Takeaway: You Can Print Product Labels Yourself, But…
As we've explained in this article, there are some scenarios where printing product labels yourself is not only feasible, but it's also the best choice. These scenarios almost always involve smaller businesses with very simple label needs.
As soon as your label requirements grow in volume and complexity, a label manufacturer can save your business time and money while boosting your label's shelf appeal and durability, helping your products make the leap from side hustle to small business to serious marketplace contenders.
Learn all about the services a custom label printer can offer businesses of all sizes in our free Custom Label Buying Guide.