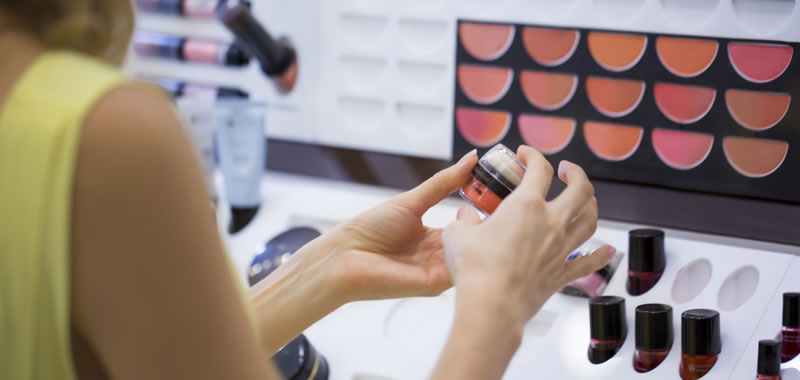 Beauty is booming. Everybody from your grandmother to the kid next door is having fun contouring, highlighting, and tinting — and cosmetic brands are reaping the benefits. The global cosmetics market is skyrocketing toward a market value of over $800 billion by 2023, and is seemingly impervious to ups and downs in the economy.
For beauty brands to stake their claim in this thriving but competitive industry, they need to stand out. The product could be amazing, but if nobody notices it, it won't sell.
Consumers can make a buying decision in just three seconds, often based on nothing more than the look of the product. Sixty-four percent of consumers will try a product simply because it catches their eye. (We reported both of these facts in a recent infographic).
The label is one of the most noticeable visual elements of a cosmetic product. Here's how cosmetic brands are using their labels to attract buyers and tell their stories in 2018.
1. Labeling for the Online 'Shelf'
Fewer beauty buyers are physically handling products before purchasing. Recommendations come as frequently from Instagram celebrities and YouTube reviews as they do from trusted friends. According to a Facebook study, 52 percent of cosmetic or skin care purchases are influenced by "beauty experts on social media" (beating out friends and in-store associates).
Commenting to Digiday, one beauty product marketer talked about creating "an Instagram moment" with packaging that encourages consumers to take pictures. Another said, "We design for the thumbnail," rather than the physical shelf.
For label design, this means texture may be less important than appearance. Bold colors and imagery will "pop" in online videos and photos. Elements that shine, such as metallic ink, will convey a sense of luxury to consumers who can't touch a product before buying.
Typeface is also a critical factor. A survey of 1,000 female beauty buyers found that 40 percent of women said the most important aspect of packaging is that the name is easy to read. Brands that feature minimalistic, legible, but striking design may garner more attention online and in stores.
2. Purity and Sustainability
A 2015 Nielsen study found that 46 percent of consumers would pay more for an all-natural beauty product. To strengthen an all-natural brand, cosmetics manufacturers should look to eco-friendly labels. As we explored recently, a third of consumers around the globe choose brands based on their environmental and social impact. Among them, 53 percent look for environmentally-friendly packaging.
There are a number of ways brands can trumpet their natural and environmental bonafides via their product labels:
Crinkled paper can give a rustic, natural look.
Wood veneers or metallic embossing can make a product feel handcrafted.
Brands can opt for biodegradable PLA (polylactic acid)-based labels over petroleum-based plastics.
Brands can choose FSC-certified paper from responsibly-managed forests.
3. Building to Last
The irony of cosmetic product packaging is that, although it might look genteel and delicate, it must still stand up to the harshest of environments: hot, steamy, wet bathrooms.
When labels peel off, tear, or fade, it can send a subtle message about the quality of the product. Cosmetic brands must choose labels that can withstand the most rainforest-like washroom. That means considering the label material, the strength and properties of the adhesive, and the color-fastness of the ink.
An experienced label printer can help brands choose durable label elements.
4. Brand Protection
Counterfeiting costs the global economy up to a quarter-billion dollars every year. Cosmetics and healthcare products make up a large portion of that illicit market.
Counterfeit products erode consumer confidence and tarnish a brand's image, but brands can use their labels to strike back. In the arms race between crafty criminals and technologically sophisticated label makers, the label makers are winning.
Barcodes and RFID microchips help brands track and trace their products and help retailers and consumers verify the authenticity of their purchases. Security label features like microprinting, color-shifting ink, and optically variable devices (such as holography) make the counterfeiters' tasks difficult — if not impossible.
But as counterfeiters learn to circumvent new security technology, cosmetic brands will turn to the expertise of their label printers to stay one step ahead.
5. Interactivity
Almost every consumer now carries a smartphone. This represents an opportunity for beauty brands to expand their messaging beyond their product labels.
For example, high-end cosmetic maker Valmont has embedded NFC technology in its packaging. Consumers need only hold their phones near the box to learn more about the brand and proper usage of the product.
QR codes can serve a similar function, as demonstrated by deodorant brand Geodo, which used the codes to share scientific information with its tech-savvy young buyers.
Is Your Cosmetic Label on Trend?
Whether you're looking to refresh your cosmetic brand or become the next Instagram skincare sensation, The Label Printers can help you with the latest label features and technology.
Want to know more about what goes into getting a great label, whether it's for moisturizer, motor oil, or muffins? Download our FREE Custom Label Buying Guide today.