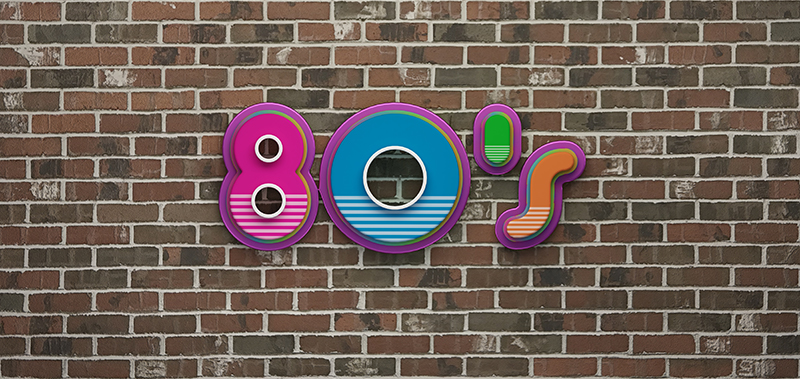 "The past is never dead," wrote William Faulkner in an oft-quoted line. "It's not even past."
Nostalgia is among the most powerful and universal human emotions. According to a recent YouGov study:
9 out of 10 people say they think fondly about the past at least occasionally.
Almost half of people say they think fondly about the past often or almost always.
55% of people say, if they had access to a time machine, they would travel to the past. Only 28% would head into the future. (Marty McFly, that lucky guy, did both.)
The specific focus of our nostalgia varies by generation. For Gen Xers and older millennials, the 1980s evokes particularly warm feelings … and brands have taken notice.
When Nintendo released its mini NES Classic Edition in 2016 (a revival of a console that first launched in 1985), it sold out instantly. On Netflix, '80s throwback Stranger Things is a ratings and cultural juggernaut.
Design trends from the 1980s are also experiencing a renaissance. The decade that was once derided for being too flashy and shallow is now praised for its adventurous spirit and willingness to break with tradition.
How can your brand get in on the '80s nostalgia rush? Just like your Gen X and millennial customers do, you can look to the past for inspiration. Here are some of the hallmarks of the '80s aesthetic and how you can apply the look to your custom product labels.
Memphis-Inspired Design
When you think about the stereotypical '80s look, what you're imagining is a style pioneered by a group of Milan-based designers at the beginning of the decade. The Memphis Group, as they came to be known (which, incidentally, had nothing to do with the city in Tennessee), rejected the austere minimalism of modernism and instead played with squiggly lines, angular geometric shapes, and bold colors.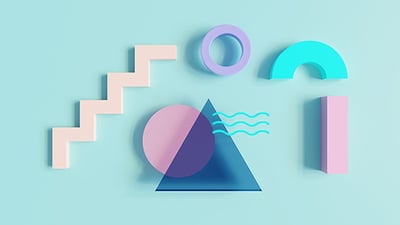 Memphis design was a force to be reckoned with in the 1980s and into the '90s, finding its way onto furniture, bedding, TV show sets, and yes, Trapper Keepers.
For your custom labels: The less-is-more approach is played out. Stand out on the shelf with a look that emphasizes movement, color, and fun.
Neon Colors
Whatever the '80s were about, it wasn't subtlety. The decade's in-your-face attitude was exemplified by its preferred color palette: neon. Bright, glowing colors were everywhere, from fashion to films.
For your custom labels: Ask your label printer about an extended range of colors that might include neon.
'Futuristic' Styling
In the 1980s, everyone was looking forward to a future dominated by technology that was both alluring and a little scary. Metallic textures, energy bolts, electric grids, and laser beams featured heavily in movies like Tron and Blade Runner, not to mention product packaging.

(image source)
Video game cartridges and VHS tapes showcased this vision of the future (which we can now, paradoxically, refer to as retro-futuristic).
For your custom labels: Use metallic foils and inks to give your labels a slick digital sheen.
Zine Culture
Zines were a popular niche media that arose out of fandom and punk subcultures, reaching peak prominence in the late 1980's. Armed with photocopiers, rudimentary desktop publishing software, or just scissors and glue, small-scale self-publishers would put out zines documenting local music scenes, promoting sci-fi fan fiction, or expounding on philosophy and culture. The design approach was anarchic and raw.
According to a Shutterstock survey of design trends, the zine aesthetic is back: "Built on principles of collage, and largely influenced by the invention of the photocopier, it's paper cutouts, noise and grain textures, and rough-edged layers that define this trend."
For your custom labels: Experiment with overlapping imagery and every-which-way text. Don't be afraid of looking busy or cluttered.
Throwback Packaging
Nothing can induce a wave of nostalgia better than the real thing. Like bands playing their greatest hits, big-name brands like Tide, Doritos, and Pepsi have found market success recycling the looks their biggest fans remember from decades past.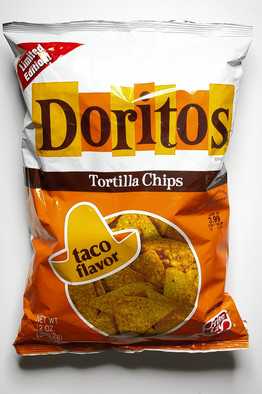 (image source)
For your custom labels: Revisit your design archives. Bring back your vintage '80s look for a special "limited edition" throwback promotion.
While the big hair may not (yet) be back, the fun and bold look of the 1980s is definitely making its way back into the design world. Looking for more label design inspiration? Check out our recent rundowns of our favorite household product labels, energy drink labels, and hot sauce labels.