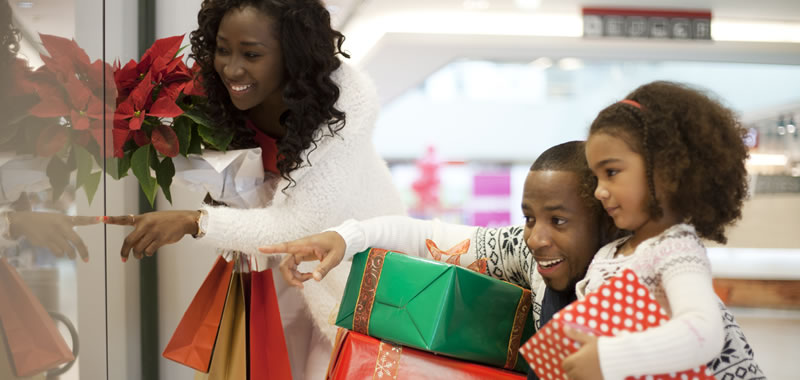 The stores have put away their spider webs and witch hats and are pulling out the tinsel and wreaths. Holiday marketing is both fun and inescapable for most brands, as companies hope to catch the attention of consumers who are on the hunt for the perfect item.
We know that consumers make split-second decisions based on product packaging and label design. This season is an opportunity for your brand to stand out and grab the attention of shoppers while they're in the holiday mood.
Here are a few tips for making the most of the holiday season with your custom product label:
Add a Touch of Holiday Flair with Metallic Foils and Ink
"Silver and gold, silver and gold," goes the old holiday tune. "Ev'ryone wishes for silver and gold."
Metallic textures, shine, and color evoke the timeless aspects of the holiday season. With the right equipment and skilled press operators, your label printers can embed elegant foils in your custom labels or adorn your labels with metallic inks.
Use Digital Printing to Add Holiday Imagery
A snowflake here. A candy cane swirl there. Maybe a sprig of holly or two. It doesn't take much to transform your everyday label into a festive holiday label.
Or you can go all out, transforming your beer bottle into an ugly sweater, for example.
Modern digital printing presses enable great flexibility and variation compared to traditional plate-based methods. With minimal effort, your label printer may be able to switch up your next run of labels to include holiday symbols and colors. You can go back to your regular labels when the calendar turns over to the New Year.
Help Buyers Makes Choices with QR Codes
Even if shoppers don't make their purchase online, the internet still features prominently in their decision-making. Increasingly, consumers won't make a purchase without researching it first. Many will do their online research via their phones right in the middle of the store.
According to a Facebook Business report, last year:
68 percent of global holiday shoppers used their smartphones in-store to compare prices.
51 percent used their phones to compare products.
40 percent used them to read product reviews.
You can help digitally-enabled customers learn more about your products by including on your label a QR code or other interactive element that links to online content, such as ingredients, reviews, directions for use, and video demonstrations.
Make Sure Your Label Is Gift-Quality
Presentation is 50 percent of gift giving. Ok, maybe we made that statistic up. But isn't it nicer to get a gift in crisp, colorful wrapping paper, done up with ribbons, than in a stapled-shut grocery bag?
The same goes for labels. Who would want to receive a holiday gift with a label that was cracked, fading, or torn off entirely?
Moisture, light, temperature, and rough handling can do a number on product labels. Ordinarily, that might not be a concern (then again, it might), but when your product is intended as a gift, you want to make sure the label will hold up throughout whatever the holiday season throws its way.
To ensure your label is worthy of a place beneath the tree, talk to your label printer about durable materials, fade-resistant inks, and adhesives that hold fast.
Order Your Seasonal Custom Labels Early
There is still time to order your cheery holiday labels before the peak shopping season arrives. But remember, the earlier you order, the better.
Ordering early will give you time for a planning discussion with your label printer, where you can avail yourself of their expertise and work together towards a seasonal label that fits your brand and your budget. It will also secure your place in the printing queue during the busy holiday season and ensure your label printer has enough materials, ink, and adhesive on hand to meet your requirements.
Learn how a small beverage company found the perfect present: great labels and great customer service.