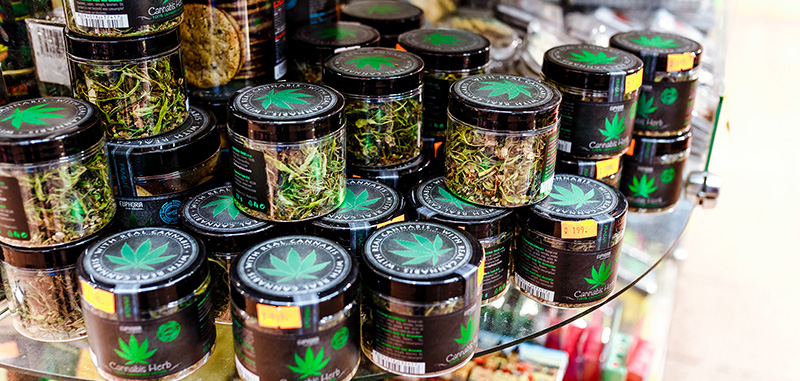 On Jan. 1, 2020, Illinois will officially become the next state in the nation to legalize the sale of marijuana for recreational purposes. The change comes as a result of the Cannabis Regulation and Taxation Act (CRTA), a bill passed by the state General Assembly in May and signed into law by Governor JB Pritzker.
The impending legalization of cannabis in Illinois (along with current and soon-to-come legalization in nearly a dozen other states), represents a potent business opportunity: a brand-new industry featuring a ready-made market demand.
But the opportunity brings complications. As you might expect from a field that involves the sale of formerly illegal or prescription-only substances, the new Illinois marijuana law includes a potential minefield of regulations, much of it having to do with packaging and labeling.
We're not here to give legal advice, and we're not going to tell you everything you need to know to launch an Illinois marijuana business in 2020. But we are label experts. Helping our customers navigate the regulatory implications of their custom labels – in industries from electronics to brewing – is part of our stock-in-trade.
If you're thinking about getting in on the ground floor of the nascent cannabis business in Illinois or any other state, here are some things you should know about marijuana labeling. Be sure to consult with your attorney for answers to your legal questions.
What Are the Basic Regulations Concerning Marijuana Labeling in Illinois?
The section of the CRTA having most to do with product labels is Section 55-21, "Cannabis product packaging and labeling." We highly recommend reading through the entire section to make sure your product packaging fully complies.
A few of the most important rules include:
Every cannabis product must be packaged and labeled before sale. The labeling requirements of the Illinois Food, Drug and Cosmetic Act
Labels should be "securely affixed" to the package and legible in English.
Labels must include specific information, such as the common name and registered name of the product, the name and PO box of the cultivation center or craft grower, the date of harvest and "use by" date, testing and laboratory information, the quantity of cannabis in the product, and a list of contents, including "minimum and maximum percentage content by weight" for THC, THCA, CBD, and CBDA. (Again, read the CRTA for the full rundown of requirements.)
Your labels must exclude certain features, such as pictures of anyone under 21, images of cannabis leaves, and "any image designed or likely to appeal to minors," such as cartoons, toys, or animals.
Every product must be labeled with a unique serial number that can be matched with a cultivation center or craft grower batch or lot number. This stipulation is to facilitate recalls or warnings. (Read our recent article about agricultural product tracking.)
Section 55-21 of the CRTA dedicates several paragraphs to the warning statements that must appear on marijuana product packaging. The specific language varies according to the type of product. For example, topical products must say, "DO NOT EAT" in bold capital letters.
Regardless of the type of product, however, all cannabis packaging in Illinois should have the following warning statement (unless modified by a future ruling of the Department of Public Health):
"This product contains cannabis and is intended for use by adults 21 and over. Its use can impair cognition and may be habit forming. This product should not be used by pregnant or breastfeeding women. It is unlawful to sell or provide this item to any individual, and may not be transported outside the state of Illinois. It is illegal to operate a motor vehicle under the influence of cannabis. Possession or use of this product may carry significant legal penalties in some jurisdictions and under federal law."


What Should You Talk About with Your Label Printer?
The state's legalization of marijuana recognizes that, in the eyes of the Illinois government, cannabis is a safe product for consumption by responsible adults. But as with alcohol, tobacco, and pharmaceuticals, overuse, misuse, or use by minors can be harmful. It's reasonable to expect the state will not be forgiving of labeling violations, as these rules exist to protect consumers.
Your label printer can help your cannabis business stay in the state's good graces.
One thing to discuss with your printer is label durability. The regulations state that labels on marijuana packaging must be secure. Keep in mind that your customers might use your products outdoors, where heat and moisture can weaken the integrity of your labels and label adhesives.
Your label printer can help you choose materials and adhesives that resist peeling or ripping. Legibility is also critical. Work with your label vendor to choose clear and readable fonts, as well as ink that won't fade or run.
Illinois Marijuana Legalization: Will Your Labels Be Ready?
Whether your business is transitioning from medical marijuana to recreational use sales or you're new to the cannabis market, the New Year is a date to look forward to. There will be lots to get done over the next several months. The sooner you get in touch with an experienced label printer, the sooner you can head off any complications that may emerge from Illinois's labeling rules.
At the Label Printers, we would be proud to help the newest entrants into the Illinois economy launch their products successfully. Click here to speak with one of our custom label experts.