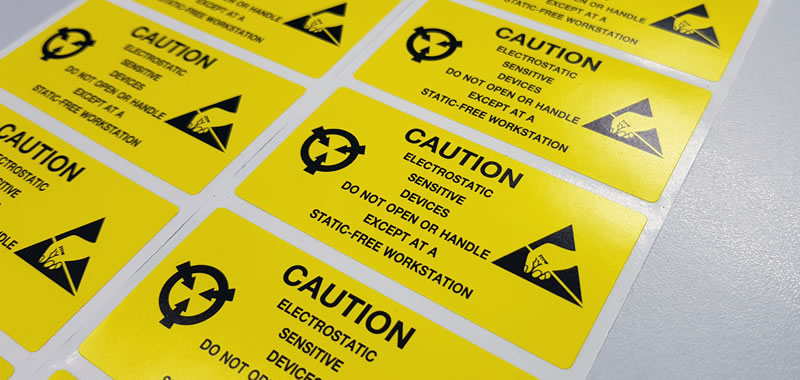 From the smartphone in your pocket, to the lamp above your head, to all the microchips, transistors, and wires that provide power, movement, and function to the consumer and industrial devices that make modern life and work possible, electronics are everywhere. And with each device and its components comes a label — and in many cases, multiple labels.
The labels on electronics teach people how to safely use products. They tell buyers where components were manufactured and what substances they contain. They guarantee authenticity and certify compliance with environmental regulations and quality standards.
There are many factors to consider when it comes to labeling electronics products. Here are three of the most important ones.
The Materials You Choose
Given the vital — and often legally required — jobs electronics labels perform, it's essential they hold up to the extremes of their everyday environments. If a high-voltage warning label peels off a piece of equipment, for example, people could get hurt. If an instruction label becomes illegible, people could misuse and damage their devices.
With all the energy coursing through them, electronics can become warm, loosening the bonds of certain label adhesives. Bright lights and heat can discolor ink and cause it to run. The constant handling of consumer electronics — phones, laptops, earbuds — can tear labels or rip them right off.
Then there is the combination of label material, adhesive, and application surface to think about. For example, some adhesives hold fast to metal but fail on plastic. Paper labels may crumble in damp environments while synthetic ones will stay intact.
If you're not sure which label materials and adhesives will work best on your product, an experienced label printer can help you make the right choices.
Compliance With Regulations and Standards
A wide range of government regulations and industry standards dictate how you should label your electronic products, what information the labels should provide, and how the labels should be formatted. Complicating matters is the fact that these regulations often apply to where you intend to distribute your products, not just where you manufacture them.
For example, California's Proposition 65 says products sold in California must indicate if they contain chemicals that have been known to cause cancer (drawn from a state list of over 850 chemicals). An expanded version of the regulation went into effect this summer. It calls for more specific information on the labels and a triangular yellow warning symbol.
Electronics manufacturers who wish to distribute to California (and few would choose to forgo America's most populous state) need to comply with Proposition 65, even though those regulations don't apply anywhere else in the U.S.
Other regulations and standards concerning the labeling of electronics include:
The Restriction of Hazardous Substances Directive (RoHS), a European Union restriction on 10 (formerly six) hazardous materials in the manufacture of electronic equipment. RoHS compliance is required for the CE mark, which certifies compliance with EU health, safety, and environmental regulations.
Mercury guidelines, in effect in certain states, which requires the labeling of all products containing added mercury. The Northeast Waste Management Officials' Association offers a helpful overview of state mercury label specifications.
An expert label printer can guide you through the labeling regulations with which your electronic product must comply, and advise you on the proper format and wording of your label.
Brand Protection
According to one estimate, counterfeiting costs the global economy up to $250 billion a year. And consumer electronics are among the most counterfeited products in the world. But labels can help you control your brand and retain the trust of your buyers.
A printer can add advanced features such as holography, color-shifting ink, and microprinting to make real products difficult to replicate and fakes easy to spot. If you're reading this on a laptop, look down and to the left, just below your keyboard. Odds are good that you see a label from a prominent chip manufacturer. That label contains a specific combination of visual elements. Those elements are there not only to make the label look more attractive, but they also serve as an important brand protection tool for the makers of both the laptop and its processor chip.
Tracking labels make use of RFID or barcode technology to follow products through the supply chain, ensuring they're not diverted into the grey market.
Labels can help manufacturers manage their warranties, as well. Tamper-evident labels can be used to indicate if a consumer disassembled a product themselves before seeking a warranty repair, which might affect the brand owner's obligations to perform that warranty repair. This type of approach, which helps mitigate some of the risks associated with offering warranty repairs at all, can be instrumental in enabling a manufacturer to offer a compelling warranty program. That might just be the kind of differentiation that attracts consumers to choose those products in a crowded, competitive marketplace.
The potential uses of labels with security features are far reaching, depending on the specific nature of the product involved and the creativity of the team behind the product. A knowledgeable label printer can help you choose label features that address your security needs and fit within your budget.
Navigating the Complexities of Electronics Labeling
Great electronics are the culmination of meticulous research, precise engineering, and exhaustive testing. So too are great electronics labels. For durable labels that meet regulations and look good doing it, much planning is required. An experienced label supplier can help the process go smoothly, with a final result you'll be proud to affix to your electronic products.
To start your search for a label printer, download your free copy of the Custom Label Buying Guide.