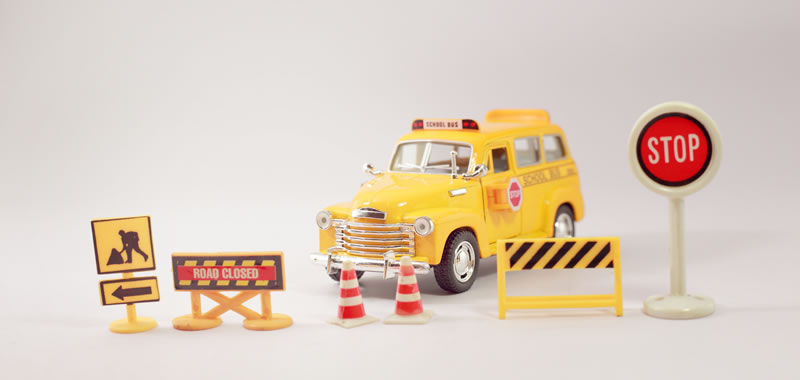 As you think about the labels that will bring your brand's children's products to life, the first things you might think about are the slobbery, sticky hands that will handle them, the days they will be left out in the cold, sun, rain, and heat, and the tumbles they'll take as their proud owners kick them, ride on them, or send them flying across the room in a fit of pique.
How can you be sure your label is up for the challenge? How can you create a label that will capture and hold the attention of children and withstand their…ahem…loving mistreatment?
Toy Labels That Are Built to Last
Pull your old Fisher-Price toys out of whatever dusty corner of the attic they're buried in. When the inevitable flood of nostalgia subsides, what do you notice? After all these years, the labels and decals are probably holding strong, their colors nearly as vibrant as the day you first saw them.
When Herman Fisher, Irving and Margaret Evans Price, and Helen Schelle founded their toy company in 1930, they prioritized hardiness. Their first products were constructed from heavy steel and ponderosa pine, and featured bright, durable labels. The brand made its legendary name with toys that endured the rigors of childhood, providing immense value to the parents who purchased them.
On the other hand, we've all seen (or experienced) the disappointment of a child excited about playing with a new toy, only to have it fall apart after a few uses. Children have high expectations for their playthings, and parents have high expectations for the products on which they spend their money.
If a label or decal is an intrinsic element of your children's product — the dashboard of a racecar, the numbers on a toy cash register — you don't want it peeling off or ripping anymore than you want a wheel or an arm to snap.
For durable labels, the makers of children's products can take their cue from industrial manufacturers, whose products are also subjected to the elements and rough handling. Ask your label printer about options for label materials, adhesives, and inks that are tough enough for the most willful two-year-old.
A knowledgeable label printer will also take into account the surface onto which your labels must adhere. Certain adhesives, for example, will work better on porous material like wood than they will on smooth surfaces, such as metal or glass. For more on the factors that can affect the lifespan of your label, read our recent article.
Fun Labels That Stand Out
Children are not big fans of subtlety. What catches their attention are bright colors, crazy designs, and bold lettering.
Another thing they love? The chance to personalize their toys. Even if the toy itself does not have a label, some savvy toy manufacturers include customized stickers that kids can use to make the toy uniquely their own.
Fortunately, a well-equipped label printer will have the tools and materials to elevate your labels from bland to "blammo!":
Unique textures and materials to appeal to tactile children.
Digital printing for detailed, captivating imagery.
Vivid inks for eye-catching colors.
Die-cut shapes for a creative spin on traditional label layout.
Interactive elements, such as QR codes, for the iPad-toting children of the 21st century.
Labels That Keep Children Safe
As the maker of children's products, safety shares the top spot in your list of priorities, along with fun. Labels are one of the key ways you instruct children and parents on the proper use of your products and warn them about the dangers of misuse.
Again here, durability matters. When safety labels become damaged or illegible, they may be ignored. A tiny label can itself become a choking hazard when peeled off by a curious toddler.
Various industry standards and government regulations call for labels on children's products that warn against dangers like choking, scrapes and skin punctures, falling, drowning, electric shock, and asphyxiation. These standards include ASTM International's Standard Consumer Safety Specification for Toy Safety, which was made U.S. law by the Consumer Product Safety Improvement Act of 2008.
In Europe, toy manufacturers must comply with the Toy Safety Directive of the European Union.
If you're unsure about your regulatory obligations when it comes to safety labels, seek out an expert label vendor that can advise you and run your label through rigorous tests.
Is Your Label Childhood-Proof?
Vintage Fisher-Price toys have become sought-after collectibles in part because they — and their labels — were manufactured at such high levels of quality.
Will your product and its label see generation after generation of play and adoration? Learn more about choosing a label printer that shares your commitment to quality in our free ebook, "The Custom Label Buying Guide: An Inside View of What Makes a Great Label."