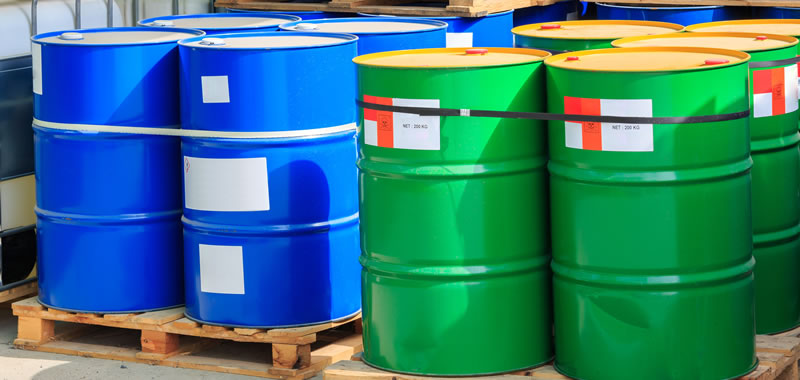 From large safety warnings to tiny UL marks, industrial labels cover a range of sizes, but they all have one thing in common: They need to be tough.
The industrial environment can be punishing on a label. Heat, cold, grit, oil, chemicals, rough handling — an industrial label has to endure it all, so it can reliably impart critical safety and regulatory information.
Because industrial labels serve a special purpose in your workplace, special considerations are necessary when creating them. An experienced label printer will know the right questions to ask to make sure your labels can withstand the rigors of the environment in which they'll be used.
At The Label Printers, we've developed deep expertise in industrial labeling, demonstrated by the billions of UL labels that leave our loading docks every year. Here are some of the questions we ask our customers when they order industrial labels.
What Are Your Regulatory Requirements?
Industrial labels frequently are a component of meeting regulatory standards put in place by agencies like the Occupational Safety and Health Administration (OSHA) and others to inform end users about the safe and proper use of the equipment and materials they work with, the risks of misuse, and how to respond to an accident.
Other regulatory requirements — such as those calling for UL certification marks — are driven by building and electrical codes meant to prevent deadly accidents and destructive fires.
These regulations for safety and warning labels can be exacting and complex. For example, the Globally Harmonized System of Classification and Labeling of Chemicals (GHS), which was adopted by OSHA in 2015, requires six elements to appear on labels:
Pictograms
A signal word such as "Caution" or "Danger"
Hazard and precautionary statements
The product identifier
Supplier identification
That's a lot of information to fit on a label while still keeping it legible. Your label printer should work with you to choose the right font and label sizes to meet GHS requirements.


To What Surface Will You Apply Your Labels?
When it comes to industrial labels, adhesion is everything. To keep your workplace safe and compliant and to avoid the hassle and expense of constantly ordering new labels, your labels should stay in place as long as possible.
Determining the longest-lasting adhesive for your labels depends largely on the surface onto which you plan to apply the labels. Adhesives don't come in one-type-sticks-to-all. For example, two different types of plastic bottles might each require a different adhesive to get the job done right. Environmental factors such as heat and moisture can complicate the equation further.
In other words, first you need the label to stick — and then you need the label to stay stuck. That's why an expert label printer will always ask their customers about the environment their labels will encounter. To make labels more durable, the printer may use colorfast materials and ink with vigorous lamination to protect against abrasion and exposure.


How Will You Apply Your Labels?
The way you'll be applying the labels is also a factor in durability. Labels will be produced differently depending on whether they will be applied by hand or by machine, so a good label printer should ask you about this.
For example, if your labels will be manually applied and they are especially large, it may be more convenient to have them finished as single labels in small stacks, which might be easier to handle for the workers applying them than if the labels were to be supplied in rolls. But, if your process calls for machine application of the labels, your printer will need to know some things about the equipment that will be used for application to assure compatibility.
It's also important to properly prepare the surface before applying industrial labels, to prevent grit and grime from interfering with the adhesives. Isopropyl alcohol or another solvent appropriate to the surface and type of contamination present will usually get the job done. Ask your label printer for guidance and be sure to pass that information on to whomever will be applying the labels in your work area.


Learn How to Get the Right Label for the Job
Labels perform a vital job in your industrial workplace. They inform, protect, warn and help keep your employees safe — and lower your company's risk of liability. To ensure your labels are up to the task, put as much consideration into their purchase as you would any other piece of equipment or material.
Learn everything you need to know about buying labels in our free "Custom Label Buying Guide: An Inside View of What Makes a Great Label."