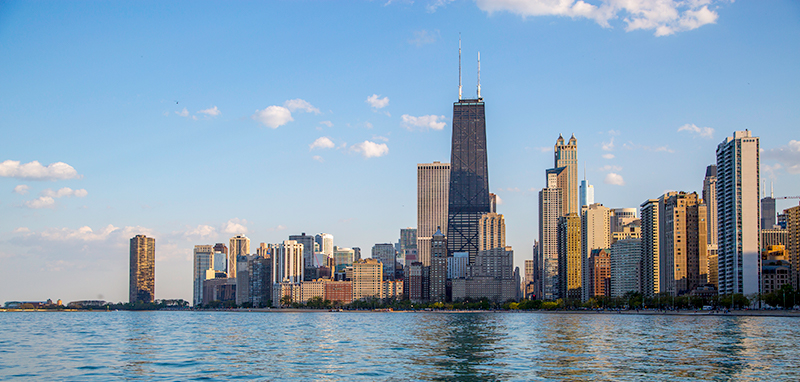 Chicagoans have been innovating with food and drink since the day it occurred to someone to put the sauce on top of a pizza. The nation's third-largest city is a food capital, but Chicago's gastronomic delights aren't limited to its classic neighborhood joints and Michelin-starred eateries.
As the Chicagoland area is where we call home, we love seeing the shelves of neighborhood grocers lined with local products. And then there are the small-batch brands with a commitment to local sourcing and local selling.
For a taste of Chicago, you have to visit our fair city for yourself. (Don't worry, the worst of winter is over.) But we can offer you a visual feast to enjoy, in the form of some of our favorite food and beverage product labels from Chicago-area brands.
Vienna Beef Beef Franks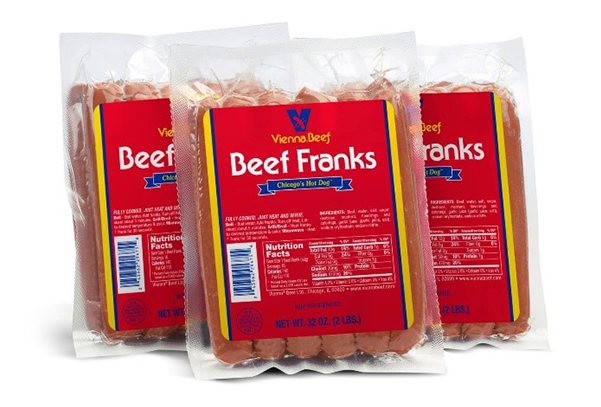 Only in Chicago: Since 1893, Vienna Beef franks have been the preferred centerpiece for the fixings-heavy Chicago-style hotdog. No ketchup allowed!
Why we love the label: The bright color scheme and clever logo (inset with a frankfurter on a stick) conjure up memories of sun-drenched day games at Wrigley Field.


Azteca Tortillas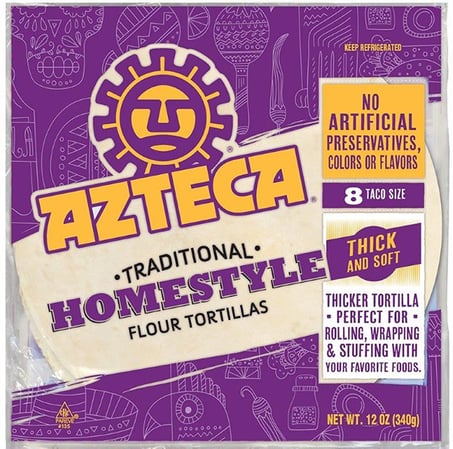 Only in Chicago: Azteca was started in the Pilsen neighborhood of Chicago by a group of Mexican-American businesspeople who wanted to share homestyle Mexican quality with the world. Azteca products can be found in stores nationwide, but the company remains family-owned and based in a massive facility on the southwest side of Chicago.
Why we love the label: Heavy fonts and lively line drawings hearken back to centuries of Mexican tradition.


Central Pickling Garlic Dill Pickles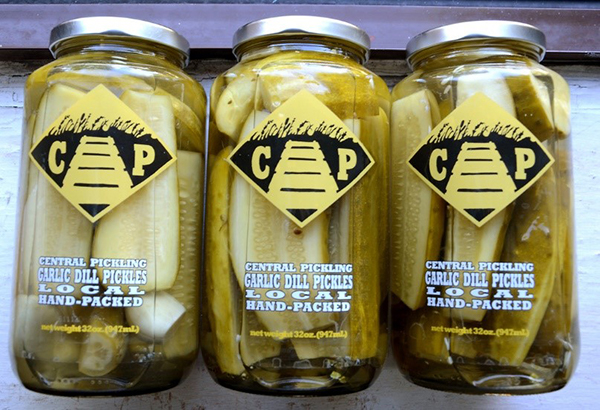 Only in Chicago: Central Pickling does all its processing in Kitchen Chicago, a shared-use kitchen. The brand is part of the city's thriving organic, locally-sourced food scene.
Why we love the label: The transparent background lets the crisp green pickles shine. A diamond-shaped logo and clever visual perspective hint at an exciting new journey.


This Little Goat Sauces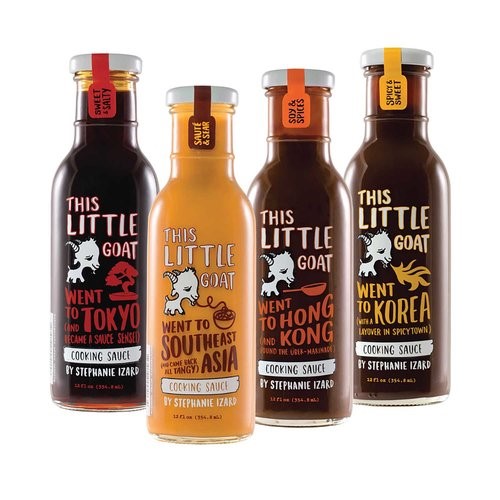 Only in Chicago: Celebrity chef (and Top Chef winner) Stephanie Izard bottled some of the sauces that drive diners wild at her award-winning Chicago hotspot, Girl & the Goat.
Why we love the label: A cute little fire-breathing, noodle-slurping goat, with names that evoke the joyous childhood rhyme "This Little Piggy" – what's not to love? And the clever cap labels describing the sauces' flavors make the customer's choice easy.


Garrett Popcorn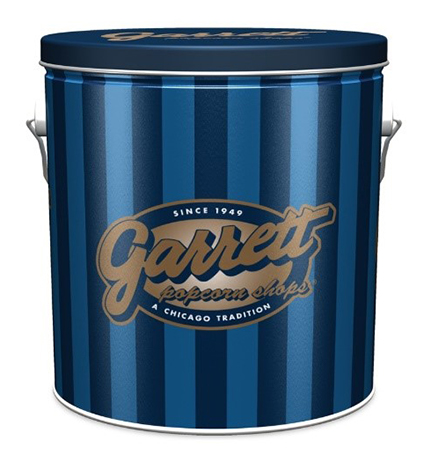 Only in Chicago: With its signature (and addictive) mix of sweet and salty, hulking tins of Garrett Popcorn have served as go-to holiday gifts for Chicagoans since 1949.
Why we love the label: The iconic Chicago brand offers several color schemes and designs to fit the season and celebrate Chicago sports franchises. This brand is a perfect example of sticking with tradition without getting stuck in a rut.


Goose Island Bourbon County Brand Stout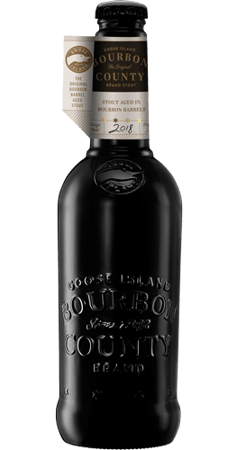 Only in Chicago: Goose Island is one of Chicago's original craft breweries, and the intense Bourbon County Brand Stout is one of its most celebrated brews. "Without it, our beer scene would still be playing catch-up," writes Chicago Magazine.
Why we love the label: Goose Island made a bold statement, choosing only a label wrapped around the neck of the bottle. Featuring a handwritten year, the Bourbon County label says, "This classy beer deserves a place among fine wines and liquors." The look of this beer would not be out of place in a high-end wine cellar.


Koval Distillery Susan for President Prune Brandy

Only in Chicago: In a town so closely associated with the neighborhood bar, it's hard to believe that Koval, founded in 2008, was Chicago's first distillery since Prohibition. Susan For President Prune Brandy is a touching tribute to the aunt of one of the co-founders.
Why we love the label: The combination of fine details, floral imagery, and black-and-white design is simply stunning, while still showing off the clarity of the product within. This is a bottle not to be hidden in a cabinet, but placed on display.


Windmill Ginger Brew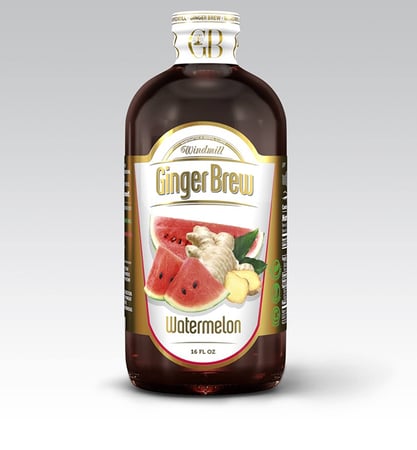 Only in Chicago: Edward and Joanna Meliunas are the proprietors of a special little place tucked away in Geneva (the suburbs, but we'll allow it) that makes a delicious and unique (non-alcoholic) drink called Windmill Ginger Brew. Refreshing by itself or as the mixer for your favorite cocktail, this one is destined to become a Chicago-area classic.
Why we love the label: Every bottle features lifelike images of the ginger and fruits used. Windmill's designers have struck a nice balance between form and function, using color and metallic elements to create "pop" while conveying critical information – like nutrition facts – that smart consumers want to see. And we should probably mention that these labels come off our own presses, which makes them particularly special in our eyes.


Marconi Hot Giardiniera
Only in Chicago: Hot giardiniera is one of those Chicago things. The spicy pepper-based condiment enlivens Italian beef sandwiches, subs, and yes, deep-dish pizza. Founded by an Italian immigrant in 1898, Marconi is the best-selling brand.
Why we love the label: Bold colors promise bold flavor, and the quirky text positioning helps the label stand out on shelves.


Marz Community Brewing Pigasus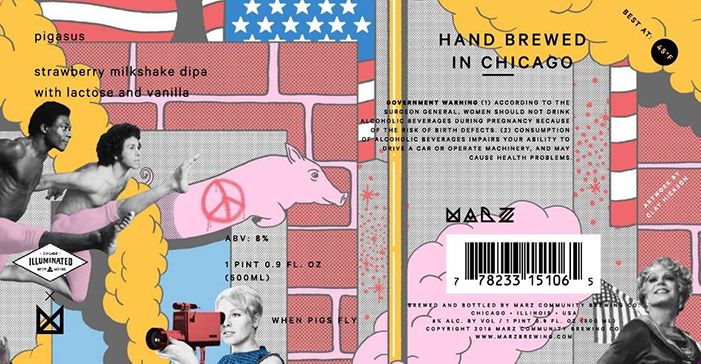 Only in Chicago: The Marz "collective" of brewers, homebrewers, and artists all met each other while sampling the craft brews at Maria's Packaged Goods & Community Bar, a beer nerd haven in the Bridgeport neighborhood of Chicago.
Why we love the label: Marz partners with world-class designers for its labels. The Pigasus label is by Clay Hickson, but all the Marz labels are so gorgeous, you'll want to keep every bottle.


Make Your Mark No Matter Where You Call Home
Competition in the Windy City is fierce, but Chicago brands' custom labels stand out with their creativity and style.
Want to get your own food and beverage label noticed? The expert guidance of an experienced custom label supplier can make all the difference. Contact us today to talk about your next custom label.