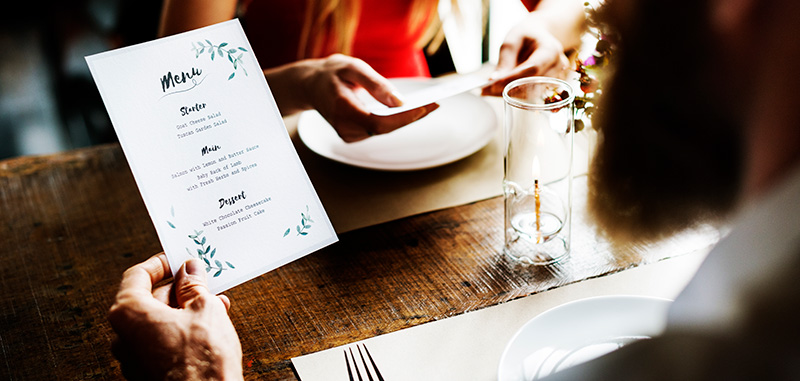 This has been a crazy year to be in the food and beverage business. Most restaurants, pubs, bars, and cafes throughout the country are just now reopening after months of take-out-only service. In some areas, eating and drinking establishments remain closed or open only for outdoor dining.
As you welcome – or prepare to welcome – patrons back into your restaurant or pub, you want to put your best foot forward. That may mean it's time for some fresh new printed items that entice and inform.
We write a lot about custom labels on this blog. (What else would you expect from a company named The Label Printers?) But there are many other items a label company can help you with in your quest to look your best and present a unified brand image to customers at your restaurant, pub, bar, or café.
Printed Items Your Label Company Can Offer
Beer Tap Labels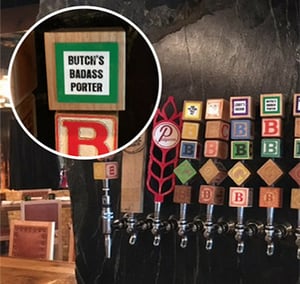 Beer tap labels showcase a craft brew's identity in places where most people drink out of glasses rather than cans or bottles.
Typically, brewpubs must change the entire tap handle each time they install a new keg. But removable beer tap labels offer a convenient alternative.
Keg Labels
Metal kegs aren't just utilitarian beer storage containers. In gastropubs and tasting rooms, they often serve a decorative function.
To maintain a coherent brand image, your keg wraps (which encircle the entire keg) and keg toppers (which fit around the tap opening) should carry the same imagery, fonts, and colors as your bottle labels and packaging.
Keg labels also convey essential usage instructions and regulatory information. So while the labels need to look great, they should also be tough enough to withstand temperature extremes and rough handling without peeling, ripping, or fading.
Promotional Materials
Are you planning to reopen in style with a big (albeit, safe and socially distanced) event? Help your customers say, "I was there," with promotional stickers. Collectible stickers are an irresistible – and affordable – giveaway.
People are willing to slap a sticker on almost anything, from the back of their laptops to their water bottles, creating instant mobile advertising for your restaurant or pub.
Table Tents
Table tents (small self-standing promotional pieces printed on cardstock) are hard to miss. You can use table tents to advertise food or drink specials, let customers know about upcoming events, or even explain your COVID precautions.
Small Menus
Minimalism is in, and so is conserving resources like paper and ink. Smaller menus help your customers focus on what really matters: your establishment's top-notch food and beverages. Plus, small menus reduce waste in a time when many restaurants are switching to single-use menus to keep their customers safe.
Neck Tags
Neck tags are printed labels that hang around the necks of bottles of beer, wine, spirits, and other beverages. Neck tags give craft brewers and distilleries extra real estate to tell their stories and connect with customers.
Flight Cards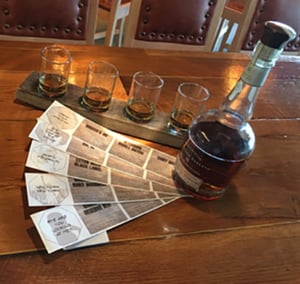 The modern craft brew fan isn't always satisfied with a single glass of beer. Sometimes, they want to experience the variety your pub has to offer. Enter the flight: a way to sample multiple types of beer (or wine, or bacon, or pickles, or whatever).
Flight cards help customers keep track of their orders and offer restaurants and pubs another opportunity to get creative.
Mailers
Let your customers know you're open for business again with a personalized message. Mailers can also include coupons and other promotional offers.
Custom Beer and Wine Labels for Special Events
Custom beer and wine labels add a personalized touch that can make special events like weddings, business gatherings, and family reunions extra-memorable. A good label printer should possess the technology to print custom labels in any quantity you require.
Why Work with a Single Label Company for All Your Printed Products?
There are several advantages to consolidating your printing needs under one roof:
Better Consistency
You might provide two different printers with the same color specifications, and they might both print it correctly. And still, the results will look different. Why? Because the same shade of ink can take on varying hues depending on the printing surface.
A one-stop printing shop will be able to analyze all your printed products side-by-side and make fine adjustments to achieve consistent coloration.
More Convenient Service
Working with a single printer means a single point of contact for customer service. This allows you to coordinate deliveries and prioritize items without the hassle of multiple phone calls and conflicting schedules.
Cost Savings
Printers tend to offer discounts to returning customers. The more work you do with a single printer, the more money you'll save.
Of course, not every label printer has the experience, expertise, and equipment to go beyond the label. At The Label Printers, we've been fulfilling the many printing needs of dozens of top beer, wine, food, and beverage businesses for decades. Learn all about it here.