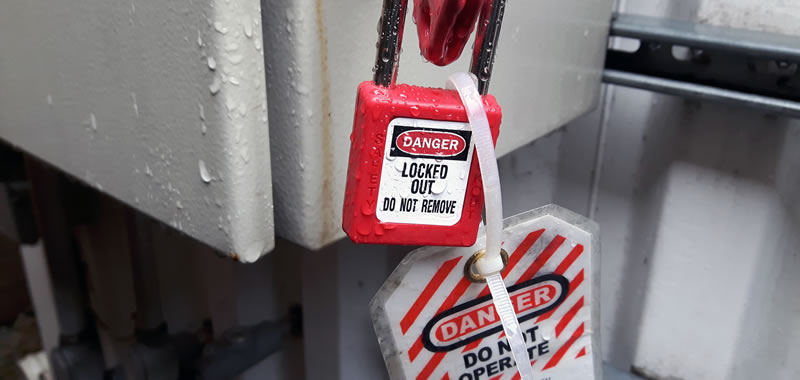 When ordering labels for outdoor use, it's critical to make the right choices in the early steps of the process.
Go in the wrong direction, and you can wind up with a label that fades, peels, or cracks over time — which can potentially impact your product's performance, create a negative brand impression, and even quite likely ding your reputation with your customers.
On the other hand, making the right decisions can extend your label's lifespan and dramatically improve your label's performance.
So how will your supplier make the right choices for your outdoor labels? It all starts with understanding a few basic factors.
What's the Environment?
The biggest factor to consider with outdoor labels is the environmental conditions the labels will be exposed to over time, such as sun, ice, rain, or heat.
For example, are you putting the label on playground equipment that will be exposed to the burning sun all year long? How about a snowplow that will be exposed to extreme cold and wet conditions with potential impacts and abrasion for hours at a time during the winter, but may sit in a hot garage – or direct sunlight - all summer? Or will the label be applied on the inside of a control panel for outdoor service equipment, where it might be exposed to very little light but wide variations in temperature?
Your supplier needs to choose label inks and materials that are well-suited to surviving in whatever that environment may be. So, they should have several questions for you about precisely what your label will need to withstand, so they can make recommendations and discuss the options suited to your situation.
Let's explore a few of the options your supplier might consider.
Choosing the Right Ink
UV light from the sun's rays can do a number on most inks – particularly bright colors like yellows, oranges, and reds, which tend to fade more quickly.
Naturally, if these colors are important for your label, then it's important to take that into consideration from the start. For instance, if your label must warn users about a risk, you're probably using a vivid red; if the wrong ink is selected and that red fades in a few months, your label can't do its job.
The type of ink used on a label can dramatically impact how well the color holds up in sunlight. Today there is a wide range of choices to fit different budgets and needs. For example, many fade-resistant inks are available that are specifically formulated to endure sunlight exposure for much longer than standard inks. UV-blocking protective laminates also improve the staying power of the label.
Keep in mind, though, that all inks will fade when exposed to direct sunlight over time. When possible, placing the label in a location that is sheltered from direct UV light will greatly extend its lifespan.
Choosing the Right Material
The materials from which the label is created will also impact the label's performance. While some polyesters and polypropylenes perform well outdoors, in most cases, vinyl-based materials will have the longest lifespan and will be the most flexible.
Why is flexibility important? As weather conditions change (such as fluctuations in temperature and moisture levels), many surfaces and structures will expand and contract. To accommodate this movement, the label will also need to expand and then contract back to its original shape.
This is where vinyl stands out as an excellent choice for outdoor labels. Vinyl is "multidimensionally stable," which means it can expand and contract in multiple directions without cracking or peeling under the strain. So, vinyl's flexibility translates to durability for your labels.
Ultimately, the key point to remember when ordering a label for outdoor use is that you have options.
But to accurately weigh the options and make the right selections, your label supplier first needs a solid understanding of the environment in which your label must survive.
This is where your choice of label supplier can make a difference. An experienced and professional supplier will ask the right questions to help clarify exactly what you need, so they can point you in the right direction for success.