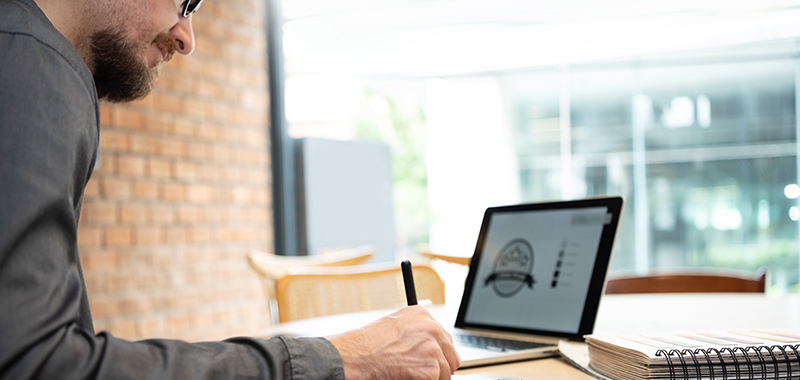 No one who works for a small business holds just one role. Chances are, everyone's necks are sore from supporting the weight of multiple hats. But when it comes to graphic design, should someone on your team try to add that hat to their stack, or should you seek outside help?
As with almost every aspect of custom label printing, there is no one-size-fits-all answer to the "DIY or professional" question. It all depends on your vision for your label, your goals, and your budget. An experienced label printer will help you understand the considerations that should go into your decision — and perhaps even connect you to a skilled design professional, should you need one.
When Should You Hire a Graphic Designer?
Here are some situations in which it makes sense to spend money on professional graphic design for your labels:
No one in your company has any design experience or even an "eye for design." No one is familiar with common design file formats and software.
You are dissatisfied with your current label design or logo, but you have no idea how to improve it.
You have no logo, company colors, or existing design elements. You need to start from zero.
You want more than simple text on your label.
You simply have no time to worry about design.
Talented graphic designers are available in almost every price range if you know where to look. Some of the top pros operate almost entirely by word-of-mouth. If you have contacts at companies whose logos and graphics you admire, work your network to find out who did their design.
Websites such as 99designs, Fiverr, and Upwork serve as online marketplaces for creative professionals. They can give you access to up-and-coming design talent around the world. Another great place to look for design talent is on Facebook. There are multiple groups geared toward connecting graphic design freelancers and clients, with these groups containing a huge range of talent.
No matter how you find your designer, we offer one caveat: As with any custom work, it's always wise to make sure your expectations are in line with your budget. If your budget is small, it's better to aim for a straightforward and simple design over something complex and time-consuming.
When Should You Tackle Label Design on Your Own?
You can save some money on label design if your needs are not complicated. There may be people on your team who have enough knowledge of design concepts, software, and file formats to cobble together something simple your label printer can work with.
Most businesses that go the DIY route for label design lean on their label printers for services such as basic typesetting — for which there may be additional fees.
Here are some of the scenarios in which you might consider handling label design in-house:
Someone on your team is skilled in graphic design and can put together a label that meets your expectations and your printer's requirements.
Your label design is simple. If all you require is a one- or two-color label with text, your label printer may be willing to typeset it based on your specifications.
Your company has existing design elements — logos, colors, text — and your label printer has offered to piece them together.
Guidelines for Submitting Your Artwork to a Label Printer
Whether you work with a professional designer or go it alone, your label printer will require your artwork to adhere to particular specifications. This isn't because your label printer is a control freak. It's because your printer has extensive experience transferring art onto labels and knows what it takes to achieve the clearest text, the sharpest colors, and logos that pop.
(For reference, read our artwork guidelines here.)
Your label printer may ask you to:
Allow subtle changes to your design to assure that the finished product meets your expectations. This conversation may cause you to become conversant in new ways with terms like trap, bleed, gap, and stroke.
Submit your artwork using file formats that preserve the image quality of your design. Standard formats include AI, PSD, and TIFF.
Work in software intended for graphic design, such as Adobe Illustrator, Photoshop, or InDesign. Your label printer will steer you away from Word, PowerPoint, and Excel.
Provide all the necessary supporting files for your design, including fonts, images, and logos. If you work with a designer, your designer should be prepared to submit these files in the proper formats.
Submit high-resolution images (they can be blown up without becoming pixelated). A good minimum standard is 300 dpi. If you don't know what dpi means, make sure your designer does.
If you're not sure about any of this, talk it over with your label printer before you get too deep into the design process. Your label printer should be able to help you identify the right software and file formats to use.
Got questions about label design or label printing? We would be happy to talk about realizing the vision for your next custom product label. Contact the Label Printers today.