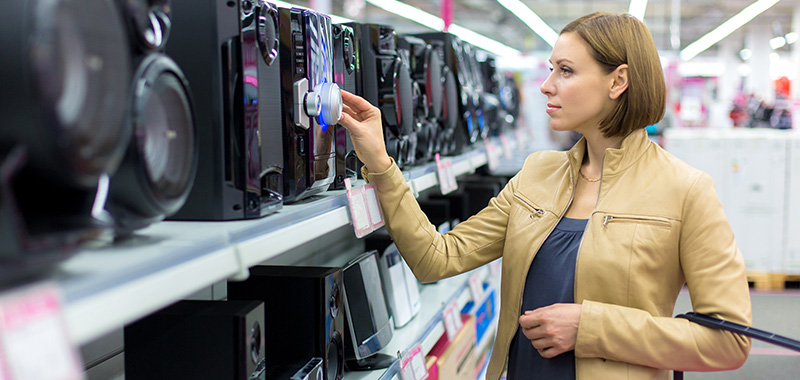 In addition to doing the things all product labels must do – attract consumers, provide usage instructions, look great – electronics labels have critical roles to perform: keeping people safe, preserving the environment, and protecting manufacturers from fines and litigation.
Electronic equipment labels get these jobs done through a sometimes-arcane system of symbols and codes. Consumers get used to seeing right past these images and abbreviations, but electronics makers must master their meaning to stay on the right side of regulations and in the good graces of buyers.
In this article for electronics brands, we'll demystify some of the most common symbols and codes found on electrical products and components. Keep in mind that not all of these label elements will apply to your product. If you are unsure about the requirements in your region, consult with an experienced label printer.
The FCC Mark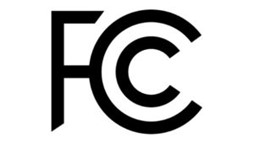 (image source)
The U.S. Federal Communications Commission (FCC) requires all devices that emit certain radio frequencies to carry a mark indicating the device does not electromagnetically interfere with the operation of other devices.
According to FCC regulations, the compliance mark should either be permanently affixed on the product or the manual (only if the product itself is too small for the mark).
FCC guidelines provide more information on where and how the mark should appear and how to test an electronic product for compliance with FCC regulations.
California Proposition 65
California passed the Safe Drinking Water and Toxic Enforcement Act in 1986. The ballot initiative – commonly known as Proposition 65 – was written to protect the state's drinking water from contamination. According to Proposition 65, any product sold in California must indicate if it contains chemicals known to cause cancer or birth defects.
As of 2020, the list of potential carcinogens exceeds 1,000 substances.
It's important to note that Proposition 65 does not only apply to California-based companies. Any company doing business in California (which includes most American electronics companies and many foreign ones) must comply.
According to Proposition 65, warning labels must list:
The name of at least one substance that prompted the warning.
The URL for ca.gov, where consumers can get more information on the health effects of listed chemicals.
A triangular yellow warning symbol.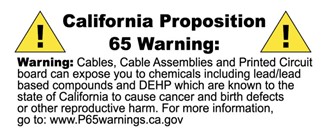 Other Electronic Equipment Label Markings
The U.S. is not alone in the world in regulating electronics. Governments around the globe impose strict rules concerning electromagnetic emissions, safety, toxins, and environmental hazards. Many of these regulations are associated with specific markings.
The CE Mark
The CE mark (sometimes considered an abbreviation of the French "Conformité Européenne," or "European Conformity) indicates that a product meets the standards of the European Economic Area (EEA).
To qualify for the CE mark, products must not contain any of 10 hazardous materials listed in the European Union's Restriction of Hazardous Substances Directive (RoHS).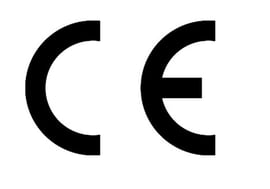 CE marks typically appear alongside four-digit numbers that identify the independent body used to test and certify the product.
The VCCI Mark
Another international marking is the VCCI mark, which says the product meets electromagnetic standards set by the Voluntary Control Council for Interference by Information Technology Equipment in Japan.

(image source)

The NOM Mark
In Mexico, electronic products must comply with the Norma Oficial Mexicana standards to qualify for the NOM symbol.

(image source)
The UL Mark
A black circle containing the letters U and L signals that electronic equipment meets the rigorous standards set by the globally recognized testing firm UL. (UL stands for Underwriters Laboratories.)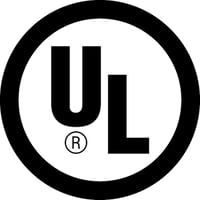 (image source)
For over a century, UL has been testing products – including electronics – to ensure they can be counted on to function safely inside homes and workplaces. While UL certification is voluntary, billions of products around the world carry the mark, making it one of the most widely understood and looked-for indicators of reliability available to electronics makers.
The WEEE Label
The image of a rolling trashcan (or perhaps a recycling bin) crossed out by an X tells users not to discard their electronics products or components in the regular trash or recycling streams. Products that bear this symbol must be taken to special collection facilities.
This is another European Union requirement, as outlined in 2012's EU Directive on Waste Electrical and Electronic Equipment (WEEE). Nearly every type of electronic equipment must comply with WEEE, from air conditioners, to lamps, to computer monitors.

(Image source)
While the United States has no unifying national requirement for electronic recycling labeling, twenty-five states have enacted their own requirements and regulations regarding electronic waste. Many electronics manufacturers also choose to label their products with the universal recycling symbol (a closed loop of three arrows) to encourage their users to dispose of electronic waste responsibly.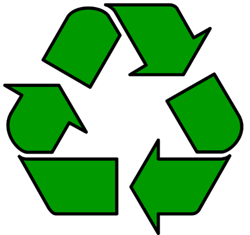 (image source)
Other Considerations for Electronic Equipment Labels
Getting the symbology right is crucial for electronic equipment labels. Still, there are many other guidelines to consider when designing and printing the perfect label for your product. For example, in a hyper-competitive marketplace, you need labels that stand out and speak to your customers' values.
Most of all, you need a label that does its job without peeling, fading, or ripping under any of the environmental conditions your product typically encounters. A failed electronics label is not just unsightly; it can be a safety and compliance risk.
Learn everything you need to know to order high-quality, reliable electronic equipment labels in our free six-chapter "Complete Guide to Electrical and Electronics Labeling."