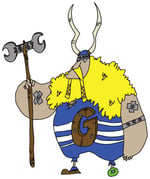 The Label Printers is pleased to once again sponsor a FIRST robotics team organized by Geneva High School, Geneva, Illinois. The ROBOVIKES have begun their seventh season of competition.
This year's game is called RECYCLE RUSH [sm] which is, as FIRST explains, "a recycling-themed game played by two Alliances of three robots each. Robots score points by stacking totes on scoring platforms, capping those stacks with recycling containers, and properly disposing of pool noodles, representing litter. In keeping with the recycling theme of the game, all game pieces used are reusable or recyclable by teams in their home locations or by FIRST® at the end of the season." View the game animation and more on FIRST's YouTube Channel.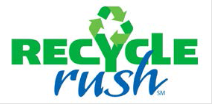 All of the teams receive "a Kit of Parts made up of motors, batteries, a control system, a PC, and a mix of automation components worth tens of thousands of dollars – and only limited instructions. Working with adult Mentors, students have six weeks to design, build, program, and test their robots to meet the season's engineering challenge. Once these young inventors build a robot, their teams will participate in one or more of the 105 Regional and District events that measure the effectiveness of each robot, the power of collaboration, and the determination of students."
This past Saturday found the Robovikes working on assembly of this year's 'bot, exercising the "platform", creating a new team web site, programming, watching, talking, laughing – pretty much everything you'd expect from a group of teenagers and their adult mentors. Mary Keyzer is a teacher at Geneva High School and the Robovikes coach, and two other principal adult mentors have volunteered countless hours working with the team since the beginning – Kevin Keyzer, and Joe Kane, who is the Director of Research and Development at The Label Printers.
The team's web site – Robovikes.com – is filled with images and videos of previous teams, practices and game footage, as well as some basic information about the team and its sponsors.
ROBOVIKE Team Members:
Seniors: Jason Belzer, Mitchell Bennett, Michael Bloink, Brandon Elizondo, Zach Gauntt, Alesa Laserna, Jack McCloughan, Tom Miller, Brad Snurka, Rachel Warren
Juniors: Wendy Garrett, Jakob Grooten, A. J. Novy, John Zupke
Sophomores: Shane Allcroft, Ben Deem, Prem Desai, Noah Legenski, Greg Wendt
Freshmen: Danny Atkinson, Ryan Chalmers, Kate Kilmer, Max Winter
The Robovikes will be competing at the:
Central Illinois Regional at the Renaissance Coliseum, Bradley University, Peoria, Illinois March 18 – 21
Midwest Regional at the UIC Pavilion, Chicago, IL, April 1 – 4
About FIRST and the FIRST Robotics Competition:
"The Varsity Sport for the Mind," FRC combines the excitement of sport with the rigors of science and technology. Under strict rules, limited resources, and time limits, teams of 25 students or more are challenged to raise funds, design a team "brand," hone teamwork skills, and build and program robots to perform prescribed tasks against a field of competitors. It's as close to "real-world engineering" as a student can get. Volunteer professional mentors lend their time and talents to guide each team.
Students get to:
Learn from professional engineers
Build and compete with a robot of their own design
Learn and use sophisticated software and hardware
Compete and cooperate in alliances and tournaments
Earn a place in the World Championship
Qualify for over $19 million in college scholarships
Accomplished inventor Dean Kamen founded FIRST ® (For Inspiration and Recognition of Science and Technology) in 1989 to inspire an appreciation of science and technology in young people. With support from three out of every five Fortune 500 companies, the not-for-profit organization hosts programs for students ranging in age from 6 [the Lego League] through high school.
2011 marked the 20th season of the FIRST Robotics Competition. FIRST has grown from 1 event to nearly 60 and from 28 teams to over 2000. Much has changed over the first twenty seasons…but our key goals remain the same; our commitment to Gracious Professionalism™, our emphasis on learning, helping one another and inspiring careers in math, science, engineering and technology.
Gracious Professionalism™ is a way of doing things that encourages high-quality work, emphasizes the value of others, and respects individuals and the community.