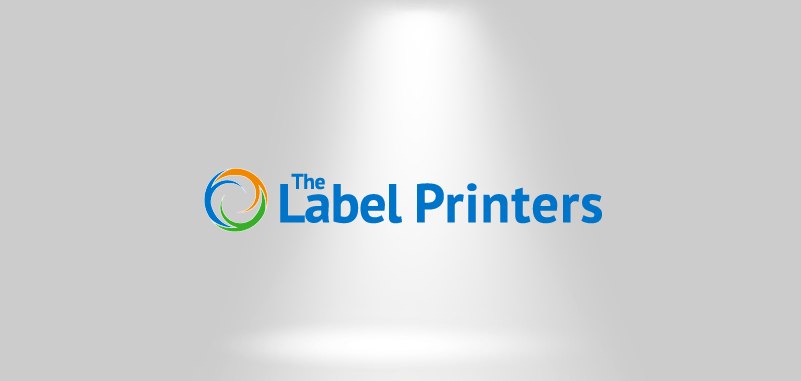 At The Label Printers, we're not just proud of the work we do for our clients – we're proud of our people, too.
When you place a custom label order with us, the job passes through the hands of many of our experienced, dedicated professionals. So, we figured it was time for you to meet some of the team. We start today with three emerging leaders: Ray Esquivel, Jim Galto, and Duane Welch.
Meet Ray Esquivel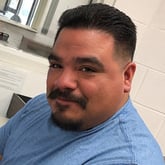 Ray is the Production Supervisor at The Label Printers and is responsible for overseeing production on the printing presses. A longtime veteran of The Label Printers, Ray has been with the company for 22 years, starting off by operating the shrink tunnel (where labels are shrink-wrapped for shipping) and moving up through multiple positions: slitter operator, shipping associate, press operator, and now supervisor. This progression has given Ray valuable insight into each step of the label manufacturing process, which helps in his effort to make every day a great day. In his words, "a day when everything runs smoothly and production is rolling along is a great day."
Working at the same employer for over half your life might grow tedious to some, but not to Ray. "I'm just really proud of the quality that we're doing, the attention to detail, and how well we meet the customers' specs. Plus, everybody's kind of like my family here. Some of my closest friends are here – I wouldn't even think about leaving."
Meet Jim Galto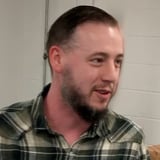 Jim Galto is all about challenges. As the Inspector Supervisor at The Label Printers, he's the master of scrutiny, ensuring that every label leaving our pressroom meets our customers' high standards of quality, no matter how complicated or challenging the job. And he wouldn't have it any other way: "We all enjoy challenges here. There are thousands of variables that come into play when it comes to making the label perfect, and we enjoy solving those tricky problems or seemingly-impossible jobs."
With 15 years of experience at the company, Jim has had plenty of time to sharpen his problem-solving skills and develop a keen eye for top quality. He's also developed a lot of close friendships. "This is one of those companies where everybody knows everybody, and we have really long tenures. You just don't see that much anymore. When customers come through on tours, they can see the smiles on our faces and they know that we enjoy what we do and take pride in it. I hope our customers know that we really care about their labels, and that we know how important they are."
Meet Duane Welch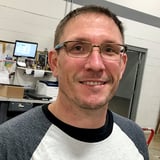 Finishing Supervisor Duane Welch is a comparative newcomer to The Label Printers, with a 7-year tenure (yes, seven years is a short tenure at our company. Duane is in charge of "everything that comes off the press all the way through to getting it out the door, basically."
Eager to learn, Duane (like Ray and Jim) has worked his way up in the company, starting out in production roles like the shrink tunnel, slitting, and shipping. Even after seeing thousands of orders through the process, he still marvels at The Label Printers' turnaround time. "It amazes me how quickly we can get a customer order and turn that into labels and get that order shipped out to them."
Another thing that impresses Duane is the familial atmosphere at the company. "From day one when I first walked in the door, I felt like I'd been here for 10 years – you're treated with so much respect from that first day. They really take care of you here and treat everybody as an individual. It really creates a sense of partnership, where we all help each other out to get the job done well."
Want to learn more about The Label Printers and our team? Visit our Management page, or get in touch!