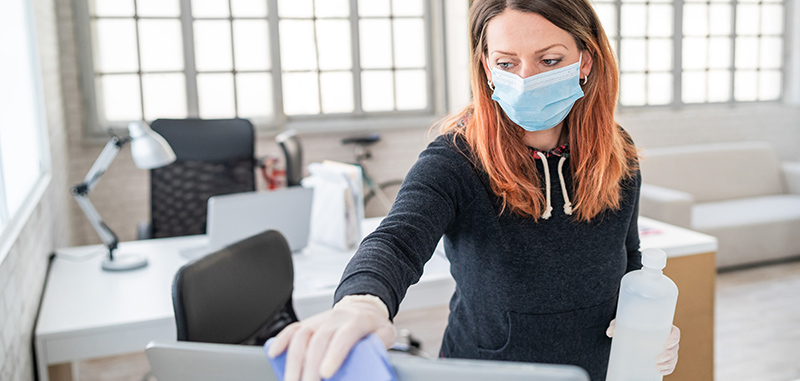 As many of our friends and family members have found themselves confined at home due to the COVID-19 pandemic, employees of the Label Printers continue to come into work, and the custom labels keep rolling off our equipment.
Most people might not think of labels when considering essential products or services during a pandemic. But, think about the role labels play. Labels aren't simply there to make products look good (although they can do that). Labels teach us how to use products correctly. They tell us about the ingredients of our food. Most critically, product labels protect us.
Consider the products you typically think of as essential in times like these, such as pharmaceuticals, food and beverages, and cleaning products. None of those products could be sold or used properly without a functional label. A worried parent would never choose pain relief medication for a preschooler without an informative label that shows the proper dosing, for example. An essential worker certainly wouldn't grab a blank jug of liquid off the store shelf and simply hope that it disinfects. And of course, none of those products would be available to us in the first place without a label to provide shipping and tracking information.
Custom labels are essential. And at the Label Printers, we're proud that we can be of service during this challenging time for our customers and our community.
But while we know we're fortunate to be working while so many others are out of work and struggling, it's not "business as usual." We have a responsibility for protecting the health of our team members, their families, and our community.
What We're Doing to Stay Safe
We will never prioritize profits over the health of our people, so we're doing everything we can to keep them safe:
We started practicing social distancing at the Label Printers as soon as it was recommended, and we continue to follow all state guidelines.
We have enforced the six-foot distancing rule between employees since the pandemic first began.
To further limit the number of people in our building at any given time, we've split our team into two crews: one that works Monday, Tuesday, and Wednesday; and one that works Thursday, Friday, and Saturday.
Our production workers are now putting in three 13-hour shifts per week (but we pay them for 40 hours). We recognize this kind of schedule can be disruptive to their home lives, and we appreciate how everyone has stepped up and adapted to the new normal without complaint.
As for office staff, those that can work from home do so. The rest are also split into non-overlapping teams to align with the working groups in the rest of the operation.
All non-essential site visits are prohibited for our vendors and our sales staff.
Twice a week, between the two working groups shifts, we have a professional sanitation crew come in to disinfect our entire facilities. This is in addition to the daily disinfecting duties by our maintenance staff.
Additional protective measures include requiring our employees to wear masks and the recent acquisition of a touchless thermometer so we can begin monitoring our employees' temperatures.
As federal and state guidelines have evolved during the pandemic, we have made every effort to be proactive and cautious as we implement practices for the health and safety of our employees. While they may not be the first workers to be thought of when mentioning "essential workers," we know they are, and we appreciate their dedication and commitment to their roles.
Doing Our Part for the Global Supply Chain
One of the more gratifying aspects of this situation has been to witness the sharing of information within our industry. Most everyone in the label and packaging community recognizes we have a role to play in keeping essential products moving around the globe and into the hands of the people who need them. The tips and best practices we've received from our fellow industry members have been extremely helpful. We have always recognized the uncommon solidarity of our industry and we're proud to be a contributing member!
No one knows for sure when the pandemic will subside, or what economic challenges it will leave in its wake. Whatever happens, we pledge that we won't lose sight of what matters most: the wellbeing of our employees, the safety of our communities, and the needs of the customers we serve.
Please, stay safe out there, and follow all the guidelines put forth by your local health authorities. Do not put yourself at risk unnecessarily. We'll get through this together. And in the meantime, if you need custom labels, the Label Printers is open for business!