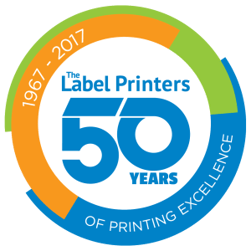 Inside the pressroom and offices at The Label Printers, there is a strong sense of pride in being part of something great. Right now, there is a sense of excitement, too, as we begin to celebrate a major milestone in the company's history. You see 2017 marks 50 years since the founding of the company. We are launching the celebration now because it was in April of 1967 that everything got started.
Throughout the remainder of 2017, we will be celebrating in a variety of ways. We will celebrate success, milestones in the company's development, and more. Our celebrations will include employees (past and present), our great customers, our suppliers, friends and many others.
For any company that makes it to the 50-year mark, you know there is a story about what happened along the way. We are proud of the story that has brought us to today. We may not see it told on the silver screen. But it is rich with interesting characters; it speaks of individuals fulfilling the American Dream, and it is definitively ours.
The story begins early in the spring of 1967. Three business men, who had just survived a long, cold Chicago winter when The Windy City endured one of the worst blizzards in its history, decided that the time had arrived to move forward with the business idea they had been discussing. The men, with varied but complementary backgrounds, had identified a need in the Chicago business community for quality printed pressure sensitive labeling.
They wanted to do more than simply make labels. They wanted to make great, innovative labels for business people who care about quality, those who believe in the meaning of a handshake, and those who value promises kept. Printing, around that time, tended to be done pretty much the same way wherever it was done. The partners wanted to bring innovation to the business. Armed with their sense of purpose as well as healthy doses of energy, ambition, and confidence, Gerry Chouinard, Don Tade, and Ted Risch formed a partnership and invested in their first press, a New Era letterpress.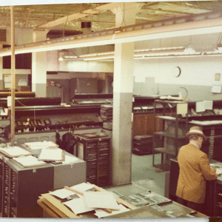 Setting up shop in the heart of Chicago, the partners hung the sign of The Label Printers outside its first home at 59 East Illinois Street in April 1967. Just a block from the stretch of Michigan Avenue called The Magnificent Mile, the single room that served as pressroom, warehouse and office was practically in the shadow of Chicago's famous Wrigley Building and other landmarks. If you are curious, that location, just south of the Nordstrom store in The Shops at North Bridge on The Mag Mile, is a parking lot today.
Chicago proved to be a bountiful source of business opportunities for the fledgling company. Quickly, they were delivering industrial labeling and product labels as fast as the presses could make them. By their second year, the business had begun supplying many of the prominent manufacturers and other businesses in the city. On a warm day in 1968, one of the presses produced the first of what would prove to be many jobs for a company a few blocks away. That company was called Underwriters Laboratories. We know it now simply as UL. The partners might not have known it at the time, but the company's future became a whole lot brighter with the completion of that first order. We will talk more about this part of the story in a future post.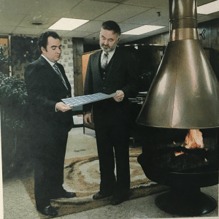 Among the partners, it was Gerry who was the most hands on, running presses when needed, supervising the production operations, and assuring that the sales team represented him and the company properly when in front of customers. Before long, Gerry realized he needed help with those things and he found it when he posted an ad for an assistant production manager. The day that whip-smart young man named Bill Kane walked through the door and started talking about the systems he had devised and implemented to make the Bates Printing Company more efficient, Gerry knew he had found his assistant production manager. We don't know if he also realized that day that he also had a protégé and a successor; but he did.
With Gerry and Bill collaborating, things really started to pick up. By '73, they needed much more space, spurring a move 35 miles west, to Aurora, where land was reasonably priced and they could build all the space they would need. The company's first building in Aurora, at 1700 Landmark Road, seemed large at first but was soon outgrown as the business expanded at a steady pace. An addition would be made to the building and before long a second, larger building right next to the first would become necessary.
By the close of the twentieth century, Gerry, Don, and Ted had moved on to retirement and Bill Kane, who had become their partner before his ten-year anniversary with the company, was at the helm. Under Bill's leadership, the company has acquired and integrated the operations of two former competitors. Bill has overseen the company's adoption of digital printing and platemaking technologies and its implementation of other core technology solutions that have streamlined daily operations. Also during Bill's tenure, the company has embraced lean manufacturing techniques which have led to recognition for its environmental practices and its attainment of ISO certifications.
Like Gerry, Bill has had a protégé of his own in Lori Campbell. Lori came into the company in the early '80s and has since worked her way to the company's top echelons. Together, this dynamic duo has charted a course of stability and steady growth for the company. About a decade ago, they became aware of and embraced a set of financial metrics that had been established by a leading trade group for our industry, the Tag and Label Manufacturers Institute (TLMI). Each year, TLMI recognizes member companies that excel by these measures. Every year since 2009 The Label Printers has received this recognition, known as Eugene Singer Award for Management Excellence, in our size category.
This year, as we celebrate our first fifty years, we celebrate not just the company, but the people who have made its success possible. We will share perspectives from members of our organization who have been with us for twenty years and more. We will thank our many customers for their trust and their loyalty. And, we will take time to appreciate all that has happened to get us to where we stand today. At the same time, we are looking to the future; laying plans for what's next and striving to meet the needs of our market.