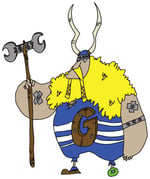 The Label Printers has been a FIRST (For Inspiration and Recognition of Science and Technology) sponsor for six years. It's an outstanding program. There are so many studies about the global market - and how important it is for kids to get interested in the STEM (Science, Technology, Engineering and Math) disciplines, for their futures, as well as the future of an American business world that can compete on a global stage. Particularly in the "new manufacturing" world.
Read on about The Label Printers' sponsorship of Geneva [IL] High School's FIRST robotics team. The full text of the news release can be found on TLP's web site.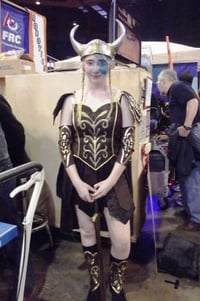 Team Member Robyn Snurka
The 2014 FIRST Robotics Competition (FRC) season has begun and the Robovikes are back for their sixth season. They joined tens of thousands of team members in over 90 locations worldwide who tuned in to the January kickoff via live NASA-TV broadcast and webcast for the start of the 2014 season. A record 2,729 teams from 17 countries must now take their "Kit of Parts" and transform it into a robot engineered and programmed with the skills to play this season's Aerial Assist game.
The FIRST program is designed so that the kids have only 6 weeks to build their robot, with no instructions – one of the many life lessons that are part of this "competition of the mind". That six week time frame is a significant commitment of time and effort, which this experienced Robovikes team understands very well. Geneva High School's team meets on Mondays and Wednesdays after school for about two to three hours, and then for about nine hours on Saturdays. And usually even more time as the competition nears.
This year's game is called AERIAL ASSIST which is, as FIRST explains, "played between two Alliances of three teams each. Each Alliance competes by trying to score as many balls in goals as possible during a two-minute and 30-second match. View the game animation. In accordance with FIRST values, AERIAL ASSIST is about more than just robots. FRC competitions embody the fun and excitement of a sporting game, but also showcase the power of collaboration and the determination of students."
On a recent Saturday, the Robovikes are working on assembly of this year's 'bot, exercising the "platform", developing the team's first ever web site, programming, watching, talking, laughing – pretty much everything you'd expect from over 20 teenagers and their adult mentors. Now in the team's sixth season there are a lot of veterans around the room, but also a lot of kids who have joined because their friends and families told them how much fun it is and/or because of the success that the team has enjoyed since its rookie season. And their reputation for success which comes from hard work, skill and fun is beginning to define the program.
In addition to Mary Keyzer, a teacher at Geneva High School and the Robovikes coach, the team has two other principal adult mentors who have volunteered countless hours working with the team since the beginning – Kevin Keyzer, a ceramics engineer and Mary's husband, and Joe Kane, who is the Director of Research and Development at The Label Printers.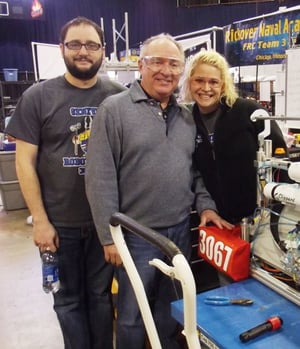 Joe Kane, Bill Kane and Mary Keyzer
Mary Keyzer is proud of this year's program – both in terms of student participation and school support. She says, "this is the first year we've had over 20 kids – we've got 27. And because of the growth, our success in competition since our very first year, and a solid and sustainable program (including our sponsors), we're getting really good support from the school. From the space assigned to us for practice, to financial support, to the school bus for the Buckeye Regional in Cleveland in March, they've really stepped up to the plate."
Beginning in March, 98 Regional and District competitions will take place around the globe, and 400 teams will advance to the FIRST Robotics Competition Championship, which will be held in the Edward Jones Dome, St. Louis, Missouri on April 23-26, 2014. The Robovikes are aiming to be in Missouri this spring.